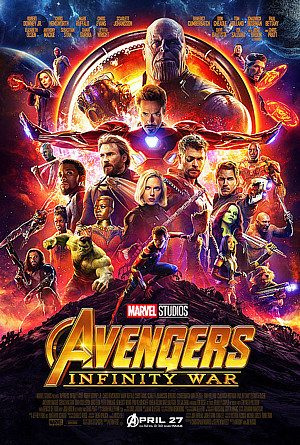 MAY 15
YOU DUG IT - YOU BURIED IT
By E.C. McMullen Jr.
YOU DUG IT
AVENGERS: INFINITY WAR
No surprise here. The unstoppable juggernaught that is AVENGERS: INFINITY WAR remains at number one and its only challenge will be next week's Marvel movie, DEAD POOL.
AVENGERS: INFINITY WAR is Written by the Writing team of Stephen McFeely and Christopher Markus (CAPTAIN AMERICA: THE FIRST AVENGER, THOR: THE DARK WORLD, CAPTAIN AMERICA: WINTER SOLDIER, CAPTAIN AMERICA: CIVIL WAR), Directed by the Directing team of brothers Anthony Russo and Joe Russo (CAPTAIN AMERICA: THE WINTER SOLDIER, CAPTAIN AMERICA: CIVIL WAR), and Produced by Kevin Feige (IRON MAN [all], THE INCREDIBLE HULK, THOR [all], CAPTAIN AMERICA [all], THE AVENGERS [all], GUARDIANS OF THE GALAXY [all], ANT-MAN, DOCTOR STRANGE, SPIDER-MAN: HOMECOMING, BLACK PANTHER).
BREAKING IN
BREAKING IN is a star vehicle for producer Gabrielle Union. Opening on 2,537, this movie came in hot despite entering the Top Ten at #3 yet making more money per screen that any other movie in the Top Ten save for AVENGERS: THE INFINITY WAR. BREAKING IN flew past its $6 million budget with a $17 million box office opening cume!
BREAKING IN is Written by Ryan Engle (NON-STOP, RAMPAGE) and Directed by James McTeigue (V FOR VENDETTA, THE RAVEN) and stars Gabrielle Union (ABANDON [2002]), Billy Burke (KOMODO, ALONG CAME A SPIDER, FRACTURE, UNTRACEABLE, REMOVAL, LUSTER, DRIVE ANGRY, RED RIDING HOOD [2011], TWILIGHT [all], LIGHTS OUT), Ajiona Alexus (FAMILY BLOOD, ACRIMONY), Damien Leake (APOCALYPSE NOW, HIGHLANDER, SEA OF LOVE, THE EXPERIMENT [2010], BAD TWIN, SLEEPWALKER), and Seth Carr (TERMINATOR GENISYS, BLACK PANTHER).

A QUIET PLACE
In its 6th week, A QUIET PLACE slips from #3 to #5 with a 269 screen cut, yet only a 16% drop in ticket sales. Despite its heavy competition, Horror audiences are seriously digging, A QUIET PLACE.
A QUIET PLACE is by the writing/producing team of Bryan Woods and Scott Beck and stars John Krasinski (MONSTERS VS ALIENS), Emily Blunt (THE WOLFMAN, THE ADJUSTMENT BUREAU), Millicent Simmonds, Noah Jupe, and Leon Russom.
Produced by Michael Bay and Andrew Form (THE TEXAS CHAINSAW MASSACRE [2003], THE AMITYVILLE HORROR [2005], THE ISLAND, TRANSFORMERS [2007], THE UNBORN [2009]).

RAMPAGE
Slips from #5 to #7 in its 5th weekend, losing 603 screens but having only a 25% drop in ticket sales. You're still digging this nutso funky flick.
RAMPAGE was written by Ryan Engle, Carlton Cuse, Ryan J. Condal, Adam Sztykiel. It's Directed by DJ's GoTo guy, Brad Peyton (INCARNATE) and stars Dwayne Johnson (THE MUMMY RETURNS, THE SCORPION KING, DOOM),
Naomie Harris (28 DAYS LATER, TRAUMA, PIRATES OF THE CARIBBEAN: DEAD MAN'S CHEST, PIRATES OF THE CARIBBEAN: AT WORLD'S END, FRANKENSTEIN [2011]),
Malin Akerman (THE FRATERNITY, WATCHMEN),
Jeffrey Dean Morgan (WATCHMEN, THE RESIDENT, THE POSSESSION, THE WALKING DEAD [TV]).
BLACK PANTHER
An unbelievable 13 weeks on the Top Ten and BLACK PANTHER slips from #7 to #9. It's world-wide cume stands at well over with a world-wide cume of over $1.342 billion dollars. BLACK PANTHER is in the home video market while still being in the top ten!
BLACK PANTHER is Co-Wrote and Directed by Micheal B. Jordan's GoTo Guy, Ryan Coogler, with co-writing by Joe Robert Cole and Stars Chadwick Boseman (CAPTAIN AMERICA: CIVIL WAR), Michael B. Jordan (FANTASTIC FOUR), Martin Freeman (SHAUN OF THE DEAD, HOT FUZZ, THE HOBBIT [2012 - all]), Angela Bassett (INNOCENT BLOOD, SUPERNOVA), Forest Whitaker (BODY SNATCHERS, SPECIES, BATTLEFIELD EARTH, PANIC ROOM, PHONE BOOTH, REPO MEN), and Andy Serkis (Peter Jackson's THE LORD OF THE RINGS [all], KING KONG [2005], THE PRESTIGE, RISE OF THE PLANET OF THE APES [2011 - all], THE HOBBIT [2012 - all]).
TRUTH OR DARE
Drops off the Top Ten falling from #8 to from #15 in its fifth weekend. That said, it leaves the U.S.A. Top Ten with nearly $40 million B.O. against a $3.5 million dollar budget. Over $70 million world wide.
TRUTH OR DARE was Written, Directed, and Executive Produced by Jeff Wadlow (BATES MOTEL [TV], NON-STOP, THE STRAIN [TV]), Co-Wrote and Co-Executive Produced with Christopher Roach (NON-STOP), additional writers are Jillian Jacobs and Michael Reisz (also story pitch). and stars,
Lucy Hale (SCREAM 4), Tyler Posey (SCARY MOVIE 5), Violett Beane (THE LEFTOVERS).
YOU BURIED IT
You buried Nothing. Horror, Thriller, Mystery, and Suspense have a winning hand this year!
References:
BoxOfficeMojo -
IMDb -
IMPAwards -