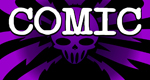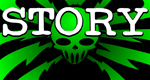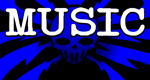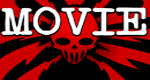 Support This Site

When You Buy My Books
E.C. McMullen Jr.
PERPETUAL
BULLET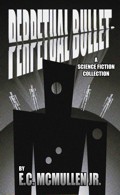 "'Some People' ... may be the standout story in the book."
-

John Grant

, Infinityplus

E.C. McMullen Jr.
WILLOW BLUE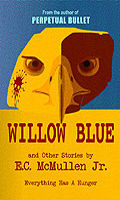 "'Willow Blue' will burrow under your skin and stay there long after you've put the book down."
- Jeffrey Reddick, Creator of
FINAL DESTINATION

IN OTHER BOOKS
E.C. McMullen Jr.'s
short story
CEDO LOOKED LIKE PEOPLE
in the anthology
FEAR THE REAPER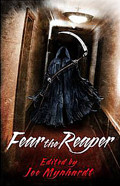 "This Ray Bradbury-esque is one of the most memorable and one of the more original stories I've read in a long time."
- Amazon Review

HORROR 201:
The Silver Scream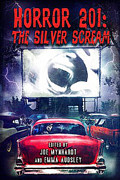 Filmmaker's Guidebook
featuring
RAY BRADBURY,
JOHN CARPENTER,
WES CRAVEN,
TOM HOLLAND,
E.C. McMULLEN Jr.,
GEORGE A. ROMERO,
and many more.

Robert S. Rhine's
SATAN'S 3-RING
CIRCUS OF HELL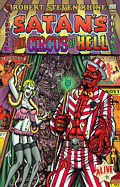 Forward by
GAHAN WILSON &
FEO AMANTE.
Featuring comics by
ALEX PARDEE,
WILLIAM STOUT,
STEVE BISSETTE,
FRANK DIETZ,
JIM SMITH,
FRANK FORTE,
ERIC PIGORS,
MIKE SOSNOWSKI,
OMAHA PEREZ,
DAVID HARTMAN,
STEVEN MANNION,
and more!
Review by
Christos N. Gage

THE LEAGUE OF EXTRAORDINARY GENTLEMEN, VOLUME TWO #1

- 2002
Writer: Alan Moore
Artist: Kevin O'Neill
America's Best Comics
$3.50 each
It's an irony of Alan Moore's America's Best Comics line that its best titles appear the least frequently. The most regularly published, PROMETHEA, has turned into a tiresome "Occult 101" textbook. TOM STRONG, while entertaining enough, rarely rises above a pleasant homage to the comics of the past. Its superior companion book, TOM STRONG'S TERRIFIC TALES, appears to be on a de facto quarterly schedule. TOP TEN, the brilliant combination of NYPD Blue and the Wild Cards novels, finished a kick-ass twelve issue run, and, though a new series was promised, hasn't been seen since. Okay, I know I'm being judgmental, and I know Alan Moore's smarter in a coma than I am mainlining Gingko Biloba, but hell, the man's set a high standard for himself!
The best ABC title, THE LEAGUE OF EXTRAORDINARY GENTLEMEN, which posits that the fantasy characters of classic literature all live in the same world and team up to battle supernatural phenomena, dripped brilliance from every panel. Unfortunately, its publishing schedule was sporadic at best, creating fits of withdrawal pain from readers who despaired that it would ever conclude. Finally it did, with the promise of a sequel soon to come. I, like many others, scoffed "Yeah, right. I'll believe it when I see it."
TRIVIA
The first
LEAGUE OF EXTRAORDINARY GENTLEMEN
won the prestigous HARVEY Award for Best Writer in 2000,
The Bram Stoker Award for Illustrated Narrative in 2000,
The prestigous EISNER for best Writer in 2001,
and a bunch of other nominations besides.

The movie, directed by Stephen Norrington (DEATH MACHINE, BLADE) was released in the Summer of 2003 by 20th Century Fox.
Well, by crikey, it's here! And all I can say is, if this series tortures me with delays as much as the last one, I'm going to personally call the Germans and tell them they can do whatever they want to England and this time we won't interfere. Because LXGV2 rocks!
The first issue is a prologue, taking place almost entirely on Mars in 1898. If fictional characters all live together on Earth, Moore figures, why not on Mars as well? We witness Gullivar Jones leading his armies across the red planet to a rendezvous with Edgar Rice Burroughs' John Carter, Warlord of Mars. The two expatriate Earthmen plan a joint attack on the Mollusks, the invertebrate creatures from H. G. Wells' WAR OF THE WORLDS, who, we discover, aren't native Martians at all, but alien invaders.
A huge attack is launched, featuring Carter's army, Jones', and a slew of characters from books my ignorant American ass isn't familiar with. Our heroes break through the Mollusc' defenses to find the camp deserted, just in time to witness an armada of ships launch into space. Initially Gullivar and John celebrate what seems to be the Molluscs' retreat, only to realize that their enemies' destination is their home planet: Earth. The issue ends as the League of Extraordinary Gentlemen arrive to examine a huge crater torn into the English countryside.
Anyone who's read H. G. Wells' classic novel (yes, even I read that one, in between issues of MARVEL TWO-IN-ONE) has a pretty good idea of what's coming next, which is why I'm foaming at the mouth to read the issue #2. If anything, the only flaws I can find with this book have to do with wanting more. More of the League, who only appear on the last two pages. More of the Martians. More, more, more!
Oh, the only other gripe is the sticker shock produced by the $3.50 cover price, but I can't really get upset about that considering the amount of story Moore supplies. These days, I often finish a comic in five minutes, and gripe that the entire issue I just read would have been three pages of a comic fifteen years ago. Not so here. Despite entire pages of dialogue-free action, Moore gives us enough tantalizing tidbits to spark hours of discussion about how various works of literature that use Mars as a setting could fit together.
And the text feature at the end: my goodness. Purporting to be a travelogue of the world of the Extraordinary Gentlemen written in 1912 (some years after our story takes place), it provides tantalizing clues about past incarnations of the League, as well as what fate may befall its current team. And in between, it gives a wonderful overview of the strange and uncanny sites of the world, starting with the British Empire, with future installments to cover America, Asia, and the entire globe. It's all here: elements from Alice In Wonderland, Gulliver's Travels, Arthurian Legend, and, again, countless books I've never read because I was too busy playing Colecovision.
I'm going to start out by giving THE LEAGUE OF EXTRAORDINARY GENTLEMEN, VOLUME TWO Five Rabid Fanboys. But for every delay, I'm taking one away! You hear me, Moore? Nose to the grindstone, baby!






This review copyright 2001 E.C.McMullen Jr.