Review by
Kelly Parks

DAREDEVIL

- 2003
USA Release: Feb. 14, 2003
20th Century Fox
Ratings: USA: PG-13
"It's time to give the devil his due!"
is a cool line from the preview, but it wasn't in the movie. Was that a good decision, or does DAREDEVIL have coolness to spare?
I like movies where the writer and director are the same person because then you know you're seeing what the writer intended. Mark Steven Johnson (whose only previous directing credit is Simon Birch) wore both hats. The movie opens in the middle of action, always a good sign. The DareDevil (I feel compelled to spell it that way because he has a DD on his chest) is perched on a church roof* (giving me SPAWN flashbacks). He enters the church and falls clumsily to the floor, badly hurt. A priest (John S. Bakas) comes to his aid and conversation makes it clear they know each other well.
AS FOR THAT MOVIE POSTER
STUDIO BOSS SEZ:
"Hmmm. Without J.Lo's ass next to him, Ben looks a little flat. Put a broad up there with him and show off her butt! While we're at it, put some guy up there who looks like Feo Amante. Hell, let's have TWO bald guys! Head skin is IN!"
*
What's the deal with superheroes and churches these days?
Tim Burton had BATMAN's climactic battle with the Joker on top of a church and Alex Proyas THE CROW followed suit.
SPAWN perches on a church roof in the comics and BLADE climaxed in a temple -
well... so to speak.
At least SPIDER-MAN avoids the church... so far!
DAREDEVIL was created by Bill Everett.
WHY BEN IS RICH AND YOU'RE NOT:
A complete quote, in context, from Ben Affleck on why he likes his DareDevil character -
"There was a kind of sort of 1950s Boy Scout sort of chaste heroism in this sort of Superman model that seemed to be out of what was happening in the world around me, and there was this other model."
- from his Feb. 13, 2003 interview on Good Morning America.
Matt Murdock (Ben Affleck: BUFFY THE VAMPIRE SLAYER, PHANTOMS, THE SUM OF ALL FEARS), aka The DareDevil, narrates a flashback that takes us back to his childhood. He grew up in the Hell's Kitchen section of New York City and has a typical childhood for future super heroes: being beaten by bullies. The bullies make fun of Matt's dad (David Keith: FIRESTARTER, WHITE OF THE EYE, DEADLY SINS, CARRIE [TV], SABRETOOTH), a washed up ex-boxer.
After young Matt makes an unpleasant discovery about his father he runs through a shipyard and has an accident that involves a face full of biohazard toxic waste. Matt is now blind, but as a side effect his other senses, his strength and his reflexes are dramatically enhanced. There's a very cool scene where Matt wakes up in the hospital after the accident and is terrified by the input from his altered senses.
After the obligatory "kick the bullies' asses" scene we jump forward to adulthood. Matt is now a lawyer by day and the Daredevil by night. He sleeps in an isolation tank - the only way to shut out the endless cacophony of the city.
Matt and his law partner Franklin (Jon Favreau) represent a woman apparently suing her rapist. The bastard walks which means it's time for a little vigilante justice. Daredevil pursues the miscreant to a bad guy bar and proceeds to smack up everyone in the place.
That made me wonder how he knew that everyone in the place deserved an ass kicking. Isn't it possible that at least one poor schmuck was just there having a cold one, minding his own business, when a crazed, six-foot leather boy goes medieval on the whole establishment? That's the problem with vigilantes - they often get the wrong guy.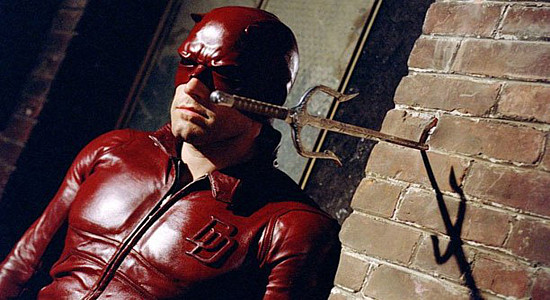 WHOA! That was close! Maybe my highly attuned sense of hearing would work better
if my mask wasn't covering my ears.
Over coffee the next day Franklin reads Matt a newspaper story about the Daredevil, written by tabloid reporter Ben Urich (Joe Pantoliano: THE FINAL TERROR, THE MATRIX, MEMENTO). Most people think Daredevil is just an urban legend, just like the supposed criminal mastermind of New York, The Kingpin (Michael Clarke Duncan: THE GREEN MILE, PLANET OF THE APES, THE SCORPION KING), another topic of Urich's articles.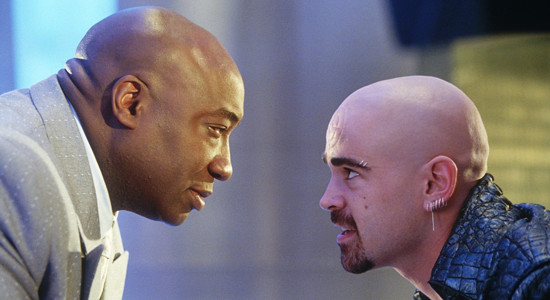 Not you, ya doof! I wanna look like Feo Amante!
You should see his website! It rocks!
Just then the scent of perfume alerts Matt to the presence of a babe. His overtures to Elektra (Jennifer Garner: ALIAS [TV]) results in a Matrix style martial arts battle, which earns him her respect. It also seems like poor judgment for someone trying to maintain a secret identity.
One more character deserves mention: Bullseye (Colin Farrell: MINORITY REPORT, PHONE BOOTH) is sort of a henchmen of the Kingpin, but in many ways he's a mirror image of the Daredevil: One is the good guy version of a "righter-of-wrongs" and one is the bad guy version. Both are driven by revenge.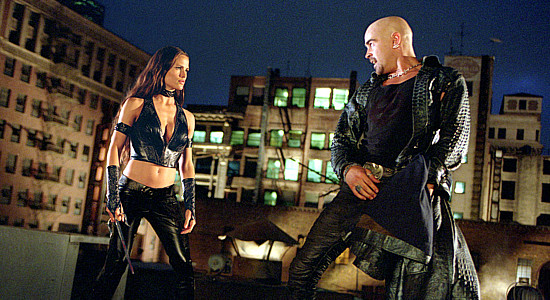 Micha...? MICHAEL JACKSON? How in the hell do I look like MICHAEL JACKSON?
FEO AMANTE, you moron!
Doesn't anyone know who this guy is?
And being a "good guy", or rather convincing himself that that's what he's doing, is an internal conflict for Matt that gives his character some depth in an otherwise very two-dimensional movie. Everyone else is pretty cardboard and predictable, though these are all good actors and they even play cardboard well.
And what, you ask, about a
!!!SCIENCE MOMENT!!!
I have no problem with almost everything here. Who knows, maybe some odd side effect to toxic waste could produce a good mutation instead of the much more likely bad ones.
The only genuine mistake involves the Daredevil's ability to dodge bullets because he hears them coming. I'm sorry, but no. Bullets travel faster than the speed of sound. They would arrive at your skull before the sound got to your ear.
Keep an eye out for a couple of cool cameos, including Stan Lee and Kevin Smith. And for fans of the original Daredevil comic there are tons of references. It's formula and kind of lightweight but entertaining. I give it three shriek girls.




This review copyright 2003 E.C.McMullen Jr.