Link to us!



If you would like to use the graphic above, just save the icon image to your server and link it back to feoamante.com!
THE EXPENDABLES
- 2010
Millennium Films, Nu Image Films, Rogue Marble
Rated: USA: R
Rock 'em Sock 'em action Thriller featuring hardcore action stars from movies great to awful. That's what Sylvester Stallone promised the audience with THE EXPENDABLES. That's the audience he sought, and that's the audience to which he delivered this rip-roaring, explosive shoot 'em up gore drenched movie.

Holy crap did I love it!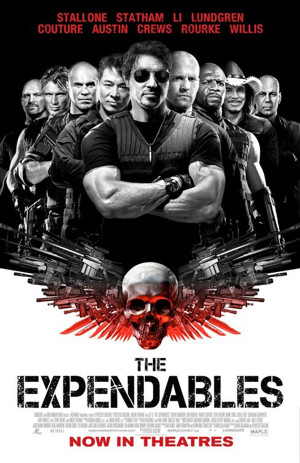 THE EXPENDABLES begins with a group of pirates about to kill some hostages whom they've held for far too long without reward. As they make their video threatening unmerciful violence and death, lasers appear out of the dark centering all over the Pirate leader (Amin Joseph: THE MIST). He looks at the lasers play across his skin, yet fails to realize the fix he is in. Gore soaked carnage happens.

The mercenaries known as THE EXPENDABLES are not the good guys or the rescuers unless that's the job they're getting paid to do. They are led by Barney Ross (Sylvester Stallone: DEATH RACE 2000). Ross doesn't lead his men with an iron fist. He doesn't bark orders and he doesn't seek their affection. THE EXPENDABLES are all a bunch of middle age to old men, firmly established in their professionalism and abilities. They know the job and they do it. They follow Barney because he finds the jobs. When they aren't working, they're just a group of leaderless friends hanging out. Everybody gets along and everyone fits except one.

Gunner Jensen (Dolph Lundgren: THE PUNISHER [1989], I COME IN PEACE, JOHNNY MNEMONIC, HIDDEN AGENDA) is losing it. He's become a threat to order on the team and is a direct threat to his fellow team members, especially Ying Yang (Jet Li: BLACK MASK, THE MUMMY: TOMB OF THE DRAGON EMPEROR). Turns out Gunner is riding through a new drug addiction and can't be trusted anymore.

Still, life creaks on for these muscle bound trained killers and a new job comes in the form of one Mr. Church (Bruce Willis: THE SIXTH SENSE, UNBREAKABLE, SIN CITY, PLANET TERROR, SURROGATES). Mild competition for the job is offered by Trench (Arnold Schwarzenegger: THE TERMINATOR [all], PREDATOR, TOTAL RECALL, END OF DAYS, THE 6TH DAY). Trench decides the job isn't worth his time and leaves it to his "worst friend", Barney.

Mr. Church: What's that asshole's problem?
Barney: He wants to be president.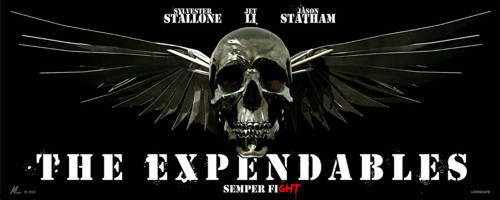 Once the deal is negotiated, Barney brings along his pointman, Lee Christmas (Jason Statham: GHOSTS OF MARS, DEATH RACE) for some undercover reconnaissance to a remote island nation in the Atlantic. Mr. Church wants the banana republic dictator, General Garza (David Zayas: BRINGING OUT THE DEAD, DEXTER [TV]) out of the country as in dead. They soon realize that they are being played by none less than the CIA, who is attempting to hire mercenaries to do their dirty work and put them back into power. Power taken from them by a rogue CIA operative who knows how to counteract their moves and would make America's direct involvement public. Which means that even if THE EXPENDABLES could defeat the General's army and kill him, the CIA would betray them to keep the secret... secret. It's an impossible mission. Barney and Lee are all for returning and telling Mr. Church to take his job elsewhere, when something happens that catches Barney short.

When he makes it back to the U.S., he visits the tattoo parlor of his bud, Tool (Mickey Rourke: ANGEL HEART, SIN CITY, IRON MAN 2). Tool is the dispatcher of the group. He's retired from the fighting, preferring not to die in the mud but laying next to a woman in bed. He's also the soulless soul and the black heart of a heartless group of men. Tool also has a backstory that's unexpectedly touching and lays the groundwork for why we should care about these guys at all. Tool knows why Barney finds himself confused over the events back at the tin-pot dictatorship, and he knows that Barney will want to go back, paycheck or no. Despite Barney's age, years, and mileage, he finds himself surprised to have found his emotional soul in that oppressed island nation. That totem takes the form of a young woman named Sandra (Giselle Itié) who won't abandon her people to save herself. He can't turn his back on it.

His feelings for Sandra have nothing to do with romance, like the love Lee feels for his on-again, off-again girlfriend, Lacy (Charisma Carpenter: VOODOO MOON). Barney searches for no such entanglements, especially from one so young as Sandra. If anything, she reminds him that his younger self once believed that it was worth risking his life to fight for something more than a payday.

So Barney decides to go back, but despite his letting his group off the hook, telling them that this is a job without pay and there's no guilt in letting him do this one on his own, his friends won't hear of it. The rest of THE EXPENDABLES are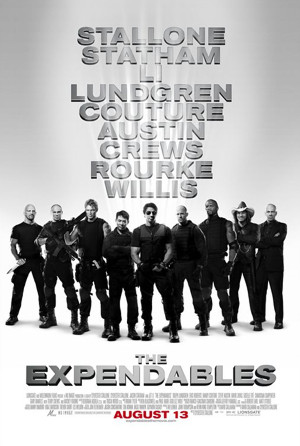 Toll Road (Randy Couture: THE SCORPION KING: RISE OF A WARRIOR), and
Hale Caeser (Terry Crews: THE 6TH DAY, TERMINATOR SALVATION).

The baddest of the bad guys are,

James Munroe (Eric Roberts: CECIL B. DEMENTED, THE DARK KNIGHT),
The Brit (Gary Daniels: COLD HARVEST, REPTILICANT, KISS OF THE VAMPIRE [2009]), and Munroe's bodyguard and majordomo,
Paine (Steve Austin: THE STRANGER).

As I said before, there is plenty of fighting, lots of gore, blood, violence, and explosions. All promised and delivered abondanza! There is also a certain warm chemistry that carries through as these actors have all played together in other movies before. This goes a long way to expressing the solidarity of the group. Even if you're not a fan of action thrillers, you can sense the familiarity here. Of course, a large part of that feeling is thanks to Director and co-writer Sylvester Stallone, who worked off the story by Dave Callaham. I first saw a true war movie directed as a Horror film (not to be confused with a Horror movie, with ghosts and monsters, taking place in a war) with APOCALYPSE NOW. I didn't see it again until SAVING PRIVATE RYAN. But since 300, I'm seeing the creation of more war movies that follow the ethos of scary or Thriller, Horror movie making, usually from established Horror movie makers like Kathryn Bigelow (NEAR DARK, THE HURT LOCKER) and Neil Marshall (DOG SOLDIERS, DESCENT, DOOMSDAY, CENTURION)

There's a bit too much of the queasy cam in the fight sequences where we get lost in whose fighting whom and who is winning. But there is also just enough over the top ridiculous (without too much), to let the high octane carnage be appreciated for its comic book fun and not as a serious commentary like one would expect in a movie like THE HURT LOCKER.

With THE EXPENDABLES being this much hardcore macho fun, unapologetic in its gore-bath, and a surprising heart at the center to boot? Hell yes I give this grand mad sucker 4 Shriek Girls! I love THE EXPENDABLES!







This review copyright 2010 E.C.McMullen Jr.




Return to Movies