Review by
Kelly Parks

DEEP EVIL

2006
USA Release: April 5, 2005
DEJ Productions / Lizard Digital Video
USA: Rated R
In my experience evil only thinks it's deep. Actually it's pretty shallow. Evil is such a poser.
DEEP EVIL was written by Kevin Gendreau (STRATOSPHERE) and Keith Shaw (SEA GHOST) and directed by Pat Williams (SMALLVILLE [TV], ANDROMEDA [TV]). It begins in the Alaskan woods. Dr. Peter Langdon (Jim Thorburn: SEA GHOST, DANGER BENEATH THE SEA [TV]) is running from something and narration tells us that a nuclear explosion, possibly terrorist related, was detected in Alaska and the military is on the way to investigate.
Peter is captured and at first refuses to talk, saying he can only speak to Major Ross (Adam Harrington: HOUSE OF THE DEAD, TERMINAL COUNTDOWN) or, if he's not available, the President. But a few jabs with an electric cattle prod change his mind and out pours the story.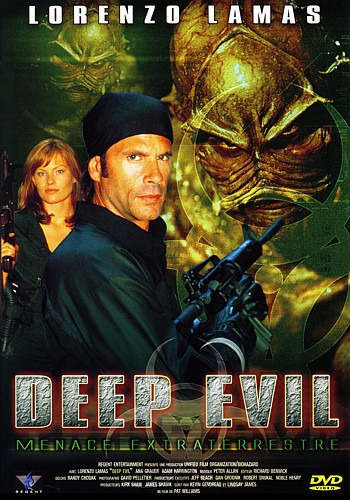 Le DEEP EVIL!
Le MENACE EXTRATERRESTRE!
Sort of.
There are a few confusing jumps in the story but what it works out to is a flashback to Peter showing up at the house of Dr. Sue Cole (Ona Grauer: HOUSE OF THE DEAD, ALONE IN THE DARK). Peter tells Sue that there's been an incident at a research facility in Alaska. Contact has been lost and they're putting together a team to go see what happened.
The team assembles and includes a variety of colorful Special Forces characters, lead by Sgt. Trainor (Lorenzo Lamas: SCI-FIGHTER, RAPTOR ISLAND). Peter and Sue explain just how dangerous all the potential bio-toxins are that may or may not have been released. The soldiers don't like the idea of being lead by these geeky civilians.
The "research facility" turns out to be in much worse shape than expected. At first there are no signs of life but that doesn't last long. So the question you have to be asking right now is, "So what's the monster?"
Let me answer with a
!!!SCIENCE MOMENT!!!:
The alien "creature" doesn't quite violate any laws of physics or anything (although the apparent difference in mass between its various forms come close) but I will point out that its ability to interface with Earthlings means it could only be artificial. Life may or may not exist throughout the Universe but if it does then each time it appears it will have its own unique biochemistry and its own version of something like DNA. So the idea of life from one planet being able to eat (or mate with) life from another planet is truly unlikely.
There's a lot of the standard running around while the monster picks off various characters. Most of these scenes are so poorly lit (or inexplicably filled with fog) that it's hard to tell who got killed how. And then something happens that really shouldn't happen considering who is narrating the story. I'm sure the people who made the movie thought this was a really clever thing to do but it was not because it telegraphed the cheesy twist ending. Not that you won't see it coming down Fifth Avenue anyway.
I give DEEP EVIL one shriek girl.


This review copyright 2005 E.C.McMullen Jr.