Review by
E.C.McMullen Jr.

IRON MAN 2

- 2010
USA Release: May 7, 2010
Paramount
Rated: USA: PG-13
The truth is, sequels really aren't all that difficult because, to keep a franchise going, you don't have to make the sequel better or even just as good. You just have to make sure it doesn't suck. That's all, really: not great not good, just no suck. Genre fans abhor a cinematic vacuum.
XMEN 2? It wasn't better than XMEN, in fact, it was a bit worse, but it didn't suck. XMEN 3 sucked and killed the franchise (along with several of the leads) - but that's what the studio wanted. How else to explain putting Brett Ratner in charge? SPIDER-MAN 2? It wasn't better than SPIDER-MAN, but it didn't suck. SPIDER-MAN 3 sucked and killed the franchise. I gave SPIDER-MAN 3 a solid three. What can I say? Some movies get better with repeated viewings and some get so...
much...
worse.
So what about IRON MAN 2? It's just as good as the original IRON MAN and some parts are even better.
Anyone who is a long time fan of the comic knew that Tony Stark was going down. Stan Lee loves damaged heroes as much as he loves damaged villains. Spider-man has more personal and psychological issues than Batman for crying out loud. Plus, Spider-man does all that while trying to make a living. Bruce Wayne has wealth, power, influence, and connections. He's got his butler Alfred to watch his back and occasionally some boy or girl comes along who wants to be his Robin. Peter Parker has J. Jonah Jamison bitching him out.
Tony Stark has always been a narcissistic, skirt chasing, alcohol and drug abusing drunk. He's also self-defeatist and self-destructive and the only time he can ever pull himself out of his self-pity is when someone attempts to best him. Then his narcissistic need to compete, not just to win but to preserve his ego, kicks in.
That's who Tony Stark is and that is why Stan Lee and director Jon Favreau picked actor Robert Downey Jr. to play him (Even though the studio didn't want him, though I'm sure there were other good reasons for getting Robert: fine actor and all that, but come on: Like Charlie Sheen playing the drunken, skirt chasing, lout Charlie on TV's Two and a Half Men, Downey is pretty much being himself as Tony).
Tony Stark is an anti-hero. Sometimes in the comic books, he was even a villain. Stan never wanted his audience to necessarily like the character so much as like the universe that this character dwelt within. Before there was THE WATCHMEN and their myriad personal deficits, there was Peter Parker and Tony Stark. Batman's serious personal issues didn't surface until much later in the late 1980s with Frank Miller's comic book mini-series, THE DARK KNIGHT RETURNS.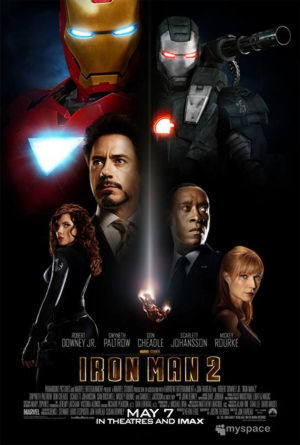 IRON MAN 2 picks up right where IRON MAN left off. Tony Stark (Robert Downey Jr.: IN DREAMS, GOTHIKA, IRON MAN, SHERLOCK HOLMES) announces at a press conference that he is in fact, Iron Man, and basks in the attention and glory.
This brings the worms out of the woodwork, so to speak. On the other side of the world, a dying, poverty-stricken Russian man watches his small television, sees Tony in said basking, and with his last breath, apologizes to his adult son that he can offer him nothing but his knowledge. The son, Ivan Vanko (Mickey Rourke: ANGEL HEART, SIN CITY), wails his loss via the Hollywood Grief Library Template: Male - Head Thrown back & Shout. Then he begins working on a suit powered in a manner not altogether unlike Tony Stark. So where did a poor Russian man find this tech?
Meanwhile, now that his secret identity is out, Tony is subpoenaed to appear before the congressional Committee where Senator Stern (Gary Shandling) insists that Tony turn his Iron Man suit over to the U.S. Government. Tony smells a rat when Stern calls his expert witness, Stark Industries competitor, Justin Hammer (Sam Rockwell: CLOWNHOUSE, HAPPY HELL NIGHT, THE GREEN MILE, GALAXY QUEST), to testify and present a visual presentation.
Tony uses his custom cell phone to control the presentation and quickly reveal to all that Senator Stern is nothing more than a paid shill of Justin Hammer. Stern's real goal is to turn Stark Industries technology over to Hammer. Making fans and enemies in the same second, Stark practically waltzes out of the quickly dismissed proceedings to go about his fatuous way and throws a party to celebrate himself.
Elsewhere, Tony's only best friend, Lt. Colonel James "Rhodey" Rhodes (Don Cheadle: VOLCANO, MISSION TO MARS), has been ordered to pry the Iron Man suit away from Stark. This isn't exactly a legitimate order, so Rhodey has some leeway here on how long it takes him to fulfill this mission. But as a military man, he is being forced to choose between his friendship and his contractual obligation to the Air Force.
Meanwhile, Tony's indispensable assistant, Pepper Potts (Gwyneth Paltrow: SE7EN, THE TALENTED MR. RIPLEY, SKY CAPTAIN AND THE WORLD OF TOMORROW, IRON MAN) has had it with Tony's overindulgent slide into attention-whoredom. Yes, thanks to the Iron Man suit and what it can do, Tony has brought an end to war and threats of war from the blood-thirsty piss-heads who have suddenly decided that pursuing peace is preferable to losing their own lives. Tony is lauded by much of the world as a hero of mythic proportions, while being quietly despised by those who would rather pursue an agenda of wholesale slaughter, terror, suffering and sundry human atrocity - if only it wasn't for that darned suit!
All of this goes through Stark's filter and comes through as only one thing to Tony, "I'm the greatest in the world! Let's throw a party in my honor!"
Tony throws a year long Stark Industries Expo, a virtual church where his adoring fans can praise him and perhaps even personally see him. Tony can't stand to be one second out of the spotlight and will go to any length and any expense to keep everyone's attention and interest all about him. MAN but you just want to see someone take him down. Justin Hammer and Senator Stern sure do.
It begins with Pepper Potts giving Tony her resignation. For all of his bluster, Tony knows that his playboy lifestyle doesn't support itself. It requires the massive infrastructure and money that Stark Industries provides. In true Stark fashion, he keeps Pepper in play by making her his CEO: Permanently and irrevocably. Pepper is taken aback by her sudden change in fortunes and numbly accepts. Tony celebrates the transition with a party.
Meanwhile, Ivan has completed the thing he was working on.
Tony, Pepper, and Tony's chauffeur and all around butler, Happy Hogan (Jon Favreau: BATMAN FOREVER, DEEP IMPACT, THE BIG EMPTY), go to Monaco where, nearly upstaged by a smarmy Justin Hammer, Tony indulges himself. This time by the last second firing of his own race car driver of the Stark Industries car and becoming the driver himself. His driver walks off in disgust and the turn of events is so outrageous and flamboyant that of course the media turns away from Justin and watches Tony. Just Tony. Always Tony.
During the race, and with his new weaponry/armament, Ivan walks onto the track and against the flow of the cars. He has powerful metal whips, charged with some kind of energy that cuts through the oncoming Formula 1 cars like butter. He slices through all the race cars that get in his way, but the one he is casually making his way toward, is the car driven by Tony Stark.
A showdown begins between the two men and Tony is without his Iron Man suit. The power source on Ivan's chest makes it clear just what kind of technology his new enemy is using and things go rather badly. Tony narrowly survives the onslaught. Justin Hammer, along with the rest of the world, watch the televised showdown, but Justin smiles.
A number of new characters are introduced in IRON MAN 2 and I want to pause a moment to acknowledge - like many genre fans have - what a huge mistake this usually is. Tim Burton's BATMAN, already burdened over having the very UN-Bruce Wayne-like actor Michael Keaton, went off the tracks with his second BATMAN movie by having three distinctly separate villains (Shrek, Catwoman, Penguin) with three distinctly separate origins, agendas, and storylines coming together in one movie. BATMAN RETURNS strained when it should have soared. With subsequent Batman movies it got even worse and broke. The very same thing happened with SPIDER-MAN 3 (3 villains and 2 Spider-Man's? Come ON!) and X-MEN 3. Too many major characters with too many different origins and agendas.
IRON MAN 2 introduces the main villain, Ivan aka Whiplash, and villain by weak competition, Justin Hammer. It also introduces Hero-by-tech, War Machine. Also introduced is Nick Fury (Samuel L. Jackson: THE EXORCIST III, JURASSIC PARK, SPHERE, DEEP BLUE SEA, UNBREAKABLE, KILL BILL Vol. 2, THE INCREDIBLES, SNAKES ON A PLANE, 1408, LAKEVIEW TERRACE, THE SPIRIT). Finally there is mysterious Natalie Rushman/ Natasha Romanoff (Scarlett Johannson: EIGHT LEGGED FREAKS, THE ISLAND, THE SPIRIT). What keeps it all together is the lack of unnecessary origins.
War Machine is Lt. Col. James Rhodes. A fringe character in the first IRON MAN, he now comes front and center as a secondary lead to Stark when he steals an early Iron Man prototype.
Justin Hammer is a weapons competitor who envies Tony, wants to be Tony, is even as egotistical as Tony. What he doesn't have is Tony's knowledge, talent, skill, and confidence. Without that, he's the proverbial empty suit. Sam Rockwell plays this character amazingly well.
We don't know why Nick Fury leads S.H.E.I.L.D. and we don't need to. He is part of a shadowy U.S. spy organization and that's enough. Introduced in a blink and a miss in the first IRON MAN, Nick comes to the fore here. Jackson reprises his Agent Augustus Gibbons persona from XXX for this role.
Natasha Romanoff is one of the agents of S.H.E.I.L.D. and THAT'S it. As Stan Lee would say, 'Nuff sed.
The only one who needs some background is the main villain, Whiplash, and his biography dovetails nicely with Tony's own tormented past.
There are some bad moments here, most notably when Rhodes negotiates with Hammer over untested, undemonstrated Hammer weapons. Justin does his sales pitch to trade his weapons stock for the Iron Man prototype suit and tech. Rhodes, without ever seeing Hammer's weapons in action, basing his decision solely on Justin's hype, agrees to hand over the Iron Man suit in trade. What The Flying F?!? I know that this is played for a punch line later in the movie, but it is so damn achingly stupid from the start. And it makes Rhodes look like an incompetent moron.
Moreover, Whiplash is an amazingly weak villain. He has Tony's type of power in his Do It Yourself whips, but he doesn't have the suit. He's utterly exposed and could be easily brought down by a hail of bullets or merely a canister of sleeping gas. Dumb!
Then again, the original IRON MAN had a severely wounded Tony flying hundreds of miles an hour in a massive iron shell suit, only to fall out of the sky and smash the earth at tremendous force, and live! So I'm guessing that face palm stupid scenes are here to stay in the IRON MAN franchise until they overwhelm the movies and kill it.
IRON MAN 2 actually had fewer scenes of mind-boggling stupidity than the first, and I liked that one. Tony's childish behavior is often idiotic and embarrassing, but that's the point. He hasn't hit bottom yet and, if they follow comic-book arc, like any substance abuser he is going to get worse before he gets better (just like Robert Downey Jr.).
Director Jon Favreau keeps it all together with his honed ability to direct people in interaction and opposition to each other: Few do it better.
Writer Justin Theroux, hot off of his writing debut with Tropic Thunder, writes excellent snappy dialog for the characters. Without the witty banter and his artful repartee, Tony Stark would be a charmless, unlikable asshole - like Hammer.
IRON MAN 2 surpasses the first IRON MAN... by a nose. Oh wait. The Iron Man suit doesn't have a nose. Still Three Shriek Girls.




This review copyright 2010 E.C.McMullen Jr.