Review by
E.C.McMullen Jr.

IT CAME FROM BENEATH THE SEA

- 1955
USA Release: July 1, 1955
Columbia Pictures Corporation
Rating: USA: N/A
In 1953, Universal Pictures had a monster hit with their Science Fiction Horror movie, IT CAME FROM OUTER SPACE.
That flick would not stop playing and went into regular rotation at thousands of Drive-Ins across America as a 2nd billing for Double-Features.
Columbia Pictures sure wanted a piece of that, and Ray Harryhausen needed a movie to showcase his stop-motion animation talent.
George Worthing Yates, who wanted to make his mark in Science Fiction Horror (and boy did he ever! Yates is responsible or partly responsible for THEM!, CONQUEST OF SPACE, EARTH VS. THE FLYING SAUCERS, THE AMAZING COLOSSAL MAN, ATTACK OF THE PUPPET PEOPLE, EARTH VS. THE SPIDER, THE FLAME BARRIER, FRANKENSTEIN 1970, SPACE MASTER X-7, WAR OF THE COLOSSAL BEAST, TORMENTED [1960], KING KONG VS. GODZILLA [1963 Universal Pictures production]), wrote IT CAME FROM BENEATH THE SEA specifically for Harryhausen.
Columbia Pictures scored actor Kenneth Tobey, who was still flying high for his work in the phenomenally successful THE THING FROM ANOTHER WORLD [1951] and THE BEAST FROM 20,000 FATHOMS. Tobey wasn't trying to be a genre actor, it's just that with 220 acting credits, he never turned down studio work.
Another score for Ray Harryhausen (MIGHTY JOE YOUNG, BEAST FROM 20,000 FATHOMS, EARTH VS. THE FLYING SAUCERS, 20 MILLION MILES TO EARTH, THE VALLEY OF GWANGI, CLASH OF THE TITANS) and Columbia pictures was getting famed billionaire (the Elon Musk of his day) Howard Hughes' girlfriend of the moment, hot up-and-comer, Faith Domergue. So now we got a freaking movie!
However, Columbia Pictures also decided to hire Robert Gordon, who was well-known for directing romantic shit-kickers (Westerns). So it was kinda like Ang Lee directing THE HULK movie.
Anywho...
IT CAME FROM BENEATH THE SEA begins with Narration! Lots and lots of interest killing narration utterly murdering the movie experience.
So there's these sailors on an "atom-powered" submarine, see? (not atomic-powered, but "atom-powered". One atom? Sheesh!) It's a sea sub, see?
Commander Pete Mathews (Kenneth Tobey: RING OF FEAR, THE VAMPIRE [1957], CRY TERROR, X-15, STARK FEAR, TERROR IN THE SKY, BEN, RAGE, THE HOWLING, STRANGE INVADERS [1983], GREMLINS, GHOST WRITER, GREMLINS 2, DESIRE AND HELL AT SUNSET MOTEL, SINGLE WHITE FEMALE) runs a ship-shape sub and his friendly banter with the crew recalls the interaction actor Kenneth had in character with his subordinates years earlier in THE THING. They shoot the shit about this and that when suddenly radar picks up an odd blob chasing them from behind. It's moving quite fast and catching up.
Curious and cautious, Commander Mathews orders evasive manuevers but whatever it is behind them is undeterred. It's monstrously huge, monstrously fast, and catching up at a monstrous speed. Just what the hell is it?
Before that question has an answer, whatever it is grabs the submarine, holding it in place. Then It begins dragging the sub into deeper depths. Well submarines are designed for depths same as aircraft are designed for height - not all of them can operate on all levels.
Commander Pete orders even more evasive manuevers, let's really give it all we got!
This seems to do the trick, the blob on the radar slinks away until it's off radar, and with that relative bit of safety, Pete sends his divers to go undo whatever is blocking their propeller. They bring back an enormous hunk of flesh but damn if they can figure out what it is. The fact that both men appear rather nervous about it tells us that they've got an idea and they'd rather not say.
Soon the Navy has the hunk and they call in the United States' top Marine Biologists, Dr. John Carter (Donald Curtis: SPELLBOUND, THE AMAZING MR. X, SCIENCE FICTION THEATER [TV]) and Prof. Lesley Joyce (Faith Domergue: CULT OF THE COBRA, THIS ISLAND EARTH, THE ATOMIC MAN, SPIN A DARK WEB, VOYAGE TO A PREHISTORIC PLANET, THE MAN WITH THE ICY EYES, THE HOUSE OF THE SEVEN CORPSES, SO EVIL MY SISTER).
Watson and Crick figured out the double helix nature of DNA in 1953, but 1955 was still far too early to make much sense of it and it takes a long while for Carter and Joyce to figure out where that hunk of flesh comes from.
Not that Commander Mathews is much help. He's pretty much thrown humanity under the bus for a chance to get into Dr. Joyce's pants and she seems to like hard charging, sexually aggressive men like Mathews.
However, if given her druthers, she'd rather have tall, dark, and handsome eggheads like Dr. Carter. Except Carter is more excited about discovering strange biology than discovering Dr. Joyce's biology and she's starting to realize that a short, doughy red-haired man in his late 30s who behaves like a petulent child when he doesn't get his way, is somewhat better for a quick romp in the hay than someone who is just not that into you.
But why would science be more interesting than sex?
Because you can have sex any time (well, most of us can), but Astounding Science discoveries that solve mysteries only come along one in a lifetime!
For example:
!!!THE SCIENCE MOMENT!!!:
Just why the hell was it taking Carter and Joyce so long to sequence the DNA in that hunk of flesh?
Because they lacked the means to do so. That ability to do it easly, quickly, and accurately, didn't come until about 50 years later in 1995 - and longer still before enough animals were sequenced to build a database on what various species were and what they were related to. DNA sequencing in the new millennium turned our understanding of life upside down. Suddenly creatures we thought were closely related weren't, and some animals we thought were different species (Polar Bears and Grizzly Bears, Neanderthals and Cro-Magnon), turned out to be the same species, but different breeds. Different breeds of the same species, whatever their physical appearance, can breed (produce viable progeny) with each other.
The human genome was as completely sequenced as we are currently capable of achieving, in April of 2003. Yet it still didn't stop there. Over 60 years since Crick and Watson and we are still on the genetic launch pad of discovery.
More ships are attacked at sea and by the time Carter and Joyce figure out the hunk of flesh belongs to a giant octopus, that sucker (Khee! Octopus! Sucker! HA!) attacks a city!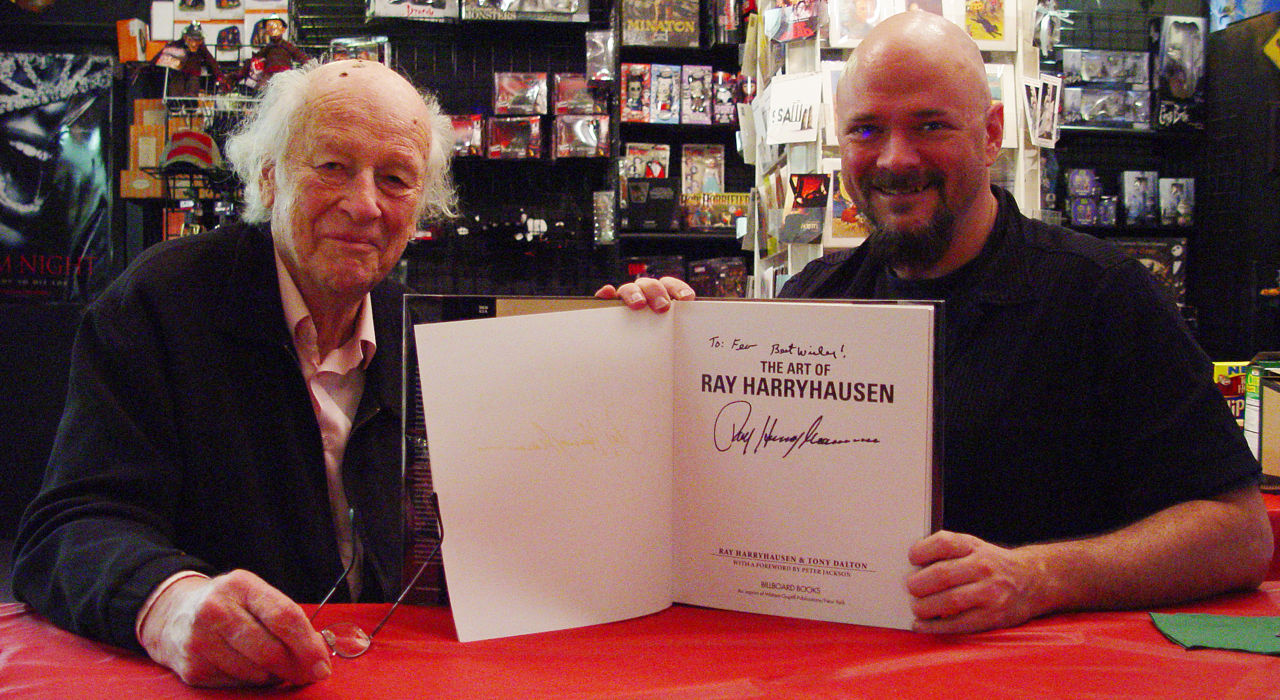 Ray Harryhausen and Feo Amante. This turned out to be Ray's last book signing tour.
For its time, Ray Harryhausen's stop motion animation was king and it's easy to see why. But just as the cgi on the original JURASSIC PARK wowed us at first, then left us flat, so too the nature of special effects has left Harryhausen's ground breaking work in the annals of history.
There were also plenty of errors.
Whether they were dealing with stock footage of San Francisco's Embarcadero district or they shot it themselves, the fact that the city was warned well in advance of the monster's approach, and ITs subsequent attack, and Its massively monstrous tentacles waving all over the place at the shoreline's edge of the Embarcadero, is something that can be seen from pretty much all over the city (and the movie shows this). Which means cars shouldn't be driving right toward and under, and getting smashed by those waving tentacles!
Granted there may be one hell of a traffic jam of folks trying to leave the city through other routes, but would your alternate route be straight toward the tentacles that are slapping people and vehicles flat?
Worse, to fill up the meager 79 minute run time, they kept returning to this scene. 5 minutes later - 10 minutes later - Yep, there are the giant tentacles still waving about. Still slapping the running people flat. Still smashing all of the cars that drive right under them.
Today, IT CAME FROM BENEATH THE SEA is good for 1990s-style, MST3K laughs at all of its blunders and watching a Navy Commander who is more interested in getting some leg from a pretty woman than killing the monster that threatens their lives.
Columbia Pictures immediately realized they went too cheap and released this as a Double-Feature with CREATURE WITH THE ATOM BRAIN. Actor Donald Curtis, however, went to his grave saying this was his personal favorite of his movie work.
There's fun to be had here, but none of it was intentional.
Which is why I give this old classic a barely earned 3 Shriek Girls.




This review copyright 2017 E.C.McMullen Jr.