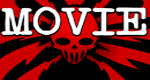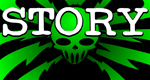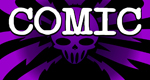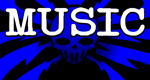 You Support This Site
When You Buy My Books
E.C. McMullen Jr.
PERPETUAL
BULLET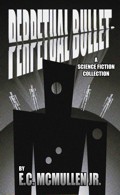 "'Some People' ... may be the standout story in the book."
-

John Grant

, Infinityplus

E.C. McMullen Jr.
WILLOW BLUE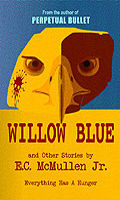 "'Willow Blue' will burrow under your skin and stay there long after you've put the book down."
- Jeffrey Reddick, Creator of
FINAL DESTINATION

IN OTHER BOOKS
E.C. McMullen Jr.'s
short story
CEDO LOOKED LIKE PEOPLE
in the anthology
FEAR THE REAPER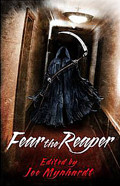 "This Ray Bradbury-esque is one of the most memorable and one of the more original stories I've read in a long time."
- Steve Isaak,
Goodreads

HORROR 201:
The Silver Scream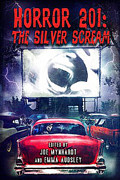 Filmmaker's Guidebook
featuring
RAY BRADBURY,
JOHN CARPENTER,
WES CRAVEN,
TOM HOLLAND,
E.C. McMULLEN Jr.,
GEORGE A. ROMERO,
and many more.



Extensively quoted in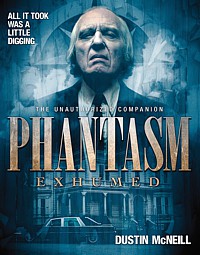 PHANTASM
EXHUMED
The Unauthorized Companion

Robert S. Rhine's
SATAN'S 3-RING
CIRCUS OF HELL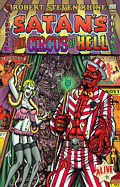 Forward by
GAHAN WILSON &
FEO AMANTE.
Featuring comics by
ALEX PARDEE,
WILLIAM STOUT,
STEVE BISSETTE,
FRANK DIETZ,
JIM SMITH,
FRANK FORTE,
ERIC PIGORS,
MIKE SOSNOWSKI,
OMAHA PEREZ,
DAVID HARTMAN,
STEVEN MANNION,
and more!

And In
CINEMA


E.C. McMullen Jr.


Head Production Designer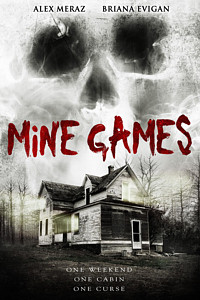 MINE GAMES


(Starring:
JOSEPH CROSS, BRIANA EVIGAN,
ALEX MERAZ)

Dept. head
Special Effects Make-Up
(SFX MUA)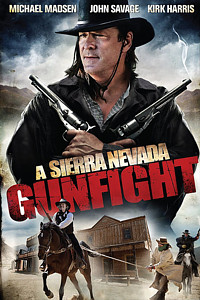 A SIERRA NEVADA
GUNFIGHT
(MICHAEL MADSEN & JOHN SAVAGE).

Production Designer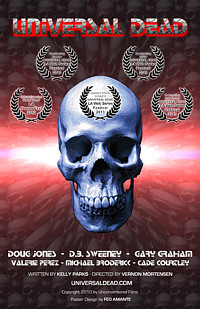 UNIVERSAL DEAD
(DOUG JONES,
D.B. SWEENEY,
GARY GRAHAM)

Art Director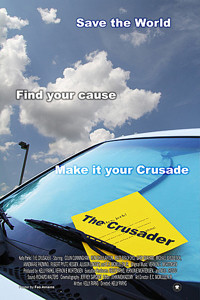 THE CRUSADER
(COLIN CUNNINGHAM,
GARY GRAHAM)
Review by
Kelly Parks

THE INCREDIBLES

- 2004
USA Release: Nov. 5, 2004
Pixar / Disney
Rated: USA: PG
A Pixar cartoon reviewed on Feo Amante's Horror Home Page? Has the world gone mad? Is it a sign of the End Times? Relax, Jethro. First, we've reviewed Pixar cartoons before (MONSTERS, INC) and second, those wacky animators finally made a thriller.
THE INCREDIBLES was written and directed by Brad Bird (THE IRON GIANT, THE SIMPSONS HALLOWEEN SPECIALS [TV]). It's about a world where "supers" (people with super powers) are everywhere. One of the best known is Mr. Incredible (Craig T. Nelson: THE RETURN OF COUNT YORGA, THE FORMULA, POLTERGEIST, POLTERGEIST II, THE DEVIL'S ADVOCATE, CREATURE [TV], THE SKULLS). We see Mr. Incredible, on his way to an appointment, take time to foil a few crimes and an attempted suicide. The appointment is his marriage to another super: Elastigirl (Holly Hunter: THE BURNING, CRASH, COPYCAT, THE FIRM). All seems well.
But then come the lawsuits. In the course of saving someone, Mr. Incredible apparently gave him whiplash. This lucrative lawsuit inspires others and before you know it the supers are forced out of business. The government relocates them and gives them new identities and they must keep their abilities hidden.
A few years go by and the Incredible family now includes three children: Violet (Sarah Vowell), Dash (Spencer Fox) and the infant Jack-Jack. Violet can become invisible and project force fields and Dash has super speed. The baby hasn't exhibited any special abilities so far. And yes, if you are a comic book fan, you'll notice that this family is basically a rearranged Fantastic Four.
TRIVIA
The BLU-RAY comes with 2 discs plus the movie on DVD plus loads of great extras including -
JACK JACK ATTACK

What went on with the babysitter while the Incredibles were otherwise engaged.
A short featuring a dancing lamb and a Jack-A-Lope.
And a bizarro animated Adventures of Mr. Incredible and Frozone - which also includes a separate commentary track of Mr. Incredible and Frozone discussing the merits of said cartoon.
DVD Easter Eggs
There are 16 hidden Easter eggs on the second disc of the Incredibles:
Go to the main menu on Disc 2. Wait about 30 seconds or until a small picture of the "Omnidroid" appears at the top right hand corner of the screen. Arrow up to select the "Omnidroid" and press Enter, a short clip will play.
There are at least 16 clips hidden at virtually all of the submenus also, including set-up, deleted scenes etc. Some menus will play more than one clip.
When you are through, go check out
eeggs.com.
That's where I got this cool info on the eggs.
The funniest moments occur as Mr. Incredible (now using the name Bob Parr) tries to be an "ordinary" person, working in a tiny cubicle at an insurance company. His boss, Mr. Huph (Wallace Shawn: STRANGE INVADERS, MONSTERS, INC., THE HAUNTED MANSION), is constantly suspicious that Bob is being too helpful to his customers.
But helping people is what Bob / Mr. Incredible is all about. That's why he and his best friend Lucius / Frozone (Samuel L. Jackson: THE EXORCIST III, JURASSIC PARK, DEEP BLUE SEA, UNBREAKABLE, SPHERE, KILL BILL: VOL. 2), another super with the power to create ice, spend the occasional evening putting on disguises and saving people where they can. Doing this helps but Mr. Incredible is deeply depressed. He needs to get back in the game.
Which he does, of course, and that's all I'll say about that. What I will tell you is that this movie rocks! It's funny and smart and action packed. It counts as a thriller (and got a PG rating - a first for Pixar) because the action includes bad guys (evil henchmen, actually) trying really hard to kill the Incredibles (including the children) and paying the ultimate price for their foolishness. Jason Lee (DOGMA, DREAMCATCHER) does a great job as Syndrome (the chief bad guy) as does the husky-voiced Elizabeth Peña (JACOB'S LADDER, BLUE STEEL, STRANGELAND, IMPOSTOR) as his assistant, Mirage. But my favorite character is costume designer for the supers, Edna "E" Mode, voiced by writer/director Brad Bird himself.
Also a personal favorite of mine is the
!!!SCIENCE MOMENT!!!:
There are usually two schools of thought regarding superheroes and science. The first is to analyze their abilities based on known physics and point out all the various impossibilities, most of which boil down to violations of the Law of Conservation of energy. The other school of thought states that superheroes are fantasy and therefore it's a mistake to use a scientific point of view just as it would be a mistake to analyze the science in Lord of the Rings.
Continued at SCIENCE MOMENT/The Incredibles
But enough nit-picking. THE INCREDIBLES is a great movie and I can't wait to see it again. I give it the big five on the shriek girl scale.






This review copyright 2004 E.C.McMullen Jr.