Review by
Shirley Muramoto

HARRY POTTER AND THE SORCERER'S STONE

- 2001
USA Release: Nov. 16, 2001
Warner Bros.
Rating – Argentina: Atp / Brazil: Livre / Australia, Canada, New Zealand, USA, UK: PG / France: U / Finland: K-11 / Germany: 6 / Greece: K-13 / Iceland: L / India: U / Ireland: PG / Malaysia: U / Netherlands: MG6 / Norway: 11 / Peru: PT / Portugal: M/12 / South Korea: ALL / Spain: T / Sweden: 11 / Switzerland: 10
Harry Potter (Daniel Radcliffe: THE TAILOR OF PANAMA) is a young orphan trapped living a joyless life in the nominal care of his aunt and uncle. Upon reaching his 11th birthday, a new world is revealed to him – quite literally, a magical world. He finds himself whisked away to a boarding school, where he learns about magic, friendship, and the meaning of courage.
Welcome to the world of Harry Potter.
Chris Columbus's adaptation of J.K. Rowling's beloved tale Harry Potter and the Sorcerer's Stone (or in the U.K., Harry Potter and the Philosopher's Stone) follows the young Harry Potter as he takes his first steps into the wizarding world. And what a well-told tale it is, truly in the spirit of the novel it is based upon.
Many of the actors chosen to portray Rowling's characters are quite simply just right – you almost feel as if they had stepped right out of the pages of the book. Radcliffe in his dark, round glasses really has the look and feel of Harry Potter.
Robbie Coltrane (DEATH WATCH, SUBWAY RIDERS, DEFENCE OF THE REALM, FROM HELL, VAN HELSING) is perfect as the benevolent yet quirky (and quite large) Hagrid.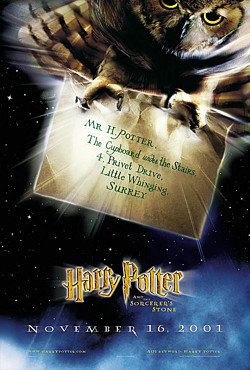 Tom Felton presents just the right mix of sly underhandedness and snobbery in his portrayal of Draco Malfoy.
You couldn't ask for a better strict, disciplined, properly proper Professor McGonagall than Maggie Smith (DEATH ON THE NILE, EVIL UNDER THE SUN). And of course, Rupert Grint (Ron Weasley) and Emma Watson (Hermione Granger) pull their roles off like pros.
To simulate all the many magical happenings in and around the school, a lot of visual effects had to be used. From little touches, as when early in the film an owl releases a letter which flies right into the Dursley's mail slot in the front door, to CGI-intense scenes such as the Quiddich match, there is a lot of attention to detail. Happily, they are used effectively rather than obsessively, and aren't allowed to take center stage in the movie (a mistake Hollywood often makes, sadly). As a result, the story really shines.
Now, with any book-to-movie adaptation, there are always those who like to point out inconsistencies, changes, and the like. These kinds of changes are inevitable, but making changes that don't hinder the story itself is never an easy task. Steve Kloves's screenplay and Chris Columbus' vision combine to make the translation a happy and enjoyable one.
There are a few inconsistencies that can be distracting, however. For example, the occasional changes in Harry's voice (sometimes deeper, sometimes higher) can sometimes be a bit distracting.
One notable incident is during the "letters flying through the chimney" scene – Harry shouts at his Uncle Vernon (Richard Griffiths: BIRD OF PREY [TV], SLEEPY HOLLOW [1999], HARRY POTTER AND THE [all], PIRATES OF THE CARIBBEAN: ON STRANGER TIDES) in a voice that is noticeably deeper than the previous scene, or the following one*.
*




TRIVIA


During production, Daniel Radliff (

Harry

) had the misfortune to enter puberty at that moment and his voice started changing. At first, Chris Columbus tried to deal with it, but eventually it became so bad that a voice actor was brought in.
Joe Sowerbutts is the uncredited voice of Harry in nearly half of the movie.

Holy crap!
Daniel Radcliffe,
Emma Watson,
Rupert Grint!
Could these names possibly BE any more Brit-ethnic?
YES! Because there's also a
Geraldine Somerville,
Warwick Davis,
and a couple of people named Derek.

Hell, might as well be a Trevor Bentley

*

in there.



*

American author, Richard Laymon's protagonist in SAVAGE.
Also, at times the scenes showing the outside of Hogwarts don't seem to be of the same location. Granted, it could just be the school from a very different angle, or it might just be part of the magical environs of a wizard school – but at times it still interrupts the believability. Yes, I realize this is a movie about flying broomsticks and talking hats – but even fantastical tales should have some plausibility.
Still, these inconsistencies are rather minor, and overall the film is quite enjoyable. Definitely a good investment of time and money to watch.
4 out of 5





This review copyright 2007 E.C.McMullen Jr.
YOU MIGHT ALSO ENJOY
THE LORD OF THE RINGS:
FELLOWSHIP OF THE RINGS
MOVIE REVIEW
PIRATES OF THE CARIBBEAN:
THE CURSE OF THE BLACK PEARL
MOVIE REVIEW

THE EVIL DEAD


MOVIE REVIEW