Review by
E.C.McMullen Jr.

SHOULD YOU?


TIP JAR




DANCE OF THE DEAD - 2005
Nice Guy Productions / IDT Entertainment / Anchor Bay Entertainment
Rating: N/A
FeoNote: If this was a theatrical release, it would likely get an R for nudity, sex, violence, and foul language
There are a lot of exemplary people who will forever be remembered for that one big thing they did. Madame Curie, Mahatma Gandhi, Albert Einstein, Ted Kennedy. And the world of entertainment is no different. George Romero: NIGHT OF THE LIVING DEAD. James Cameron: TERMINATOR. George Lucas: Star Wars. Gene Roddenberry: Star Trek. But there are rare moments where some folks are remembered for two things. Two movies that become a part of the lexicon of American culture. Tobe Hooper will forever be remembered for the blood curdling THE TEXAS CHAINSAW MASSACRE, as well as POLTERGIEST and LIFEFORCE.
"They're here!"
Fortunately for Tobe, he won't have to be remembered for DANCE OF THE DEAD.
The movie starts with balloons and a child's birthday party. But soon something comes out of the sky, a thing called "Bliz" that sends the children and their parents running. Those who don't escape, die an agonizing death. This is a woman's nightmare, but it is also her memory. Her daughter tries to calm her. It was, after all, a dream of the past. They are doing okay now. As you should, you ask yourself, "What is going on?"
TRIVIA


Richard Matheson's story, I AM LEGEND, has been made into three movies and is in production for a fourth. THE LAST MAN ON EARTH was the first movie made from Matheson's tale and George Romero credits it as inspiration for his NIGHT OF THE LIVING DEAD.

I Am Legend is the story for
THE LAST MAN ON EARTH (1964),
SOY LEYENDA (Short - 1967)
THE OMEGA MAN (1971),
I AM LEGEND (2007).
The next scene shows us what passes for "okay" in this world. This is a nation at war, where chemical and biological agents are once again used in battle as they've been since at least World War I. The scene is brutal and tragic and you ask yourself: What's going on?
The next scene shows two men dumping nearly naked bodies of young women into a dumpster. All of the women wear a thong - for modesty I guess. The women are still moving, drugged or perhaps zombies, it's not explained. Then the two men set the women on fire. You ask yourself, "What's going on?"
Except now you're deep enough into the film that you should know something of what's going on. So far all we have is empty imagery.
Two young men whom we met earlier, men who grab people off the street and steal their blood, make an appearance at the restaurant where the daughter, Peggy (Jessica Lowndes) meets and connects in some way to Jak (Jonathon Tucker: THE VIRGIN SUICIDES, THE DEEP END, THE TEXAS CHAINSAW MASSACRE [2003], CHERRY CRUSH, PULSE). Though Jak is reprehensible, there is a trace of human within him. He does what he does to survive, even if it's as a parasite, but he takes no pleasure in it. His partner, Box (Ryan MacDonald: HALLOWEEN: RESURRECTION, THE EXORCISM OF EMILY ROSE) embraces the life of causing and inflicting pain on others. He is not only a sadist, but a masochist as well: Delighting in the pain he receives as much as what he gives.
So Bad Boy meets sheltered girl. Girl's Mom, Kate (Marilyn Norrey: SNOW FALLING ON CEDARS, THE EXORCISM OF EMILY ROSE) disapproves of the bad boy which only makes good girl want him more. But the question, nearly halfway into the film is WTF is going on? Up to now there has been plenty of brutality, but little character development. Lots of visuals, but nearly no story, which makes everything that happens as substantive as a music video and just as pointless.
The teleplay and screenplay is by Richard Christian Matheson (Book: DYSTOPIA, Movies: DEAN KOONTZ: SOLE SURVIVOR, IT WAITS) who is mainly known for his work on the late 1970s early 1980s television series like, The Misadventures of Sheriff Lobo, The A-Team, The Powers of Matthew Star, and Hardcastle and McCormick, to name a few.
As you might note from his collection of short stories, DYSTOPIA, Richard loves writing tales about failed or doomed relationships and hopeless futures. Fortunately for him, his father, Richard Matheson (I AM LEGEND, HOUSE OF USHER, PIT AND THE PENDULUM, NIGHT OF THE EAGLE, THE RAVEN, THE LAST MAN ON EARTH, DIE! DIE! MY DARLING!, THE OMEGA MAN, THE NIGHT STRANGLER, THE LEGEND OF HELL HOUSE, A STIR OF ECHOES), has created some of the best, most inspiring works in the sub-genre. And R.C. loves his Pop, as who wouldn't? So R.C. decided to work his father's very short story, DANCE OF THE DEAD, into an hour long program. There were some problems with this, as R.C. says on the DVD's commentary.
What R.C. doesn't mention is that it shows, and what shows looks like filler. While R.C. enjoys Tobe Hooper's imagery and Tobe loved the set design and his actors (so much that he would have loved to have made this a feature length film), there is only enough in DANCE OF THE DEAD to warrant a 30 minute film, max. And it would have been a very good under thirty minute film! But it's nearly an hour LO-ONG, and about half of it is the filmic equivalent of drum machine and scratch mixing.
One of the greatest living actors of our generation, Robert Englund (EATEN ALIVE, DEAD & BURIED, GALAXY OF TERROR, A NIGHTMARE ON ELM STREET [all], URBAN LEGEND, STRANGELAND, PYTHON, 2001 MANIACS) plays master of ceremonies, The M.C., at a loud yet dreary club called The Doom Room. Here some semblance of story begins. In this post apocalyptic world filled with the effluvia of terrorism, someone's military invented a drug that somene else discovered would make a soldier keep standing even after he was killed. The drug found its way into the civilian population and is used to reanimate dead people, mainly women, for sex and entertainment. As usual, Englund as The M.C., owns every scene he is in and makes it all revolve around him. I don't know if there are any actors alive who can hold their own against Englund, but I haven't seen it happen yet.
This movie also gets an
!!!UNFAIR RACIAL CLICHE ALERT!!!:
Avoid spoilers! Go to the URCA to see movie spoilers and why DANCE OF THE DEAD gets this alert.
DANCE OF THE DEAD reminds me of many of the old Twillight Zone black and white episodes where they went from 30 minute shows to hour long ones. Most of the hour long episodes didn't have hour long stories, and dragged their tales out long past the point of the audience knowing where the story was going, or worse, not caring.
The most entertaining part of DANCE OF THE DEAD is in the Doom Room with Englund. The rest is a drag of MTV quick cut imagery without imagination or interest.
But as always, the best part of the DVD is all of the extras. Jam packed enough to satisfy the curiosity of all horror fans and as such, elevates this one Shriek movie up to
Three Shriek Girls.




This review copyright 2007 E.C.McMullen Jr.
Masters of Horror
DANCE OF THE DEAD
DVD
E.C. McMullen Jr. is a participant in the Amazon Services LLC Associates Program, an affiliate advertising program designed to provide a means for sites to earn advertising fees by advertising and linking to amazon.com.
BOOKS FROM
E.C. McMullen Jr.
WILLOW BLUE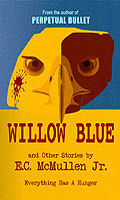 "'Willow Blue' will burrow under your skin and stay there long after you've put the book down."
- Jeffrey Reddick, Creator of FINAL DESTINATION

PERPETUAL BULLET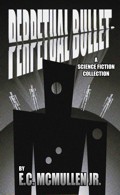 "'Some People' ... may be the standout story in the book."
- John Grant, Infinityplus

IN OTHER BOOKS
E.C. McMullen Jr.'s
short story
CEDO LOOKED LIKE PEOPLE
in the anthology
FEAR THE REAPER


"This Ray Bradbury-esque is one of the most memorable and one of the more original stories I've read in a long time."
- Amazon Review
HORROR 201: The Silver Scream
PAPERBACK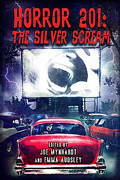 A tome of interviews with
RAY BRADBURY,
JOHN CARPENTER,
WES CRAVEN,
TOM HOLLAND,
E.C. McMULLEN Jr.,
ED NAHA,
GEORGE A. ROMERO, and many more.
Extensively quoted in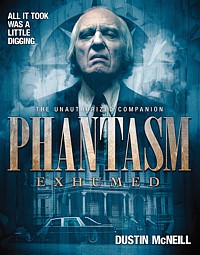 PHANTASM EXHUMED
The Unauthorized Companion

Robert S. Rhine's
SATAN'S 3-RING CIRCUS OF HELL


Forward by
GAHAN WILSON,
FEO AMANTE.
Featuring comics by
WILLIAM STOUT,
HILARY BARTA,
STEVE BISSETTE,
SPAIN RODRIGUEZ,
FRANK DIETZ,
JIM SMITH,
TONE RODRIGUEZ,
FRANK FORTE,
ERIC PIGORS,
ALEX PARDEE,
MIKE SOSNOWSKI,
OMAHA PEREZ,
DAVID HARTMAN,
D.W. FRYDENDALL,
SHANNON WHEELER,
VINCENT WALLER,
JACOB HAIR,
NENAD GUCUNJA,
STEVEN MANNION,
NORMAN CABRERA,
and more!
ALSO
IN CINEMA
E.C. McMullen Jr.
Dept. head for
Special Effects Make-up
(SFX MUA) and was Michael Madsen's stunt double on the movie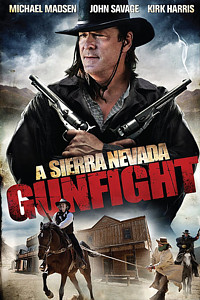 A SIERRA NEVADA GUNFIGHT
(Starring:
Michael Madsen and John Savage).
Head Production Designer on


MINE GAMES
(Starring:
Alex Meraz, Briana Evigan)

Production Designer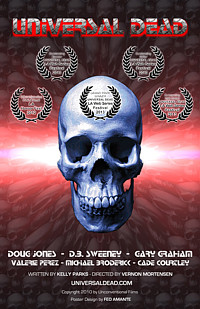 UNIVERSAL DEAD
(Starring:
Doug Jones, D.B. Sweeny, Gary Graham)