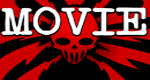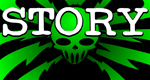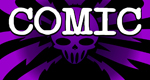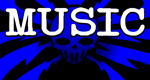 Support This Site

When You Buy My Books
E.C. McMullen Jr.
PERPETUAL
BULLET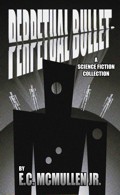 "'Some People' ... may be the standout story in the book."
-

John Grant

, Infinityplus

E.C. McMullen Jr.
WILLOW BLUE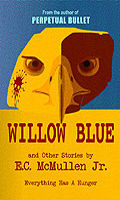 "'Willow Blue' will burrow under your skin and stay there long after you've put the book down."
- Jeffrey Reddick, Creator of
FINAL DESTINATION

IN OTHER BOOKS
E.C. McMullen Jr.'s
short story
CEDO LOOKED LIKE PEOPLE
in the anthology
FEAR THE REAPER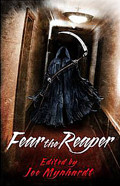 "This Ray Bradbury-esque is one of the most memorable and one of the more original stories I've read in a long time."
- Amazon Review

HORROR 201:
The Silver Scream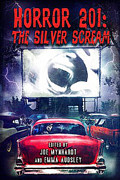 Filmmaker's Guidebook
featuring
RAY BRADBURY,
JOHN CARPENTER,
WES CRAVEN,
TOM HOLLAND,
E.C. McMULLEN Jr.,
GEORGE A. ROMERO,
and many more.



Extensively quoted in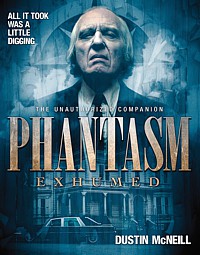 PHANTASM
EXHUMED
The Unauthorized Companion

Robert S. Rhine's
SATAN'S 3-RING
CIRCUS OF HELL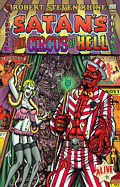 Forward by
GAHAN WILSON &
FEO AMANTE.
Featuring comics by
ALEX PARDEE,
WILLIAM STOUT,
STEVE BISSETTE,
FRANK DIETZ,
JIM SMITH,
FRANK FORTE,
ERIC PIGORS,
MIKE SOSNOWSKI,
OMAHA PEREZ,
DAVID HARTMAN,
STEVEN MANNION,
and more!

Also
IN CINEMA
E.C. McMullen Jr.
Head Production Designer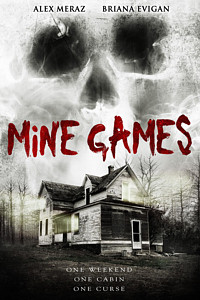 MINE GAMES


(Starring:
JOSEPH CROSS, BRIANA EVIGAN,
ALEX MERAZ)

Dept. head
Special Effects Make-Up
(SFX MUA)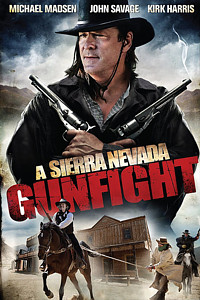 A SIERRA NEVADA
GUNFIGHT
(MICHAEL MADSEN & JOHN SAVAGE).

Production Designer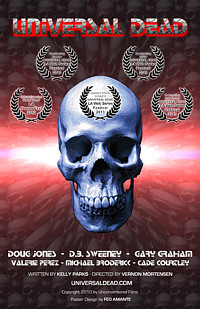 UNIVERSAL DEAD
(DOUG JONES,
D.B. SWEENEY,
GARY GRAHAM)

ART DIRECTOR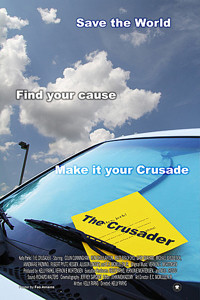 THE CRUSADER
(COLIN CUNNINGHAM,
GARY GRAHAM)
Review by
E.C. McMullen Jr.

THE SPIRIT

- 2008
USA Release: Dec. 25, 2008
Lionsgate
Rated: USA: PG-13

When it comes to writing, Frank Miller, Comic Book writer and artist extraordinaire, has always got the shaft from Hollywood. It took rebellious cowboy film makers like Robert Rodriguez and Zack Snyder to make Frank hot in the movies. And what did he do with his 30 year road to overnight success? He decided that he could direct a movie every bit as well as Robert Rodriguez and Zack Snyder.

A few things that must be said. Rodriguez spent years honing his filmic chops on short films and low budget feature films before he went and made something as stunning as SIN CITY. Frank apparently thought that he could just bypass all that knowledge, education, and experience.

Zack Snyder went to film school and honed his cinematic craft making short films and a relatively low budget feature before he busted out with 300. Miller thought he could just go ahead and bypass that too.

Now what, short of ego-driven ignorance and arrogance, would make him believe such a thing? And what, short of those same character flaws, would make him create such a thing as THE SPIRIT?

You can see that Frank is doing his damnedest to ape Robert note for note in the style of SIN CITY. Perhaps Frank thought that, since SIN CITY was based on his comic book creation, it was no crime to imitate Rodriguez. Yet Eisner's THE SPIRIT is not and never was in any shape or form, SIN CITY. So why did Frank presume to slap his own re-invented template of a Rodriguez creation interpreting back to Frank, on top of Will?

On top of that, Frank goes for a Batman TV show style of self-referential humor and cheeseball hammery. Yet instead of being satirical, it becomes another culprit in a long string of old 1940s detective serials it attempted to send up.

Gabriel Macht, as Denny Colt aka The Spirit, is a flat-out cypher.
TV grouch, Dan Lauria plays the cartoonishly hard bitten Detective Dolan, who is constantly trying to keep The Spirit in line and keep him away from his soft-focus daughter, Dr. Ellen (Sarah Paulson: SERENITY).
Eva Mendes (CHILDREN OF THE CORN V, URBAN LEGENDS: THE FINAL CUT, GHOST RIDER), as Sand Serif, is one of the many femme fatales (far too many cooks for this broth), who does little more than stand around looking soft-focus beautiful. The actor who played Sand Seref as a child, Seychelle Gabriel, is the biggest strength of this whole movie.
Scarlett Johanssen (EIGHT-LEGGED FREAKS, THE ISLAND), who is normally seen as an Oscar winning actress, displays her worst performance ever - even in soft-focus - as the perpetually eye-rolling, Silken Floss.
Samuel L. Jackson (THE EXORCIST III, JURASSIC PARK, SPHERE, DEEP BLUE SEA, UNBREAKABLE, KILL BILL 2, THE INCREDIBLES, SNAKES ON A PLANE, 1408, LAKEVIEW TERRACE) as The Octopus, is bullet proof as always, since he ravenously chews up the scenery.

I really wanted The Octopus to turn to Silken and shout, "Roll your eyes just one more time bitch! Do it! Roll your eyes just one more goddam time! I dare you!" Jackson I suspect, has made enough movies to know when a director is out of his depth, and directs himself despite the picture.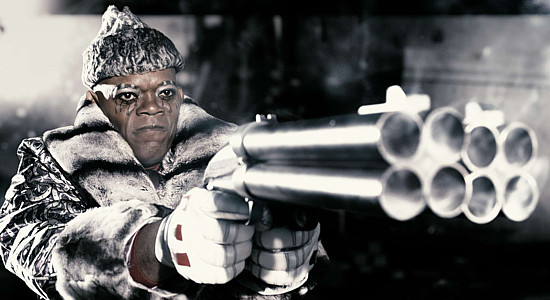 I STARRED IN QUENTIN TARANTINIO MOVIES, GOD DAMN IT!
I WAS THE MOTHER FUCKING STAR! I USED TO MATTER!
Frank is way, WAY (embarrassingly) out of his depth. He throws just about every special effect imaginable into nearly every scene regardless of necessity, making a tortured mess. THE SPIRIT was so bad I found myself rebooting my expectations, lower and lower, trying to enjoy each new scene individually. I even raised my own spirits again for Jackson dressed up as a Nazi officer, in spotlight, ready for a hi-octane wild and weird scene, that only disintegrated into stilted, boring dialogue.
What's more, Frank has the Spirit chasing an overabundance of crooks doing way too many things at once with no idea of how to tie all of them together. People who've watched Rodriguez and Tarantino do it with ease come away awestruck. Frank watched these two giants and thought he could pull it off without their decades of experience and understanding.
And if things couldn't get any worse, THE SPIRIT also gets an
!!!UNFAIR RACIAL CLICHE ALERT!!!
:
Samuel L. Jackson was the only non-white in the movie who was actually playing a minority in the movie. Eva Mendes played Sand Seref but her origins as a child didn't label her as a non-white. Oh wait. before I go any further, do you know what the UNFAIR RACIAL CLICHE ALERT (

URCA

) is? Check out the URCA, then read on at URCA/The Spirit. But beware! These links will take you to SPOILERS!
Frank Miller stated that he was making THE SPIRIT out of the deepest respect and admiration for THE SPIRIT creator, Will Eisner.
Eisner has SUCH deep respect in the Comic community that his very name, THE EISNER, is the highest, most coveted and respected award in Comic Books: Like THE HUGO for Science Fiction writers, THE STOKER for Horror writers, or THE EDGAR for Mystery writers. What's more, Frank Miller himself has such a deep well of love and respect among Comic Book fans for such comic novel masterpieces as RONIN, THE DARK KNIGHT (which re-invigorated BATMAN in the movies), 300, and of course, SIN CITY.
Frank brought LONE WOLF AND CUB - translated into English - to the Western World,
Yet the fact of the matter is, if someone got hold of the rights to Will Eisner's strongest creation, and decided that they wanted to mock, ridicule, and utterly destroy the name of THE SPIRIT and Will Eisner in the minds of movie fans for years to come (like Director Paul Verhoeven and Writer Edward Neumeier openly wanted to do to the late Robert Heinlein with STARSHIP TROOPERS), they could not do worse than what Frank Miller did.
THE SPIRIT is the worst movie I've EVER seen in first run theaters, and I saw SUPERNOVA!


This review copyright 2008 E.C.McMullen Jr.