Review by
Kelly Parks

TERMINATOR 3: Rise of the Machines

- 2003
USA Release: July 2, 2003
C-2 Pictures, Intermedia Films, IMF Internationale Medien und Film GmbH & Co. 3. Produktions KG, Mostow/Lieberman Productions, Columbia Pictures, Warner Bros.
Rated: USA: R
Have I mentioned that I used to be a stand-up comic? Being a comic is a lot of fun but there are difficult moments. Trying to tell jokes to people who weren't very bright before they got drunk is one. Another is following a really funny comic who everybody loves and who everyone takes for granted is ten times funnier than you. If you can pull it off you're a hero. If not…
TERMINATOR 3: Rise of the Machines was not directed by James Cameron (TERMINATOR, ALIENS, TERMINATOR 2, THE ABYSS, TRUE LIES), although he does get a writing credit for creating the characters. Instead, T3 was directed by Jonathan Mostow (BREAKDOWN) and written by John Brancato and Michael Ferris (MINDWARP, THE NET, THE GAME).
The story opens with narration. In other words, we're off to a bad start because narration is usually a mistake. Show, don't tell. I know T2 had opening narration as well and I wasn't crazy about it there either. But at least in T2 it was short and to the point and not sprinkled with clichés.
The narrator is John Conner (Nick Stahl: DISTURBING BEHAVIOR), the role played by Edward Furlong in T2. For those unfamiliar with the whole Terminator storyline, it's based on the idea that John Conner will eventually lead the human resistance against the intelligent machines that try to wipe us out. That's why the machines send Terminator robots back in time to kill his mother before he was born (TERMINATOR) and to kill him and his mother when he was a kid (TERMINATOR 2).
Now John is a young man. After the events of T2 he has every reason to believe that the nuclear war caused by the artificially intelligent computer SkyNet won't happen and that humanity will survive just fine without him. He doesn't really believe it, though, and chooses to live his life "off the grid". No address, no phone, no steady job. John moves around a lot just in case. In his nightmares we see glimpses of the human/machine war that may or may not happen (unfortunately we don't see the cool plasma weapon effect from T2).
His fears are well founded. Right on Rodeo drive a familiar silvery sphere materializes and out pops a naked terminator. This time it's tall and beautiful Kristanna Loken (PANIC), known as the TX (and referred to as the Terminatrix). Ms. Loken has been on the talk show circuit a lot recently promoting T3 and making sure to mention her nude scene. I guess the very brief glimpse of her bare butt counts as a nude scene but just barely.
Speaking of bare butts, in a less populated area the silvery time travel sphere appears again and this time it's the older model T101 Terminator, played of course by Arnold Schwarzenegger (TERMINATOR, TERMINATOR 2, TOTAL RECALL, PREDATOR, END OF DAYS, THE 6TH DAY). Arnold is still in better shape than I'll ever be, but his age does show here and there. For the sake of suspension of disbelief I'll assume that later versions of the T101 had a slight gut added to make them look more human.*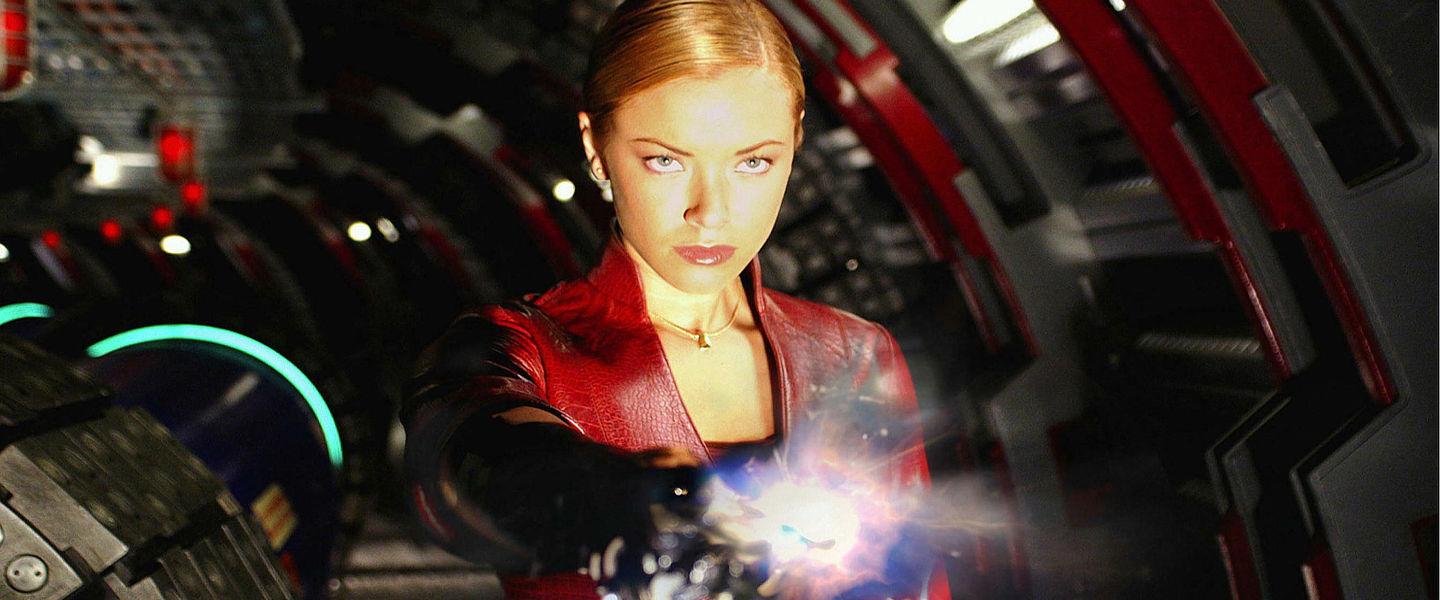 I'M LOOKING FOR MY CAREER AFTER T3.
As in the previous films the T101's first task is to acquire clothes and transportation. He does this in a very funny way this time which sets the theme for much of T3. There are a lot of funny callbacks to scenes from the previous movies.
Meanwhile the TX gets access to the internet and begins tracking down some seemingly random teenagers and young adults. This list includes Kate Brewster (Claire Danes: U-TURN), a recently engaged Los Angeles veterinarian. Kate answers a late-night emergency call and goes down to the animal hospital only to find John Conner has broken in to get some medical supplies following a minor accident. By what seems like a bizarre coincidence until you remember this is a time travel movie, John and Kate know each other from junior high. They don't get a chance to reminisce or to discuss the odd computer virus that seems to be crippling networks all over the world because that's when the Terminators arrive.
One thing this movie does well is action. The fight scenes and the many chase sequences are action-packed, no question. One in particular, involving a huge crane, had the audience gasping. The TX is several generations more advanced than the obsolete T101 and has lots of extras, including the ability to take control of other machines.
But what about the story? I will tell you that part of it centers on Kate's father, Robert Brewster (David Andrews: A NIGHTMARE ON ELM STREET, HANNIBAL), an Air Force general in charge of an artificial intelligence project called SkyNet. Also, the question of why didn't the events in T2 stop the machines from existing in the future gets adequately answered and the ending makes some interesting choices about the meaning of time travel and the possibility of T4. That's the good news.
The bad news is that unlike the previous films a lot of the events here just don't stand up to close examination. This happens mostly in the second half of the movie, where plot is frequently just a thin excuse used to bridge together action sequences. A much better choice would have been to tell the story of S.M. Stirling's novelization T2: INFILTRATOR, but if wishes were fishes...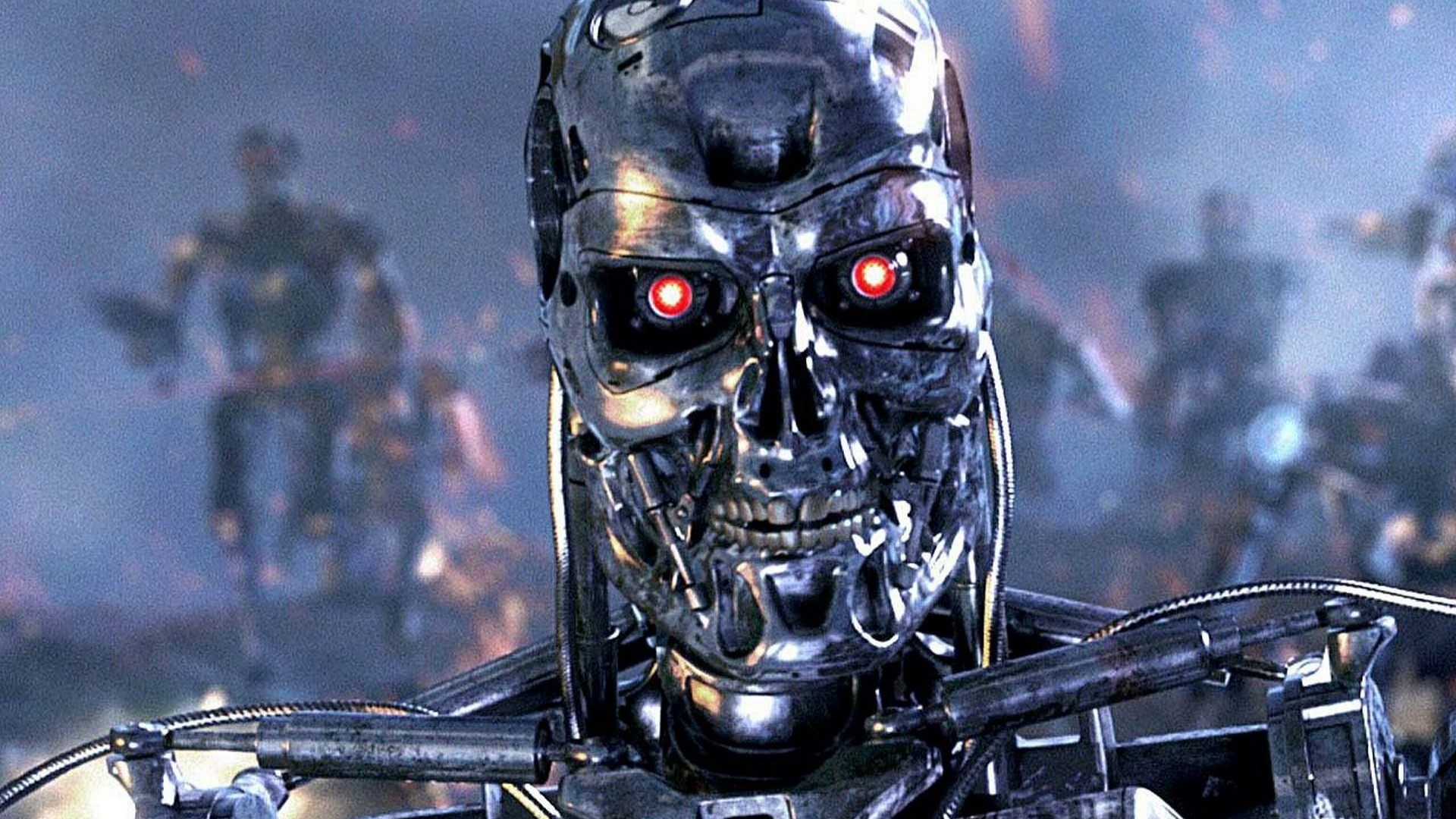 HELLO! WE'RE IN THE NEIGHBORHOOD AND I'D LIKE TO TALK TO YOU ABOUT THE AFTERLIFE. DO YOU KNOW WHEN YOU ARE GOING TO DIE? I KNOW I DO!
I also want to mention something within the confines of a
!!!SCIENCE MOMENT!!!:
I must praise the screenwriter's vision of exactly what SkyNet is. At first I thought they had the same misunderstanding of modern computers seen in THE MATRIX: Reloaded but that turned out to be a plot point and a bit of misdirection on their part.
Good job.
They also include references to nanotechnology that show they have a decent understanding of the subject. Sometimes all it takes to get the science right is a subscription to Discover magazine.
For more science on the other Terminator movies, go to
Science Moment/Terminator
Science Moment/T2 page
!!!THE UNFAIR RACIAL CLICHÉ ALERT!!!:
No surprise here. Like every Schwarzenegger Horror / Thriller movie that has come before, the black guy dies. If there is a minority woman, she'll live but only after the black guy is killed. If there is no black guy, then the black woman / minority woman will die. By this point, the very second I saw the only black guy in the entire movie start talking, I knew he was toast.
For more information, go to THE UNFAIR RACIAL CLICHÉ ALERT page.
As summer blockbusters go this is a pretty good movie. Definitely entertaining and fun. But it's just not in the same league as the sci-fi/action masterpieces that came before. I give TERMINATOR 3: Rise of the Machines a three on the shriek girl scale.




This review copyright 2003 E.C.McMullen Jr.