Review by
E.C. McMullen Jr.

THE DEAD NEXT DOOR

- 1989
USA Release: Nov. 1989
Tempe Entertainment / Anchor Bay Entertainment
Rated: USA: R
It's 1985, yer a small town guy, who wants to make movies, yet you have no connections.
None. At. All.
The best you can do is a Super 8mm camera, which is the lowest of the low in movie cameras.
And life might have stayed that way, if you didn't run across another small town guy who was starting to make good. He set up his own film production company and, by gum, he wants to encourage backyard budding film talent! And this financier ain't just anybody, he has real, verifiable, even admirable credits!
He also doesn't want his name associated in any way with your movie.
But regardless of his true name (he calls himself "The Master Cylinder"), your name is J.R. Bookwalter and, by God you are going to make a Horror movie!
A horror movie with zombies! A horror movie that has characters named after your favorite Horror movie small-town-nobody-independent-folk who made it big - like YOU want to make it big!
Billy Idol, the idol of the 1980s, has a slow dance number out called The Dead Next Door! Why, what a swell name for a zombie horror movie!
But you ain't kidding yourself either. You can't afford to actually pay anyone, so you have to get whatever film crew you can cobble together to make your picture.
HA! This would never fly in Hollywood, but it would practically everywhere else!
Over the course of a year, Writer/Director/Producer J.R. Bookwalter, with the kind of passionate blind faith that would lead him to believe - despite expert opinion - that he could make an entire, feature length movie, on Super 8mm film stock, made that movie!
The outcome? Boy is this thing cheap! Conversely, it is widely renown as the most expensive Super 8mm movie ever made (a dubious distinction that garners zero challengers. $75,000 but you'll swear you're looking at $750.00).
The story takes place with a father and daughter locking themselves in their basement or perhaps garage. Merry Mishaps occur.
Yep, just that fast.
The story takes place in the future, perhaps next week, where a new Federal Government agency, Zombie Squad, goes out everyday to answer zombie emergency calls. That is, humans are calling, not the zombies themselves. Zombies have no emergencies - at least none that matter.
Humans, even ones especially trained in the job of handling zombies, have a dickens of a time staying off the undead menu. They put zombies in these rattle-y PVC pipe cages, and seem to lose a human or two everytime they do it, which is several times a day.
The dashing hero of the Zombie Squad is Raimi (Pete Ferry), an iron jawed hunk with nice hair. He is accompanied in his duties by the plumply ravishing Kuller (Jolie Jacunas: STARQUEST II), and a number of other soon-to-be victims.
Everything is falling apart. The Whitehouse gates are being overrun by zombies and the Zombie Squad is the worst trained pack of nincompoops you ever saw. In several scenes they absentmindedly stick their fingers right into a zombie's mouth.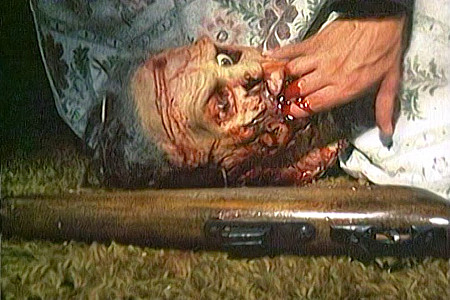 Of course, such stupidity is played for laughs and there is some to be had here.
Dr. Moulsson (Bogdan Pecic: ROBOT NINJA, ZOMBIE COP), plays the Dr. Logan of the film, explaining what little he knows about the undead. In this case, the zombies were created out of a genetically engineered virus, made in a scientist's home lab.
But none of that matters. What matters is that Moulsson might be able to rustle up a cure, if not for two opposing factors.
On the looney left-wing, some peacenik idiots, with no real leaders, demand that the U.S. Government leave the zombies alone. They protest U.S. Government intervention into the affairs of zombies even while the dead descend upon them and eat them. Kind of prescient when you think about it.
The other factor is the crazy right-wing religious freaks led by Reverend Jim Jones (Robert Kokai). The zombies are really God's punishment and should be left alone to do God's work.
In this kind of climate I say, shoot the extremists first, then the zombies.
J.R. Bookwalter was out of his mind trying a stunt like this and so was The Master Cylinder, aka Sam Raimi (THE EVIL DEAD, DARKMAN, SPIDER-MAN) for financing it.
THE DEAD NEXT DOOR is the kind of cheapo Horror film that will cause you to choke on your laughter. While the zombies are moaning, you'll be groaning through this gorefest that has to be the best reason I can think of for having so-bad-it's-good rating system at all.
Because Sam Raimi was involved, Actor Scott Spiegel (THE EVIL DEAD, THE EVIL DEAD II, INTRUDER, ROBOT NINJA, SKINNED ALIVE, DARKMAN, DUSK TILL DAWN 2, SPIDER-MAN, SPIDER-MAN 2, 2001 MANIACS, DRAG ME TO HELL) and
Bruce Campbell (THE EVIL DEAD, THE EVIL DEAD II, MANIAC COP, INTRUDER, MOON TRAP, SUNDOWN: THE VAMPIRE IN RETREAT, MANIAC COP 2, DARKMAN, LUNATICS: A LOVE STORY, MINDWARP, WAXWORK II, ARMY OF DARKNESS, CONGO, ESCAPE FROM L.A., ASSAULT ON DOME 4, MENNO'S MIND, DUSK TILL DAWN 2,TIMEQUEST, SPIDER-MAN, BUBBA HO-TEP, TERMINAL INVASION, SPIDER-MAN 2, ALIEN APOCALYPSE, MAN WITH THE SCREAMING BRAIN) make appearances.
All 5 Negative ShriekGirls






This review copyright 2006 E.C.McMullen Jr.