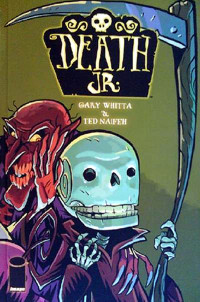 DEATH JR.
- 2005
Writer: Gary Whitta
Artist: Ted Naifeh
Publisher: Image
It's rare that a story intended for children comes along that accounts for adult tastes as well. Its so rare, in fact, that Computer Graphics Imagery (CGI) animation studio, Pixar has carved out a very successful niche for itself doing just that: appealing to children as well as their parents.
The subtlety of Gary Whitta and Ted Naifeh's DEATH JR. is that it starts out as a children's comic. Despite the look of Death Jr., the dialog is straight out of Saturday morning Nickelodeon. Death Jr. is the son of Death. Death is apparently a family owned business that falls to the men in the family. Death Jr.'s Mom is a regular human female who apparently has a kink for incredibly skinny guys. death Jr. isn't THE death - not yet, but blood will tell - or whatever passes for blood in a skeleton (hey, yer bone marrow produces the blood in your body so don't argue semantics with ME!). Everything Death Jr. touches, barring his Mom, soon dies. When the story begins, their short lived cat is called Six. When Death Jr. returns from school, he cheerily calls out to the new cat - that he has never seen before - as Seven.
"Hey Seven, old buddy! Looking good!"
DEATH JR. opens with Death Jr.'s first day of school. exposed to so much newness and variety, it takes Death Jr. some time to realize that there are significant differences between him and the rest of his classmates, and before you know it, he falls in with a crowd that, themselves, are as different from the rest of the children as they are from each other.
Eventually, Death Jr. makes friends with Pandora Singlet, who can't resist getting into anything that is closed.
There is Stigmartha (Marty), another girl who bleeds from her hands when she gets nervous, and she is nervous about everything - especially penguins.
There are the twins, Smith and Weston, who are joined at the head. One has a foul mouth, the other one is overly verbose.
Then there is Seep. Seep travels around in a giant clear tube that rolls around on tank treads. Seep has no arms, legs, or lips and floats in a solution of something. He wears only a diaper and a cork where his naval should be. He too is foulmouthed and rude as well - but is loyal to his friends.
While the daily travails of learning to fit in at school and among your peers plays out, an evil force is accidentally released, courtesy of Pandora's obsessive opening of anything closed.
Merry Mishaps occur.
Death Jr., or DJ as his friends call him, is caught up in the evil and it appears that he may be completey consumed by it. The evil, and Death Jr.'s culpability with it, become grown up issues very fast as Death Jr. becomes a threat not only to his friends, but to his family as well.
Author, Gary Whitta, handles the balance between a children's story and a modern fable quite well. The story, originally created as a backstory for the Sony Playstation game of the same name, could have been a throw-away cheap shot, but Whitta takes it seriously. Whitta is serious about writing Horror Thrillers. His screenplay REAPER, is currently in production from Media8, the company that brought us the non-horror docudrama, MONSTER in 2004 starring Charlize Theron in her Oscar winning role.
Even as an adult, I thoroughly enjoyed DEATH JR. from an adult perspective and this is one any parent wouldn't have a problem sharing with their child. The artwork by Ted Naifeh (GLOOM COOKIE, TWILIGHT KINGDOM) that perfectly captures Whitta's prose, lends a sort of Dia De Los Muertos atmosphere to DJ's appearance. Whitta and Naifeh's DEATH JR. is a winner.
4 Fanboys

This review copyright 2006 E.C.McMullen Jr.