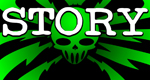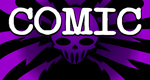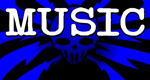 You Support This Site
When You Buy My Books
E.C. McMullen Jr.
PERPETUAL
BULLET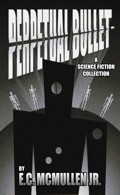 "'Some People' ... may be the standout story in the book."
-

John Grant

, Infinityplus

E.C. McMullen Jr.
WILLOW BLUE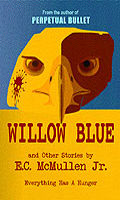 "'Willow Blue' will burrow under your skin and stay there long after you've put the book down."
- Jeffrey Reddick, Creator of
FINAL DESTINATION

IN OTHER BOOKS
E.C. McMullen Jr.'s
short story
CEDO LOOKED LIKE PEOPLE
in the anthology
FEAR THE REAPER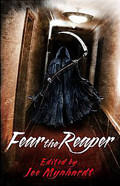 "This Ray Bradbury-esque is one of the most memorable and one of the more original stories I've read in a long time."
- Steve Isaak,
Goodreads

HORROR 201:
The Silver Scream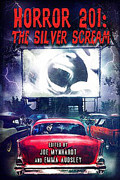 Filmmaker's Guidebook
featuring
RAY BRADBURY,
JOHN CARPENTER,
WES CRAVEN,
TOM HOLLAND,
E.C. McMULLEN Jr.,
GEORGE A. ROMERO,
and many more.



Extensively quoted in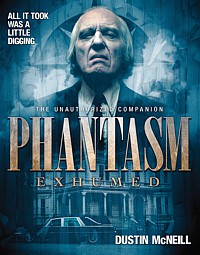 PHANTASM
EXHUMED
The Unauthorized Companion

Robert S. Rhine's
SATAN'S 3-RING
CIRCUS OF HELL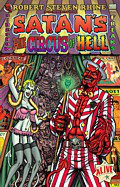 Forward by
GAHAN WILSON &
FEO AMANTE.
Featuring comics by
ALEX PARDEE,
WILLIAM STOUT,
STEVE BISSETTE,
FRANK DIETZ,
JIM SMITH,
FRANK FORTE,
ERIC PIGORS,
MIKE SOSNOWSKI,
OMAHA PEREZ,
DAVID HARTMAN,
STEVEN MANNION,
and more!

And
IN CINEMA


E.C. McMullen Jr.


Head Production Designer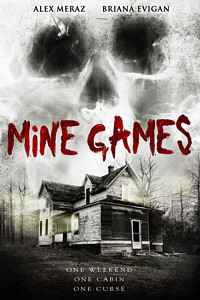 MINE GAMES


(Starring:
JOSEPH CROSS, BRIANA EVIGAN,
ALEX MERAZ)

Production Designer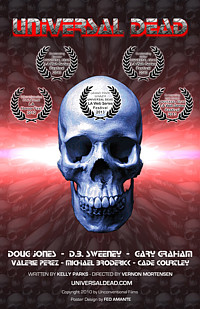 UNIVERSAL DEAD
(DOUG JONES,
D.B. SWEENEY,
GARY GRAHAM)

ART DIRECTOR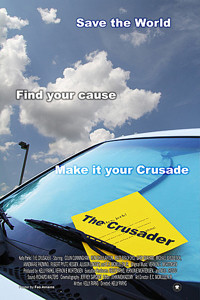 THE CRUSADER
(COLIN CUNNINGHAM,
GARY GRAHAM)
Review by
E.C. McMullen Jr.

HEAVY METAL 2000

- 2000
USA Release: July 10, 2000
Lions Gate Films
Rated: France: -12 / Germany: 18 / USA: R
For those of you who may have seen HEAVY METAL and are thinking, "Cool! The sequel is finally out!" prepare to be disappointed. Whatever Kevin Eastman and company were doing for the past 4 years, they weren't making a good movie. They had 5 screenwriters on this one, the job of three of them, it seems, was to completely fuck Kevin, Simon Bisely, and Eric Talbot's graphic novel MELTING POT to screwed blue hell.
I'm not saying that HEAVY METAL was an outstanding movie, but for all its setbacks, the damn thing still ROCKED!
HEAVY METAL 2000 has more violence, far more animated nudity and yet, EVEN WITH THAT, is still one of the most boring pieces of shit that I have ever wasted my life watching!
HOW CAN YOU MAKE NUDITY AND VIOLENCE BORING??? HOW???
Co-Director and Producer Michel Lemire, along with Kevin Eastman (not producer or director but this is HIS property!) apparently knows how.
The movie drags its sorry ass for a good 10 minutes before anything you could call "action" finally happens. When it does, we don't even get the kind of violence that you would see in TeeVee animations like BEAST WARS, STARSHIP TROOPERS (the animated series), or even REBOOT!
No, we get shuttle pictures of folks in slow motion with brown fluid coming out of their bodies and expressions on their face that make them look more like they are going to beddy bye than actually dying. The colors are largely muted in HEAVY METAL 2000: dull brownish hues in pastel.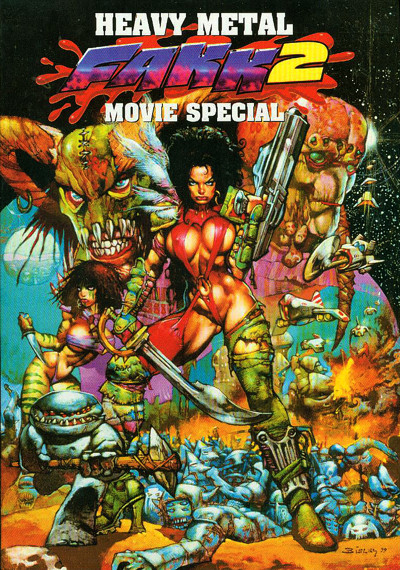 All the original fun and funky of Simon Bisley's FAKK 2
The story line is a simple retelling of the Taarna segment (the last story) of the original HEAVY METAL movie. A warrior (Michael Ironside: SCANNERS, TOTAL RECALL, STARSHIP TROOPERS, THE OMEGA CODE) gets a green glowing crystal (shard instead of the whole orb this time - like in THE DARK CRYSTAL - oh, the originality!), lays waste to some local yokels while looking for immortality, and gets chased after by a sexy warrior woman (Julie Strain: BIG SISTER 2000, BATTLE QUEEN 2020) bent on revenge.
Only in this retelling, the warrior woman gets assistance from an Obi Wan named Odin (Billy Idol) and a number of cutesy characters. Oh joy and merchandising! Somebody crack the whip on those kids in China! We need McFarlane Toys for this one!
Another way this movie stinks raw is the music. While Mike Oliveri came away unimpressed with the HEAVY METAL 2000 soundtrack, I've been playing it to death. Remember how the music in HEAVY METAL blasted out, setting the mood of every scene (theatrical release, not the toothless video)? In this movie, the music is muted. AGAIN! MUTED! It's all in the dim background!
The computer animation is good - nothing exceptional - you'll see better in most commercials, but it's good. The cell animation, on the other hand, is cheap choppy crap that even Hanna Barbera wouldn't try to get away with at their worst!
DAMN but this movie is awful! It's heartbreaking for what could have been and gives HEAVY METAL magazine a bad name! I hate this crap! Kill This Movie Before It Breeds! KILL IT!


This review copyright 2000 E.C.McMullen Jr.