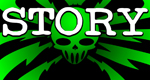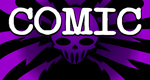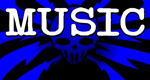 You Support This Site
When You Buy My Books
E.C. McMullen Jr.
PERPETUAL
BULLET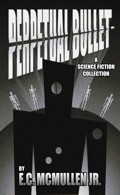 "'Some People' ... may be the standout story in the book."
-

John Grant

, Infinityplus

E.C. McMullen Jr.
WILLOW BLUE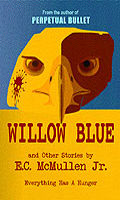 "'Willow Blue' will burrow under your skin and stay there long after you've put the book down."
- Jeffrey Reddick, Creator of
FINAL DESTINATION

IN OTHER BOOKS
E.C. McMullen Jr.'s
short story
CEDO LOOKED LIKE PEOPLE
in the anthology
FEAR THE REAPER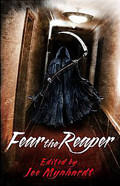 "This Ray Bradbury-esque is one of the most memorable and one of the more original stories I've read in a long time."
- Steve Isaak,
Goodreads

HORROR 201:
The Silver Scream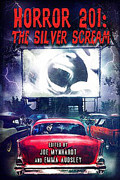 Filmmaker's Guidebook
featuring
RAY BRADBURY,
JOHN CARPENTER,
WES CRAVEN,
TOM HOLLAND,
E.C. McMULLEN Jr.,
GEORGE A. ROMERO,
and many more.



Extensively quoted in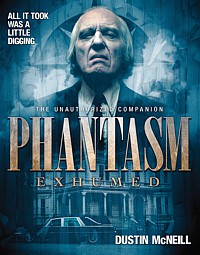 PHANTASM
EXHUMED
The Unauthorized Companion

Robert S. Rhine's
SATAN'S 3-RING
CIRCUS OF HELL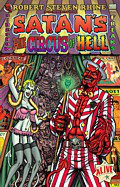 Forward by
GAHAN WILSON &
FEO AMANTE.
Featuring comics by
ALEX PARDEE,
WILLIAM STOUT,
STEVE BISSETTE,
FRANK DIETZ,
JIM SMITH,
FRANK FORTE,
ERIC PIGORS,
MIKE SOSNOWSKI,
OMAHA PEREZ,
DAVID HARTMAN,
STEVEN MANNION,
and more!

And
IN CINEMA


E.C. McMullen Jr.


Head Production Designer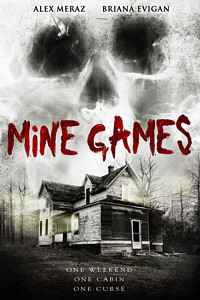 MINE GAMES


(Starring:
JOSEPH CROSS, BRIANA EVIGAN,
ALEX MERAZ)

Dept. head
Special Effects Make-Up
(SFX MUA)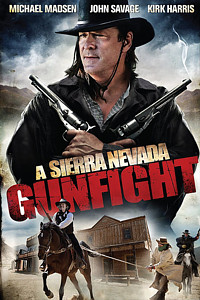 A SIERRA NEVADA
GUNFIGHT
(MICHAEL MADSEN & JOHN SAVAGE).

Production Designer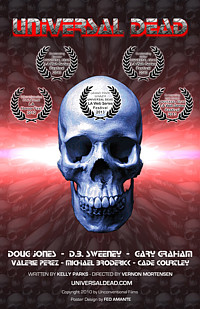 UNIVERSAL DEAD
(DOUG JONES,
D.B. SWEENEY,
GARY GRAHAM)

ART DIRECTOR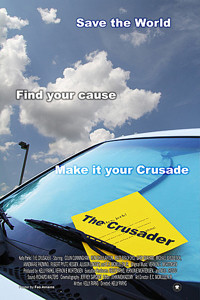 THE CRUSADER
(COLIN CUNNINGHAM,
GARY GRAHAM)
Review by
E.C.McMullen Jr.

FOR MY MEDICATION


TIP JAR




Frank Miller's SIN CITY

- 2005
USA Release: April 1, 2005
Troublemaker Studios / Dimension Films
Rated: Australia: MA / France: -12 / Germany, Netherlands: 16 / USA: R
A beautiful woman in a red dress stands on a massive balcony, overlooking a city, while a man approaches her. He tells of what she looks like to him, and he tells her what she wants to hear. She's the Customer (Marley Shelton: LURED INNOCENCE, VALENTINE). He's The Salesman (Josh Hartnett: THE FACULTY, THE VIRGIN SUICIDES, 30 DAYS OF NIGHT), so he also tells her things that chill her. Finally, he tells he that he will always be there for her. He's a stranger, but he's not unknown to her, she hired him, and the customer is always right.
Frank Miller's SIN CITY is a story told in a series of interlocking vignettes about people, and is unyieldingly character driven - just what you'd expect from Director Robert Rodriguez (FROM DUSK TILL DAWN, THE FACULTY) and writer Frank Miller (RONIN, THE DARK KNIGHT RETURNS, 300). Yet the individual stories all add up to the main star of the tale, and that's the South end of Basin City, known to its inhabitants as Sin City.
No smooth transitions, every vignette seems to careen from one to the other and Rodriguez never lets go of Miller's comic book form. That said, Rodriguez takes an awful lot of liberty with Miller's style, enhancing it without bastardizing it. That couldn't have been easy, even with Frank Miller's help. Frank is a comic book writer and artist, no film maker he - until this flick that is. Then again, as usual, Robert had complete control over the project.
SIN CITY was shot entirely in 4.4.4. 2k digital using Sony CineAlta HDC-F950 cameras.
The movie was shown using both digital and film projectors. Film prints being made from the digital masters.
Shortly after the film came out, film purists (unaware perhaps of how SIN CITY was shot) insisted that the film version looked better than the digital version. But the fact is, the film version is the digital version, just a second generation copy of the master. With uncompressed digital there is no generation loss.
This time Robert wore the following hats:
Co-Director
Original Music
Cinematography
Film editing
Sound re-recording mixer
Visual effects Supervisor
Camera Operator
With his wife, Elizabeth Avellán as producer (Elizabeth has produced, in some capacity, all of Robert's movies), Robert made this movie exactly how he wanted it, and he wanted to have the equal input of the man who created Sin City, Frank Miller. Then Robert got his good bud, Quentin Tarantino to direct a segment. Then Robert quit the Director's Guild because they said,
"All of these cooks? WTF? Hell no you ain't doing that!"
Rodriguez does it his way which makes Horror Thriller Geeks like me go ape in a good way. Right now Robert and Quentin have wrapped production on GRINDHOUSE and are working, along with the new filmmaker, Frank Miller, on SIN CITY 2. Frank and Robert are also producing, along with Elizabeth. In short, they haven't slowed a bit.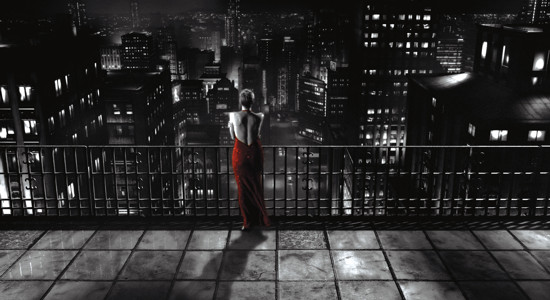 SIN CITY is about several people, who walk through each others lives without ever actually interacting. And they all come together, sooner or later, to a single strip club where women like Shellie (Brittany Murphy: THE PROPHECY II) and Nancy Callahan (Jessica Alba: IDLE HANDS, AWAKE) work and dance. There is Detective Hartigan (Bruce Willis: THE SIXTH SENSE, UNBREAKABLE), a cop on his last day on the job. He has a wife to come home to, who is making his favorite meal. He's done his time on the force, everything is as it should be.
Except for one thing.
One more detail that he can't let go: A child molesting kidnapper is on the loose. Worse, the cops all know his name, know who he is, and know where to find him - but they don't. He is the son of the very wealthy and VERY influential Senator Rourke (think the Kennedy Family), a Catholic man (seriously, the Kennedy clan), whose own brother is a big wig in the Catholic church. The Rourke family can do whatever they want, be as corrupt as they want, and Senator Rourke (Powers Booth: FRAILTY), will still be re-elected. And Senator Rourke's only son is a murdering child molestor. Hartigan knows where to find him, and knows that no one else will save her if he doesn't. The thing is, Rourke Jr. (Nick Stahl: DISTURBING BEHAVIOR, TERMINATOR 3) is a strong young man and Hartigan is an old man with a bum ticker. "Hell of a way to start a retirement," Hartigan tells himself.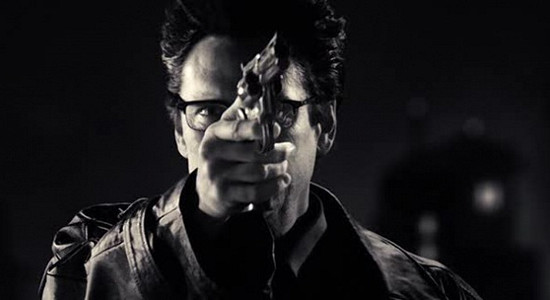 Michael Madsen, as Bob, picks a hell of a way to end a friendship.
Mickey Rourke (FADE TO BLACK, ANGEL HEART, THEY CRAWL, ONCE UPON A TIME IN MEXICO) takes over in the next vignette about a hard case, hard luck man named Marv. Marv is a borderline insane maniac without a heart of gold. What he does have is a paper thin moral compass, likely as different from yours or mine as you are ever going to see. His version of right and wrong is uniquely his own, and it doesn't keep him out of trouble. And trouble comes hunting for Marv when someone murders his lover, Goldie (Jaime King: THE TRIPPER, MY BLOODY VALENTINE 3D) in their own bed while Marv is sleeping right next to her.
"The cops," he thinks as he hears their sirens approach.
"They're telling me too much. Because there are only three people in the world who could know that Goldie's dead. Goldie, Me, and the son of a bitch who killed her. So this is a frame-up. Which means that there is no reason at all to play this any way but my way."
And play it he does.
There is not much that Marv asks from life, because there is not much life has ever offered him. He's got a "condition", one that requires the medication his parole officer, Lucille (Carla Gugino: THE UNBORN, THE WATCHMEN) provides. Marv's done some bad things in his life, thinking he was doing the right thing when he wasn't, and that is ever present on his mind. But when he's taking his pills, his mind is clear. The things he does in the name of his own brand of justice is cruel, but not heartless. To the contrary, his heart is really into it.
Why? Because Marv gets a really big kick out of violence. He takes an evil delight out of doing the right thing, you might say. But in Basin City there are some well-heeled people who take an evil delight out of doing evil things. Somewhere in Marv's dark soul, a balance is struck, if for no other reason than to avenge the kindness of a one night stand. This brings him up against Kevin (Elijah Wood: THE FACULTY, THE LORD OF THE RINGS [all], 9) and Cardinal Rourke (Rutger Haur: BLADE RUNNER, THE HITCHER, BUFFY THE VAMPIRE SLAYER, BLEEDERS), and In One Night, Marv gives a whole lot of people the Hard Goodbye.
Dwight (Clive Owen: THE BOURNE IDENTITY, THE INSIDE MAN, CHILDREN OF MEN) shows up for the Big Fat Kill. A real bad guy who likes to beat women and kill prostitutes is more than he seems when Dwight takes him on. Dwight isn't alone in this either. An army of hookers, led by Gail (Rosario Dawson: MEN IN BLACK II, DEATHPROOF) form a tenuous and unlikely alliance with him, teaming up against the common foe in the name of safety and turf.
Then it's eight years later and Hartigan returns. A beaten man, he lives for only one thing and that's the letter he gets every Thursday from "Cordelia". But one Thursday the letter doesn't arrive, and he's never felt more alone, never more beaten. Then one day a foul smelling yellow man drops a letter on the floor. It has a part in it. The kind of part that people would rather not lose. Hartigan is ready to debase himself, sign what they want, say what they want, to get out of prison. There is work to be done; cop work from a crime that's eight years old, and this old man isn't done yet.
Every story follows the same theme: a tough as nails man in service, somehow, to a woman or women.
Every scene and every frame is done cartoon style that is reminscent of Frank Miller without ever actually being Frank Miller. Rodriguez has a sterling vision of both forms and knows how to translate the image from paper to the screen.
For over 20 years, Frank Miller has been an outsider looking into Hollywood. Hollywood loves his fanbase, but doesn't like him. Frank tends to make heroes out of Hollywood's favorite villains, and villains out of Hollywood's favorite heroes. Frank is too politically incorrect for the Hollywood mindset.
Robert Rodriguez had to leave the Hollywood Director's Guild just to make this movie. Which suited his best friend and fellow SIN CITY director, Quentin Tarantino just fine - as he never belonged in the first place. Made by the most visible U.S. film making renegades (and the most successful), Frank Miller's SIN CITY is a comic fan's dream on the big screen and earns all 5 ShriekGirls for its bombastic perfection.






This review copyright 2005 E.C.McMullen Jr.