Review by
Kelly Parks

SPIDER-MAN

- 2002
USA Release: May 3, 2002
Marvel Enterprises, Laura Ziskin Productions, Columbia Pictures Corporation
Rating: USA: PG
He's strong, like a spider! Pow! He swings from a web like a spider! Whoosh! His bite injects a chemical that liquefies your internal organs so he can suck them out, like a spider! Slurp!
SPIDER-MAN was directed by Sam Raimi (THE EVIL DEAD, ARMY OF DARKNESS, THE GIFT) and written by David Koepp (STIR OF ECHOES, JURASSIC PARK), with a writing credit also going to Stan Lee and Steve Ditko for the comic book.
Mild mannered high school geek Peter Parker (Tobey Maguire) is the target of ridicule for the jocks and the object of pity for Mary Jane "MJ" Watson (Kirsten Dunst: INTERVIEW WITH THE VAMPIRE, THE CROW: Salvation). Peter, of course, is desperately in love with MJ. She thinks Peter is nice when she notices him at all, instead focusing her attention on her jock boyfriend, one of Peter's tormentors. This formula story has been around ever since the first lonely nerd longed for an unattainable cheerleader and thought to himself, "I'd bet she'd notice me if I had super powers. Then I'd show her. Then I'd show them all!"*
*
TRIVIA
A train of thought that usually leads to a restraining order, but sometimes leads to a career writing screenplays; which leads to movies where your high school fantasies can be acted out by beautiful people; pretending to be the nerd you were back then; and who say they love your script; but who still won't hang out with you, damn it!

SPIDER-MAN
in 30 seconds and re-enacted by bunnies!
A field trip to a science museum includes a visit to a genetics lab that is studying spiders. Peter snaps a few pictures for the school paper while trying to work up the nerve to talk to MJ. Instead, Peter's friend Harry Osborn (James Franco) beats him to it. Harry is an outcast too, but not for being a brainy nerd like Peter. Harry's father is wealthy industrialist Norman Osborn (Willem Dafoe: eXistenZ, AMERICAN PSYCHO) so he's made fun of for being a rich kid. Like jocks need a reason?
The genetic scientist explaining the experiments points out a display that, she says, "Contains fifteen genetically engineered spiders. Super spiders, if you will."
"Fourteen," says MJ, helpfully. The scientist looks closer and sure enough one of the containers is empty. She brushes it off by saying one of the labs must have checked the specimen out, but we know better. Super spider 15 (sounds like a Japanese anime' title, doesn't it?) has spun a web just above Mr. Parker. It drops gently onto his hand and gives him a serious bite, then scurries off under a table.
Now maybe it's just me, but if I was in a lab full of genetically engineered super spiders and a big, weird-looking multi-colored arachnid bit me on the hand and left a big red mark, I'd tell somebody! I'd demand an ambulance, an antidote, and a lawyer, in that order. Peter, being the milksop that he is, just goes home, tells his aunt and uncle he's not feeling well (duh!), and goes to sleep. Peter's Aunt May (Rosemary Harris: THE BOYS FROM BRAZIL, THE GIFT) and Uncle Ben (Cliff Robertson) are raising him.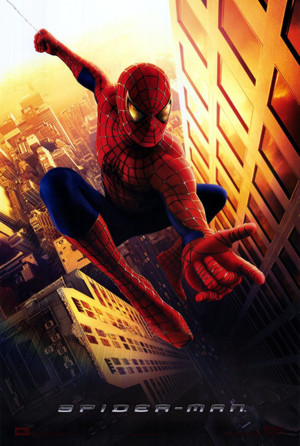 Peter wakes up the next day and begins discovering his new powers. This part of the movie is both cool and funny as some of his abilities take time to master. There is the inevitable kicking of the bully's ass scene, which leads me to a small
!!!SCIENCE MOMENT!!!:
Lots of movies are made about good guys with super strength giving bad guys the beating they deserve, which is fine. But no movie has ever been made (to the best of my knowledge) that shows what a fight like this would really be like. The single spider-strength blow that Peter delivers to his bully, sending the bully flying down a hallway, would certainly have resulted in a shattered rib cage, massive internal bleeding, and one dead bully.
The rest of the science here I'm willing to let slide, with two comments. First, a genetically engineered spider is vastly more believable than a mere "radioactive" spider as in the original comic. Second, if you want a much better movie about the genetic mixing of a human with a multi-legged nonhuman, watch Jeff Goldblum in THE FLY.
Meanwhile, on a converging plotline, Norman Osborn's company is about to lose a big military contract because a performance-enhancing drug is behind schedule. In mouse studies it apparently works most of the time, with just a few side effects like death and insanity. Norman is pretty close to crazy already, and thinks nothing of using himself as a guinea pig to test the drug. The drug works as advertised and Norman develops a super-strong alternate personality that comes to be known as the Green Goblin.
I also must mention the great scenes with J. Jonah Jameson (J.K. Simmons: THE GIFT), editor of the newspaper that begins a vendetta against Spiderman. Simmons' over the top tough newspaperman persona is fun to watch and I only wish he'd been used more.
The final piece of the puzzle comes in explaining why Peter Parker starts calling himself SPIDER-MAN and why he uses his powers to fight crime. The reasons given are both funny (actually, really funny) and touching. Unfortunately the remaining 2/3rds of the movie aren't as funny or as touching but are corny and a little boring. A serious editing job would have made this a much better film. I still recommend seeing it. SPIDER-MAN gets three Shriek Girls.



This review copyright 2002 E.C.McMullen Jr.
LOVE THIS SITE?
Support it when you buy my books
E.C. McMullen Jr.
PERPETUAL
BULLET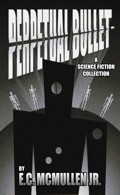 "'Some People' ... may be the standout story in the book."
- John Grant, Infinityplus
WILLOW BLUE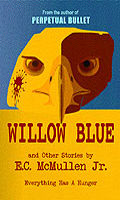 "'Willow Blue' will burrow under your skin and stay there long after you've put the book down."
- Jeffrey Reddick, Creator of
FINAL DESTINATION
IN OTHER BOOKS
E.C. McMullen Jr.'s
short story
CEDO LOOKED LIKE PEOPLE
in the anthology
FEAR THE REAPER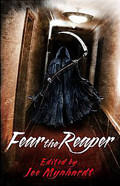 "This Ray Bradbury-esque is one of the most memorable and one of the more original stories I've read in a long time."
- Amazon Review
HORROR 201:
The Silver Scream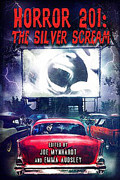 Filmmaker's Guidebook
featuring
RAY BRADBURY,
JOHN CARPENTER,
WES CRAVEN,
TOM HOLLAND,
E.C. McMULLEN Jr.,
GEORGE A. ROMERO,
and many more.
Extensively quoted in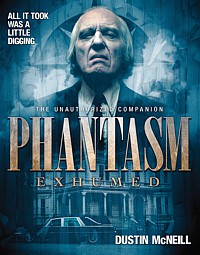 PHANTASM
EXHUMED
The Unauthorized Companion
Robert S. Rhine's
SATAN'S 3-RING
CIRCUS OF HELL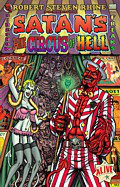 Forward by
GAHAN WILSON &
FEO AMANTE.
Featuring comics by
ALEX PARDEE,
WILLIAM STOUT,
STEVE BISSETTE,
FRANK DIETZ,
JIM SMITH,
FRANK FORTE,
ERIC PIGORS,
MIKE SOSNOWSKI,
OMAHA PEREZ,
DAVID HARTMAN,
STEVEN MANNION,
and more!
Also
IN CINEMA
E.C. McMullen Jr.
Head Production Designer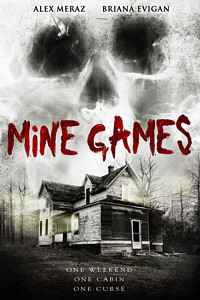 MINE GAMES
(Starring:
JOSEPH CROSS, BRIANA EVIGAN,
ALEX MERAZ)
PRODUCTION DESIGNER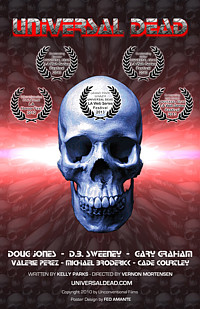 UNIVERSAL DEAD
(DOUG JONES,
D.B. SWEENEY,
GARY GRAHAM)