SHOULD YOU?


TIP JAR



TWILIGHT
- 2008
Goldcrest Pictures / Imprint Entertainment / Maverick Films / Temple Hill Entertainment / Twilight Productions / Summit Entertainment
Rated: USA: R
My thoughts of TWILIGHT are impacted because I read the book first (something I highly recommend). Blame Stephanie Meyer, the author of TWILIGHT. I gave the book 5 out of 5 Bookwyrms (read my review of the novel, TWILIGHT).
As I read the book, I couldn't wait to do some thorough and seriously dedicated pouncing on my husband. Never got that watching the movie.
I know movies have to cut or change scenes. No problem. But whoever was in charge of TWILIGHT the movie, drastically altered the look and feel of the novel. I suspect, as is often the case, the filmmakers didn't actually read the book. If they had, they'd have wanted to match the many elements that made it so phenomenal - the intelligence, vibrant emotions, intrigue, delightful plot surprises, dialogue, character choices, passion, and life.
This didn't happen with HARRY POTTER. There was no way to cram the plot from any of the books into a 2-3 hour movie, but you recognized the characters, and enjoyed being introduced to a world where magic was common.
The books and movies tasted the same.
Compare JURASSIC PARK's translation from book to screen. There were differences, yet both had the same flavor - an adventurous romp with dinosaurs. But with TWILIGHT, the book and the movie didn't't share the same tone and flavor. They even changed the intelligent, passionately-addicted-to-each-other characters into people who were, for the
most part, dark, sullen, teenagers. It's like comparing gourmet vanilla ice cream to a banana. Hm. Well,they're both, um, food, and, uh, whitish, and, er….soft.

It's about Bella, played by Kristen Stewart (PANIC ROOM, THE MESSENGERS, JUMPER), a 17 year old who moves to Ford, WA to live with her father. At the new school, she falls in love with Edward Cullen (Robert Pattinson HARRY POTTER AND THE GOBLET OF FIRE, HARRY POTTER AND THE ORDER OF THE PHOENIX). He's a vampire and lives with a family of vampires. Dr. Carlisle (Peter Facinelli: SUPERNOVA, THE SCORPION KING, HOLLOW MAN II) and Esme Cullen (Elizabeth Reaser: STAY) are the parents who adopted 5 teenagers - Rosalie, Jasper, Alice, Emmet, and Edward. A group of evil vampires, led by James, wander into Ford while Bella is hanging with the Cullens, and want to share the "snack". The Cullen's defend her, which pisses off James' group and particularly James (Cam Gigandet), who despises the fact that Edward and Bella love each other. He decides to destroy them both.
To the filmmakers' credit, the trailers didn't lie. Nearly all the scenes were filmed in a dark pallet, the 2 lovers gave each other a lot of long, brooding looks, and talked in monotone. For the most part, the constant passion, fast thinking, curiosity, and deep fear Edward would leave Bella were absent from the film.
Also missing was the way Edward filled Bella's senses with his golden voice, honey scent, godlike looks, and, most of all, his eyes. When looking into them, Edward's eyes derailed Bella's normally sharp train of thought. Being around him didn't just make her heart beat faster, he made her feel whole. Before meeting Edward, Bella never realized she had a large missing piece.
One scene in the film portrayed this in a fully satisfying way, but the rest were shadows, compared to the book. I should mention that all 3 of the 20 year old women I saw the film with, after watching the movie, wanted to read the book. This leads me to believe that the film is thoroughly enjoyable to those who do not understand what's missing.
One scene beautifully, wonderfully matched the book, flavor wise - when Bella went to the Cullen family's house for the first time. Their house was open, bathed in light, the dialogue was animated, fun, filled with surprises, and the missing awkwardness between vampire and human filled the room with lively action-reaction-adjustment.
What really drives me crazy, is that one or two sentences of dialogue here and there, and doing the scenes slightly differently (nothing that would have made the film longer), could have shared more of the delightful book-essence. Plus, of course, not bathing the entire film in dark colors (though I suppose it supports those brooding looks).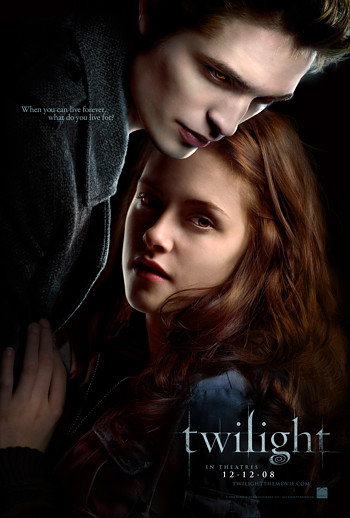 WHEN YOU CAN LIVE FOREVER, WHAT DO YOU LIVE FOR?
TWILIGHT, as directed by Catherine Hardwicke, had scenes that moved along and most of the character interactions were interesting, though much of the suspense from the book was missing. I wasn't going crazy waiting for the 2 lovers to touch, to kiss, to learn the secrets vampires hide, to find out if Bella and Edward keep their relationship, or their lives. But I wasn't bored (again, hard to tell how much was the film, because I was wildly curious to learn how they'd portray various scenes, and my head filled in reams of missing information using tidbits culled from the book). Screenwriter Melissa Rosenberg (DEXTER [TV]), mostly wrote for TV. It looks like this is her first solo feature adaptation. I'd love to read her original script. I suspect, as happens to many writers, the film didn't turn out like it played in her head.
I think the film was miscast. The brooding looks should have conveyed lively passionate, curiosity, glowing addiction, and a rapid variety of thoughts. Haley Joel Osment and Dakota Fanning are the only 2 actors, in the right age range, that I think could have truly pulled these characters off. Blue eyes and blond hair be hanged! I wasn't ever tired of looking into Haley's eyes in THE SIXTH SENSE or Dakota's in Taken. Yet Kristen Stewart is a really good actress! I saw a trailer for her next film, and she was alive and interesting to watch. Her lines in TWILIGHT were, for the most part, monotone. I did not believe Kristin's voice-over, when she said she was helplessly in love with a vampire. The passion that poured from Stephanie Meyer's book was missing. I'd have said the line in a breathless rush that overflowed with helpless need. But maybe that's how she was directed. However, Kristen did a fantastic job in the scene where she's terrified Edward is going to leave her. She had lines, let loose her emotions, came to life, and did her wonderful thing.
Robert Pattinson is wonderful to watch. He did a better job portraying Edward than Kristen did playing Bella, but he also had more to work with. And the book portrays him as more mysterious, so silent looks work better for his character. Alice (Ashley Greene OTIS) was 100% perfectly cast. Greene has been in a few TV episodes and small parts in films, but she's got a sweet slate of movies lined up, so keep an eye on her. She's alive in the film and one of the most interesting characters in the books. Alice doesn't ever "walk", she dances enthusiastically (I read that author Stephanie was thoroughly pleased with Ashley's portrayal of Alice).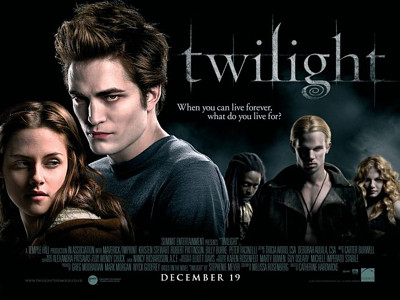 I LIVE FOR WET-DOG SMELL!
The supporting cast did a good job, and were well cast by Deborah Aquila, Jennifer L. Smith, and Mary Tricia Wood. The interactions between Bella's dad, Charlie Swan (Billy Burke: FRACTURE), and Billy Black (Gil Birmingham: HOUSE II), rang true - I believed these were 2 long-time friends. Chief Swan's scenes with Bella were hit and miss because of the "uncomfortable silence". Maybe that was it. The "uncomfortable silence" parts didn't play right. The dialogue did a better job opening up the characters. Cam Gigandet was a wonderfully vile James. Watching him, I believed he was deeply twisted, and insanely smart, and desperately wanted someone to stop him.
There were a few times when the camera, for no reason I could figure out, left the main characters, wandered into the trees, and then went back to the actors. Was this Hardwicke's favored Cinematographer, Elliot Davis's (VAMP, MORTAL THOUGHTS, EQUINOX, MOTHER'S BOYS) decision? He got some really gorgeous scenic shots, and I could always see everything (in spite of the dark color correction). Another long-time team player is Editor Nancy Richardson, who also worked with Melissa Rosenberg's scripted Step Up, and edited Catherine Hardwicke and Elliot Davis' Thirteen and Lord's Of Dogtown. The film crew did a good job putting the film together, and it really helps to have worked together on past projects.
Art Directors, Christopher Brown (VANISHED [TV]) and Ian Phillips (GACY, REST STOP), along with Set Designer, Gene Serdena (HOUSE II, SCREAM 3) did a fantastic job on the various houses, vehicles, and sets. They were exactly as I imagined they'd be, based on the book. My guess is that Serdena either read the book, or talked extensively with Stephanie Meyer. As a musician addicted to movie music, I usually pay attention to the soundtrack. I have no recollection of what it sounded like, which means the music fits into the scope of the film without drawing attention to itself. The Cohen Brothers favorite composer, Carter Burwell (BUFFY THE VAMPIRE SLAYER, BOOK OF SHADOWS: BLAIR WITCH 2) knows his stuff.

I was expecting more from the FX folks when we see Edward in the sunlight. The 3 gals I saw the film with weren't sure anything was happening, at first, and I agree the effect was too subtle. Did they run out of time? Money? Or was it directed this way? The sunlight scene is one of the passages I read twice in a row, because it was so amazing, and something Stephanie left as a dangling question long before revealing the surprising answer. Unlike the movie, which mentioned sunlight and vampires, and then, maybe 2 minutes later, revealed what happens.

But if you've never read the book, you wouldn't know differently.
I think the producers and director had a vision that wasn't based on the rush that comes from Stephanie Meyer's books. That's what's missing from the movie - the addiction. The rush. My heart wasn't beating faster because of the passion Bella feels when she thinks about, is around, and kisses Edward.

If you've read the book, watching the film is like going from 3D CGI, color films to black and white, 2-D animated movies.

If you grew up with black and white movies, then you don't know what you're missing, but it's still entertaining.

I wanted to reread the book as soon as I finished (the second time through was just as enjoyable). I enjoyed the film, but feel no need to see it again.
3 Shriek Girls




This review copyright 2008 E.C.McMullen Jr.

DVD


BLU-RAY


TWILIGHT ULTIMATE COLLECTOR'S SET


BOOKS




SOUNDTRACK
TRIVIA
Diane Matson also wrote the book review for
TWILIGHT
TWILIGHT

in 30 seconds and re-enacted by bunnies.


TWILIGHT FALLS

From
Ultimate Avengers #16
FROM


E.C. McMullen Jr.


WILLOW BLUE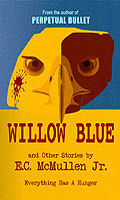 a never-before published collection of stories from the author of PERPETUAL BULLET.
Available exclusively at Amazon.com until 2015.



PERPETUAL BULLET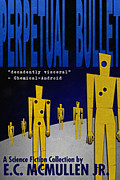 "E.C. McMullen Jr's 'Some People' ... may be the standout story in the book."
- John Grant, Infinityplus



AVAILABLE AT


Amazon,
Barnes & Noble,
Diesel,
iTunes, KoboBooks,
Smashwords,

and


WHSmith

ALSO
E.C. McMullen Jr.'s
short story
CEDO LOOKED LIKE PEOPLE
appears in the anthology


FEAR THE REAPER