Review by
Lee Cushing

CROTA

- 1996
By Owl Goingback
Signet
320 pages
PB $6.99
ISBN: 0-451-19736-4
In CROTA, Owl Goingback traces the blitzkrieg of an antediluvian monster across an all-too-vulnerable small town in Mississippi River country. Old Man River must know somethin', but it ain't how to stop the onslaught of a red-hided, yellow-eyed beast that shreds skin for sport!
The tale begins with a freshly awakened Crota doing what Crotas do best (hint: it isn't macrame). Sheriff Skip Harding coordinates an investigation into the killings, initially fearing a drug-related hit or a serial killer on the loose. When we first meet Skip, he reeks of the classic monster story protagonist. He's a family man (we get all-too-short introductions to Skip's wife, Katie, and his son, Billy), and a skilled and ethical lawman. Yet, like Gary Cooper in High Noon we sense, almost from the beginning, a lack of depth in his character...an incompleteness...a road this man has yet to travel.
As Skip's initial investigations and consultations with the local coroner turn up naught, the body count racks up with chilling ferocity. At this point, one would think that readers averse to rivers of gore would tune out. But by endowing his predator with evil intelligence and varying the prey from man to beast, Goingback threads novelty into each hunt scene.
Skip's search for answers twists down an increasingly personal and spiritual path as he meets up with local game warden and Cherokee shaman Jay Little Hawk. Goingback explores Little Hawk in rich characterization. In the process, he offers riveting descriptions of the spirituality teeming throughout every fabric of a medicine man's world.
The interactions between the Sheriff and Little Hawk carry the reader on a transfixing ride. Non-Native American readers who may most readily identify with Skip share his fantastic plunge into the sweat lodge and beyond. As the story progresses, we travel deeper into Skip's psyche, deeper into Native American lore, and deeper into the twisted tunnels of Crota's lair inside the cave known as the Devil's Boot.
CROTA is an edge-of-your seat page-turner, and a remarkably quick read. Yet in the fast pace of the action, some elements deserving fuller development get lost in the shuffle. For example, monster hunting in the world of Crota is an exclusively male occupation. Skip's wife, Katie, pops her head up only in scant pages of "honey, be careful..." dialogue.
Unanswered questions abound. What exactly is the Crota? What's behind its supernatural power and it murderous impulse? And what about the deeper mysteries uncovered (but left mostly unexplored) in Devil's Boot?
Nonetheless, CROTA's satisfying read renders these gaps easy to forgive (certainly the Horror Writers Association thought so, voting it the best first novel of 1996).
With 300+ fascinating pages sopping with everything from the grotesque to the ethereal, CROTA earns a solid Four BookWyrms.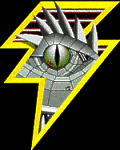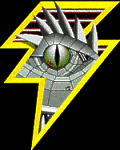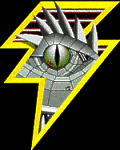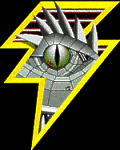 This review copyright 2001 E.C.McMullen Jr.
LOVE THIS SITE?
Support it when you buy my books

E.C. McMullen Jr.
WILLOW BLUE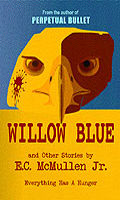 "'Willow Blue' will burrow under your skin and stay there long after you've put the book down."
- Jeffrey Reddick, Creator of
FINAL DESTINATION

E.C. McMullen Jr.
PERPETUAL
BULLET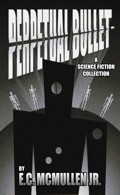 "'Some People' ... may be the standout story in the book."
-

John Grant

, Infinityplus

IN OTHER BOOKS
E.C. McMullen Jr.'s
short story
CEDO LOOKED LIKE PEOPLE
in the anthology
FEAR THE REAPER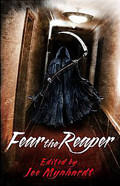 "This Ray Bradbury-esque is one of the most memorable and one of the more original stories I've read in a long time."
- Amazon Review

HORROR 201:
The Silver Scream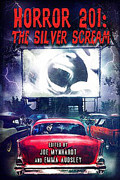 Filmmaker's Guidebook
featuring
RAY BRADBURY,
JOHN CARPENTER,
WES CRAVEN,
TOM HOLLAND,
E.C. McMULLEN Jr.,
GEORGE A. ROMERO,
and many more.

Robert S. Rhine's
SATAN'S 3-RING
CIRCUS OF HELL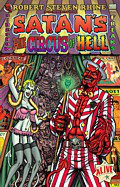 Forward by
GAHAN WILSON &
FEO AMANTE.
Featuring comics by
ALEX PARDEE,
WILLIAM STOUT,
STEVE BISSETTE,
FRANK DIETZ,
JIM SMITH,
FRANK FORTE,
ERIC PIGORS,
MIKE SOSNOWSKI,
OMAHA PEREZ,
DAVID HARTMAN,
STEVEN MANNION,
and more!