Review by
E.C. McMullen Jr.

THE EXORCIST III

- 1990
USA Release: AUG! 17, 1990
Morgan Creek
Ratings: Australia, USA: R / Finland: K-18 / France: -16 / Germany, Ireland, Netherlands, Norway, UK: 18 / Hong Kong: III / Sweden: 15
Novelist and screen writer, William Peter Blatty, was nursing a grudge. When the director of the original THE EXORCIST, William Friedkin, gave the author an advance showing of the movie, Blatty was impressed. Everything that he hoped would make the transition from his novel to the movie was there. Then, after Friedkin had another discussion with the studio bosses, some extra editing was done at the last minute and what was shown to theater audiences, while powerful and successful, was different enough from what Blatty saw, to make him feel betrayed.
Then THE EXORCIST II: The Heretic, came out in 1977. It was directed by John Boorman who'd had a hit five years earlier with DELIVERANCE. It also had an all star cast for its time including, Richard Burton, Louise Fletcher, Paul Henreid, James Earl Jones and the return of Linda Blair and Max von Sydow. No matter, the movie tanked and tanked hard. Now THE EXORCIST as a franchise, was a joke; box-office anathema, and Warner Bros. would have nothing to do with it. Meanwhile, Blatty wrote his own sequel, LEGION. By the late 1980s, Warner Bros. was ready to give THE EXORCIST another try and in 1990, THE EXORCIST III, based on LEGION, was released.
So what do you think? Can a novelist write a good screenplay based on his book? Can he direct a movie from his screenplay based on his novel?
It's not as easy as it might seem. For one, its difficult for a novelist to know where to edit. What scenes and even entire characters - which may be strong in the book - need to be deleted for the flow of the movie. What scenes need to be re-arranged, what movie characters must now take on the actions or personalities of several of the book characters so that the film makes sense. The novelist doesn't have 350+ pages anymore. He only has 120 tops and each page roughly counts as a minute of film.
THE EXORCIST III starred then fading actor, George C. Scott (FIRESTARTER) replacing the late Lee J. Cobb as Lt. William 'Bill' Kinderman. Television Actor Ed Flanders (SALEM'S LOT [TV], THE NINTH CONFIGURATION) replaced William O'Malley (an actual reverend) as Father Dyer. Now this should have set warning lights at Warner Bros. The two lead characters are played by people who have no connection to the original and Linda Blair is nowhere to be seen.
The movie opens in 1990 Georgetown University, near Washington, D.C. A college town and so much more, Father Dyer walks along and comes to the stairs where Father Damien fell to his death.
Lt. Bill Kinderman sits alone at his desk at home, thinking about Father Damien (Jason Miller: THE EXORCIST) as he stares at an unlikely photograph of the two. Unlikely because they met during the possession of Regan MacNeill so it's unlikely that the two ever hung out, laughing over a good time photo.
But remember, Blatty is going by his novels, not what Friedkin made for his movie.
A series of street shots lead to a Catholic church where a statue of Christ, for some ungodly reason, opens its eyes. Growls are heard and stuff blows around. The effect is meaningless so there's no scare there. Evil is approaching apparently. We move down a sidewalk and pass by a boy holding a rose. Then we hear a voice tell us that this is a dream they are having. Then they fall down the stairs that Father Damien fell down.
Both Dyer and Kinderman are feeling especially morose this day because it marks 15 years since Damien died.
Then Kinderman gets more bad news. A kid he knows winds up murdered and his own detectives botch the investigation. Kinderman goes home to his family, where some grumpy levity occurs. Not the smiling kind. The interactions do nothing to flesh out any of the characters so Bill and Dyer get together later at an art house cinema to see an old movie, It's A Wonderful Life.
After the movie, a bit of grumpy levity about a fish. No grins to be had.
Then a meal where Kinderman argues the cons of God on the flimsiest of examples and Dyer gives his weak pro opinion based on empty faith.
At this point it's 16 minutes into the freaking film so sleepy time sets in. Blatty throws in a Gotcha to keep us watching.
Kinderman comes to investigate the end result of the gotcha. He walks down the church aisle between the pews toward a sheet covered body. A minor argument with his incompetent detective, then he lifts the sheet on one side of the body and looks. Then he slowly walks around it to the other side, lifts the sheet again and looks at the different angle. Kinderman ponders tiredly. Then the ambulance drivers come and take the corpse away. Kinderman ponders with apparent disinterest. A few establishing shots and zooms later, and he enters the confessional booth, plays with the partition door a bit, and prepares to take a nap when his only good detective intrudes.
Kinderman goes to the hospital to visit his friend, Dyer. No reason the priest is there outside of a check-up. Some more grumpy levity. Not so much as a smirk. Kinderman yells at a nurse. The actions of other nurses make it clear that the hospital has some seriously unprofessional staff.
More conversation that goes nowhere. But in the subtle background its becoming apparent that these two men are too wrapped up in their problems, and drowsiness, to notice ugly things going on around them. Statues of religious figures with their heads removed, for instance.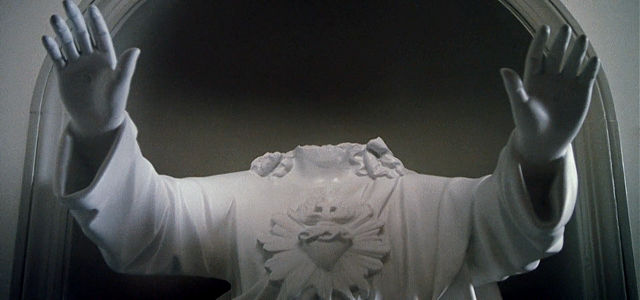 "Calm down everyone, let's not get ahead of ourselves!"
Eventually Kinderman goes home and has a dream where he's in some odd type of Heaven where male model, Fabio, is an angel and Dyer is dead.
So much sleepiness in this film!
It's the majority of action as well as the inciting factor of said action.
Kinderman wakes up to a phone call to find his dream was prescient - about Dyer anyway.
On a personal level I'm falling asleep again because this movie is SO SLOW! It's such a Boring Freaking DRAG!
I'm all for the slow build up of a movie but only if the movie is progressing, not just aimlessly meandering. You keep waiting for the story to kick in, and it does eventually, but only after an hour of the movie is gone.
An Hour!
Kinderman raises the sheet on his dead friend, comes close to tears, drops the sheet and instantly regains his composure. The killer left a message. Dyer was murdered by the killer who knows a lot about Kinderman and Dyer.
As Kinderman starts questioning the hospital staff, we find that everyone there has some kind of psychosis: nurses and doctors alike. The center point of all of this, it seems, is that there is a patient in the hospital, locked away where the criminally violent are kept (in a public hospital in the middle of the city?!?). What's more, the patient looks like Father Damien.
Except its only the shell of Father Damien, what's inside him is much worse.
But it will take us another 20 minutes to find out what. And once we do, we are treated to the rest of the movie filled with exposition. Lots and lots of exposition delivered by both Damien and the executed killer, James Venamun (Brad Douriff: CHILD'S PLAY [all of them, he's Chucky!], ALIEN: RESURRECTION, DEATH MACHINE, THE LORD OF THE RINGS: THE TWO TOWERS). Don't get me wrong. The monologues by Miller and Douriff are done quite well, chilling and effective - at first. But they just go on and on and on for far, far, far too long!
AAGH!
And you know what else? Everything that happens in the last 45 minutes of the movie has nearly nothing to do with the first 60! It's nearly as punishing to watch THE EXORCIST III as it is to write the review as it must be for you to read it so I'll stop right here!
Two tiresome Shriek Girls.



This review copyright 2004 E.C.McMullen Jr.