Review by
Kelly Parks

ALIEN RESURRECTION

- 1997
USA Release: Nov. 26, 1997
20th Century Fox
Ratings: USA: R
I don't mind telling you I was nervous. I'm a big fan of the Alien films but at the end of ALIEN³, Ripley (Sigourney Weaver: ALIEN [all], GHOSTBUSTERS [all]) was very dead. She fell in a pool of molten metal (like the T1000 in TERMINATOR 2) so when I heard there was going to be a sequel and Ripley was back, I was scared. I was scared that a really good franchise was going to be ruined by a lame "it was all a dream" scam, or worse.
Please, somebody hold me!
ALIEN: RESURRECTION, the fourth Alien film, was directed by Jean-Pierre Jeunet and written by Joss Whedon (BUFFY THE VAMPIRE SLAYER, SERENITY, DR. HORRIBLE'S SING-ALONG BLOG) based of course on the characters created by Dan O'Bannon and Ronald Shusett.
The story begins on board the Auriga, a United Systems Military medical research vessel. A Ripley-like embryo is being grown in a lab. It reaches maturity and cloned Ripley is placed on the operating table. The scientists aren't so interested in her as they are in the parasite growing inside her: an alien queen. They remove the queen and contemplate terminating "the host" but Dr. Gediman (Brad Dourif: the voice of "Chucky" in all the CHILD'S PLAY movies, DEATH MACHINE, THE LORD OF THE RINGS: The Two Towers) convinces his superior, Dr. Wren (J.E. Freeman: COPYCAT, PATRIOT GAMES) that she's worth saving.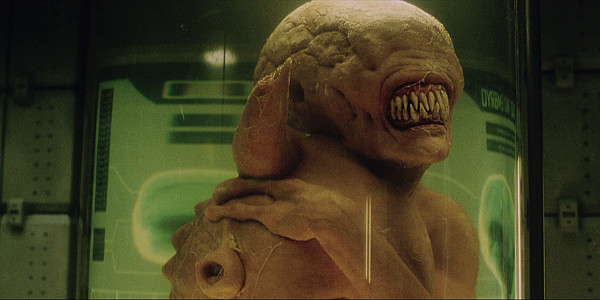 Trying to clone from the DNA in blood cells,
which have no mitochondrial containing nucleus, wasn't easy.
Now I felt a little better. This is NOT Ripley (even though I'll refer to her as Ripley from here on), this is a clone of Ripley, made from cells taken from a blood sample taken shortly before her death in the last movie. Apparently cells from the parasite alien were in her blood by then as well so they grew them together. Now a clone would normally be an infant, but the idea of some kind of rapid growth tech is not outside the realm so all is well. But, a clone is a genetic copy in the same sense a twin is a copy. This Ripley may look identical but she's a different person with her own mind and memories.
Except that's not quite right. This Ripley, it turns out, does have most of the memories of the original. Now, normally that would be a blatant science mistake that would bother me here, but it didn't because the scientists in the movie are as surprised by this development as me. They shrug their shoulders and admit they don't know how it happened.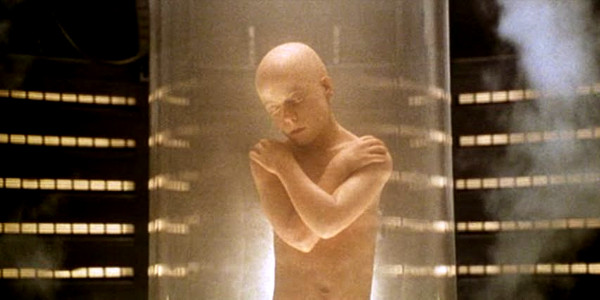 But we finally got a Ripley: Believe it or not!
Now that's the way to handle a scientific plot point! The way screenwriters always go wrong is with their lame attempts to explain science. The key is: don't try. "It just happened. We don't know why," is perfectly acceptable.
Memories are the least of Ripley's abilities. It turns out that part of the alien parasite's process of using another creature as a host involves changes on a genetic level, especially when the parasite is destined to be a queen. Ripley's DNA has been altered and the clone is strong, fast and predatory. She also seems tuned in to some kind of communication-at-a-distance with the alien queen, who is currently laying eggs while being closely observed by the science staff.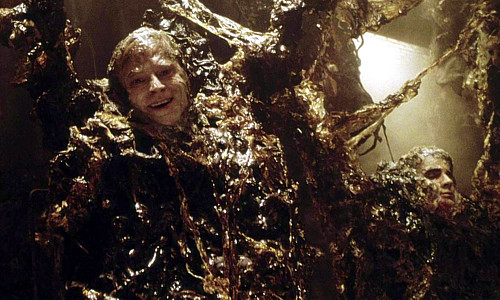 HA! HA! No. 8 was RIGHT! The Queen bred and now I'm gonna die!
Is there egg on my face or what?
Not everyone is happy with number 8's odd abilities (Ripley has a number 8 tattoo on her arm, but we don't find out why until later). General Perez (Dan Hedaya: THE ADDAMS FAMILY) wants Ripley terminated but once again the scientists win the argument. The General dismisses the subject, being much more concerned about the arrival time of an important shipment.
The shipment arrives courtesy of the unregistered cargo ship "The Betty", crewed by the usual rag-tag bunch of sci-fi ne'er-do-wells. Elgyn (Michael Wincott: THE CROW) and his woman Hillard (Kim Flowers) fly the ship. Johner (Ron Perlman: THE ISLAND OF DR. MOREAU, BLADE II, STAR TREK: Nemesis, HELLBOY [all]) and Christie (Gary Dourdan: IMPOSTOR) serve as muscle, and wheelchair-bound Vriess (Dominique Pinon) runs engineering, with his assistant Annalee Call (Winona Ryder: EDWARD SCISSORHANDS, DRACULA [1992]). Call is always asking questions and it quickly becomes obvious she has an agenda of her own.
TRIVIA
ALIEN
IN 30 SECONDS
(re-enacted by bunnies)
You like the Science in your Science Fiction? Check out our article,
AN ALIEN SCIENCE.
ALIEN NEWS

PROMETHEUS

Hardcore fans of ALIEN are going to love this
ALIEN MAKERS
There really are little alien types that get inside us living folks and mess around. And here are some fun links with Phun Photos!
The cargo being delivered is people. Asleep in cryotubes, these unfortunate souls are wheeled into the medical section, off limits to civilians like the Betty's crew. Elgyn gets paid for the delivery and asks his buddy General Perez if they can stay for a few days to stock up on supplies and make a few repairs.
The scientists continue to study Ripley but ignore her warnings about the queen. ("She'll breed. You'll die.") The crew of the Betty has a very cool first meeting with Ripley on a basketball court and Call noticeably reacts to Ripley's name. Afterwards she sneaks into Ripley's cell and is stunned to find the queen has already been removed. She has a knife and offers to "end Ripley's suffering". In another excellent scene Call suddenly realizes the knife is no protection from the much stronger Ripley, who reacts to Call's offer by asking, "What makes you think I'd let you do that?"
There is a definite predator playing with its prey vibe as the much taller Ripley takes Call's face in her hands and offers to end her suffering.
The only thing that will end my suffering is a
!!!SCIENCE MOMENT!!!:
This movie has its problems, like the fact that this is supposed to be 200 years after Ripley died in the last movie (which was already at least 150 years in our future) and yet there has been no noticeable change in technology. Think about where technology was in the year 1653 compared to today and you'll see what I mean. Worst of all are inconsistencies within its own "technology". We see one character confined to a wheelchair in a culture that's been building humanoid robots for centuries. Better-than-the-real-thing prosthetics should be easy for these people.
Continued at Alien Science Moment.
But the sheer Nazi-like brutality of the scientists (you know what the "cargo" was for, and they didn't even bother to sedate them!) and the very cool super-Ripley puts me in a generous mood. I give ALIEN: RESURRECTION three shriek girls.




This review copyright 2003 E.C.McMullen Jr.