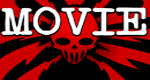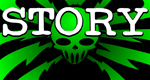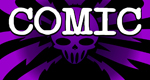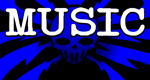 You Support This Site
When You Buy My Books
E.C. McMullen Jr.
PERPETUAL
BULLET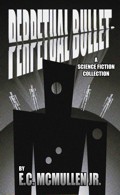 "'Some People' ... may be the standout story in the book."
-

John Grant

, Infinityplus

E.C. McMullen Jr.
WILLOW BLUE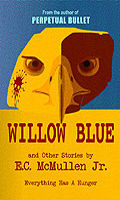 "'Willow Blue' will burrow under your skin and stay there long after you've put the book down."
- Jeffrey Reddick, Creator of
FINAL DESTINATION

IN OTHER BOOKS
E.C. McMullen Jr.'s
short story
CEDO LOOKED LIKE PEOPLE
in the anthology
FEAR THE REAPER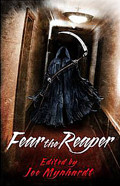 "This Ray Bradbury-esque is one of the most memorable and one of the more original stories I've read in a long time."
- Steve Isaak,
Goodreads

HORROR 201:
The Silver Scream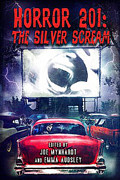 Filmmaker's Guidebook
featuring
RAY BRADBURY,
JOHN CARPENTER,
WES CRAVEN,
TOM HOLLAND,
E.C. McMULLEN Jr.,
GEORGE A. ROMERO,
and many more.



Extensively quoted in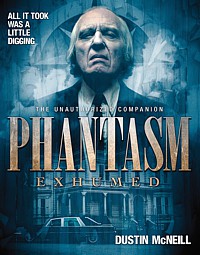 PHANTASM
EXHUMED
The Unauthorized Companion

Robert S. Rhine's
SATAN'S 3-RING
CIRCUS OF HELL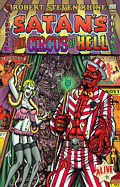 Forward by
GAHAN WILSON &
FEO AMANTE.
Featuring comics by
ALEX PARDEE,
WILLIAM STOUT,
STEVE BISSETTE,
FRANK DIETZ,
JIM SMITH,
FRANK FORTE,
ERIC PIGORS,
MIKE SOSNOWSKI,
OMAHA PEREZ,
DAVID HARTMAN,
STEVEN MANNION,
and more!

And
IN CINEMA


E.C. McMullen Jr.


Head Production Designer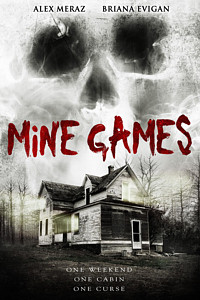 MINE GAMES


(Starring:
JOSEPH CROSS, BRIANA EVIGAN,
ALEX MERAZ)

Dept. head
Special Effects Make-Up
(SFX MUA)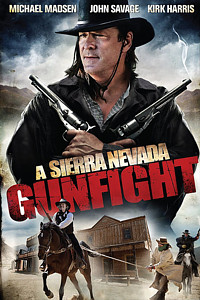 A SIERRA NEVADA
GUNFIGHT
(MICHAEL MADSEN & JOHN SAVAGE).

Production Designer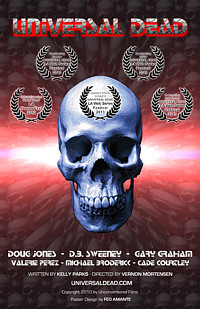 UNIVERSAL DEAD
(DOUG JONES,
D.B. SWEENEY,
GARY GRAHAM)

ART DIRECTOR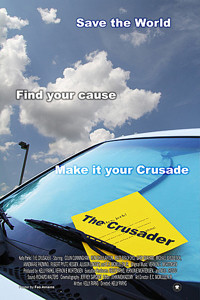 THE CRUSADER
(COLIN CUNNINGHAM,
GARY GRAHAM)
Review by
E.C. McMullen Jr.

HALLOWEEN

- 2018
USA Release: October 19, 2018
Blumhouse Productions, Miramax, Night Blade Holdings, Rough House Pictures, Trancas International Films, Universal Pictures
Rated: USA: R
Despite advance kudos from Jamie Lee Curtis (HALLOWEEN, THE FOG, PROM NIGHT, TERROR TRAIN, ESCAPE FROM NEW YORK, ROAD GAMES, HALLOWEEN III: SEASON OF THE WITCH, HALLOWEEN H2O, VIRUS, THE TAILOR OF PANAMA, MOTHER'S BOYS, HALLOWEEN: RESURRECTION, VERONICA MARS, SCREAM QUEENS [TV]) and creator (along with the late Debra Hill) John Carpenter (DARK STAR, HALLOWEEN, HALLOWEEN II, HALLOWEEN III, THE FOG, ESCAPE FROM NEW YORK, THE THING, CHRISTINE, BIG TROUBLE IN LITTLE CHINA, PRINCE OF DARKNESS, THEY LIVE, IN THE MOUTH OF MADNESS, VILLAGE OF THE DAMNED, ESCAPE FROM L.A., VAMPIRES, GHOSTS OF MARS, Masters of Horror: PRO-LIFE, Masters of Horror: CIGARETTE BURNS, THE WARD), I felt apprehensive about this latest installment in the Halloween franchise.
Oh sure, Jason Blumhouse (PARANORMAL ACTIVITY) was behind it, which is usually a good thing, but goofball comedy writer, Danny McBride was writing it along with his comedy writing partner, Jeff Fradley. Combined with comedy and romance writer, David Gordon Green and the nearly 40 years of crap that had come before, I had my... questions?
Then I found out that David Gordon Green, who in a career spanning over 20 movies never directed a Horror or even a Thriller movie - apparently out of the desire of never wanting to - was onboard as director.
'Here we go again,' I thought.
I became hyper critical of everything. We were being told that this HALLOWEEN would be a direct sequel to the original HALLOWEEN, ignoring everything that came after.
Yet to my mind the movie posters looked more Rob Zombie everything than John Carpenter anything.
If you don't like Zombie's HALLOWEEN movies, fine. But don't pitch your HALLOWEEN movie to his HALLOWEEN fans.
So anyway, I watched HALLOWEEN 2018, which begins in a prison for the criminally insane.
We see that the prison is poorly funded. Its security and computers appear 20 or more years out of date. We know this is the now because a man and woman, bearing modern cell phones and recording devices, are being ushered through various security doors, past staff, following a man with an outrageous mustache as they talk about Michael Meyers (one of the original Michaels, Nick Castle: HALLOWEEN) and the five people he murdered 40 years ago.
There is talk about Lauri Strode and how she lives on her own away from civilization and won't talk to anyone.
Mustache man is Meyers's current doctor, Dr. Sartain (Haluk Bilginer). He takes the young British couple, who are podcast reporters, outside where Michael stands in his own taped off square. The outside courtyard is a chessboard of colored squares and this seems to give the patients peace.
Michael, however, stands alone in the largest number of patterns. His squares are many and a yellow warning tape surrounds him. Sartain warns vlogger man, Aaron Korey (Jefferson Hall: THE DISAPPEARED, SHERLOCK HOLMES [2009]) not to cross the yellow tape.
Aaron has a bag over his shoulder and inside it is Michael's old Halloween mask that he wore when he went on his spree. Aaron, standing with the toe of his shoe against the yellow tape, taunts Michael with it, which creates a disturbance among all of the patients except Michael. Surprised at the reaction, Aaron's partner, Dana Haines (Rhian Rees) wants him to stop, but Dr. Sartain is intrigued. All of the prisoners go raving mad except Michael, who shows only the slightest acknowledgement.
We meet Allyson (Andi Matichak), the elusive Lauri Strode's granddaughter.
We meet Karen (Judy Greer: STRICKEN, THE SPECIALS, THE VILLAGE, CURSED, CARRIE [2013], DAWN OF THE PLANET OF THE APES, JURASSIC WORLD, WAR FOR THE PLANET OF THE APES), Allyson's Mom and daughter of the reclusive Lauri Strode.
We meet Karen's husband and Allyson's Pop, Ray (Toby Huss: ZADAR: COW FROM HELL, CARNIVALE [TV], CRYPTIC, COWBOYS AND ALIENS, BAD MILO, R.I.P.D., THE INVITATION, MARTYRS [2015], HAVENHURST, GHOSTBUSTERS [2016]) who for reasons inexplicable, can't stop telling his daughter about his penis.
This scene, which went on for far too long, sounds and looks in so many words and eye-rolling by the characters present, as if it is supposed to be ... funny?
The fact that the daughter and wife want Ray to shut up about his penis and he won't, immediately paints him as an abusive creep. We're plopped right into Rob Zombie dysfunctional family and nothing about this scene works.
So far HALLOWEEN 2018 is in faceplant territory and we want to see Michael murder Ray piece by piece.
This is the first and only attempt at comedy we will see in this movie and that's for the good.
Really. What the hell?
Right after this scene HALLOWEEN 2018 gets a much needed shift. Or a kick in the ass, if you like.
The vloggers go to Laurie Strode's well-fortified backwoods house where they are stopped by a sturdy security gate. After a brief and fruitless conversation on the decrepit comm box, they offer Laurie $3000 to do an interview with her and she lets them in.
It's here, in Laurie's life as an old woman, that the movie finally gets interesting.
When the old hermit Laurie shows her face in public, often with her gun at the ready, the local police like Officer Hawkins (Will Patton: CHINESE BOXES, EVERYBODY WINS, A SHOCK TO THE SYSTEM, THE RAPTURE, IN THE DEEP WOODS, MIDNIGHT EDITION, THE CLIENT, THE PUPPET MASTERS, JUDICIAL CONSENT, COPYCAT, THE MOTHMAN PROPHECIES, THE PUNISHER [2004], THE LIST, THE FOURTH KIND, FALLING SKIES [TV]) give her an enormous amount of leeway. After 40 years the shadow of Michael's murders loom over Haddonfield. It's their only tourist trade and like the real life town of Amityville, New York, it's unwanted.
Okay. I'll just go ahead and say that HALLOWEEN 2018 is interesting only as long as Laurie and/or Michael are in the scene. All of their parts are well written and allow plenty of silence for Jamie Lee Curtis to just act. Jamie Lee knows her role like no one else on earth and she has spent decades listening to fans tell her what makes her work click for them.
Michael, in the acting of Michael veteran Nick Castle and newcomer, James Jude Courtney (ACCESS DENIED, DEVIL IN THE FLESH), needs to do nothing more than be a silent hulking automaton set to kill. Yet under the direction of David Gordon Green, Michael has a sad presence. While Dr. Sartain wonders aloud what pleasure Michael gets from killing, The Shape in HALLOWEEN 2018 seems to find no pleasure in what he does. He's simply compelled, as if against his will, to kill. Michael will put himself in the direct path of danger, endure all manner of agony which clearly hurts him, making him cry out - he's not a Terminator-type - yet like the Terminator he will not stop.
Over and over again, whenever faced with the prospect of his death, Michael will wait for it as if wanting his life to end. This is not the supernatural monster of HALLOWEEN 2, 4, ad infinitum. This is a still mortal Michael: A merciless, cold-blooded killer that won't harm babies and small children.
His crimes remain unforgiveable, but HALLOWEEN 2018 also gives him a bit more depth than the one note this character has always been.
HALLOWEEN 2018 also doesn't go too far with "humanizing" Michael. We're not asked to understand or feel compassion for him. The Shape has no visions of angelic Moms and glowing horses. His or It's murders are entirely unjustifiable. He kills the innocent and guilty alike.
Once this movie got on its feet, the scares were there. Unlike its sequel predecessors, HALLOWEEN 2018 is full blown HALLOWEEN Horror all the way.
Which is why I give HALLOWEEN 2018 Four Shriek Girls.





This review copyright 2019 E.C.McMullen Jr.