Review by
E.C. McMullen Jr.

HALLOWEEN III: SEASON OF THE WITCH

- 1982
USA Release: Oct. 22, 1982
Universal Pictures
Rated: USA: R
Rob Zombie's remake of John Carpenter's classic, HALLOWEEN will be in theaters this September and many are wondering, will it even last until Halloween? Zombie gathered a small but loyal cult following with his movie, HOUSE OF 1000 CORPSES. He didn't do as well with THE DEVIL'S REJECTS, but it could be reasonably argued that poor distribution was to blame with that one.
Still, nearly every time someone remakes a classic Horror Thriller movie, it tanks and tanks badly. Yet studios keep doing it and one has to ask, "What the hell is wrong with you?"
I mean, look at the long track record of Classic Horror Thriller movies remade!
THE HAUNTING (1999 - yet further proof that special effects alone cannot save a movie),
PSYCHO (1999 - there was no point to this at all: not even as an experiment),
PLANET OF THE APES (2001 - and you would think that something "Re-imagined" would have more "Imagination"),
BLACK CHRISTMAS (2006 - let's make our version dumber, and our characters stupid and unlikable), and so many more - so very poor.
Now when this conversation comes up, someone invariably points to John Carpenter's THE THING as an example of a remake being better than the original.
Sorry, yer wrong.
John Carpenter made no attempt to remake producer Howard Hawk's classic THE THING, and he said so. John wanted to return to the original source of the John W. Campbell story and he did.
There are plenty of good examples of multiple movies being made from the original source material. Look at the multitude of good movies made from Bram Stoker's DRACULA. Movies about a certain event, like a war, can be made over and over again without being remakes of a previous film.
It's once in a very blue moon that a Horror Thriller movie remake of a classic can even equal the original. I'm thinking INVASION OF THE BODY SNATCHERS from 1978. INVASION (2007)? Don't make me laugh! You can make the argument for the French version of THE HILLS HAVE EYES (2006), but we'll see if it has legs. The remake sequel didn't, but then, neither did the sequel to the original.
What does have a proven track record is when you make a superior Horror Thriller remake from an original that was seriously flawed. THE HOUSE ON HAUNTED HILL (1999) is a good example of this. 13 GHOSTS is a so-so example, not that any of the William Castle movies were so great. There was a reason for all of the gimmickry during Will's hey day.
What studios discovered after the fact was that Dan O'Bannon's ALIEN was actually inspired (and pretty much a remake - and a far superior one; re-imagined if you will) by IT THE TERROR FROM BEYOND SPACE.
Classic movies don't need remakes. Bad movies with good concepts need remakes. ALIEN and THE HOUSE ON HAUNTED HILL prove that. John Carpenter's THE FOG, needed a good remake. It didn't get one with 2005's THE FOG, but it needed, and still needs one. 1979's THE AMITYVILLE HORROR was a silly-ass movie that only made money because, at the time, people were told that it was based on a "true" story. Yeah, right. THE AMITYVILLE HORROR remake is far superior with many a critic wondering aloud if Ryan Reynolds was Oscar material. This was said before "Waiting", though.
Hey, you want a movie that is in desperate need of a remake? How about HALLOWEEN III: SEASON OF THE WITCH? John Carpenter had a good reason for it: he wanted to see a series of different HALLOWEENS that were all about DIFFERENT scary stuff happening on Halloween. But when H3 tanked, the studios went back to their knee-jerk formula of re-hashing the same Michael Myers story over and over until it was no longer profitable. And once the lemon was squeezed dry, Universal Pictures sold the franchise to Miramax/Dimension Films.
HALLOWEEN III: SEASON OF THE WITCH didn't fail because audiences wanted more Michael Meyers, we (yes, me included) only said that because we would rather have Michael Meyers over HALLOWEEN III.
I'd rather take a kick in the ass over a hammer to the face. Even HALLOWEEN II was far better than H3. All of these years later? Be careful what you wish for in the presence of dolts (those who greenlit all the HALLOWEEN sequels after H3).
Still, the trailer was compelling and that contributed to a decent opening weekend back in the day when many theaters had only three screens. What HALLOWEEN III had was an interesting concept with a poorly executed story. Both story and direction were by Tommy Lee Wallace (VAMPIRES: LOS MUERTOS). When he finished the edits on his movie and showed it to John and company, they were appalled.
What! A! TURD!
John, in his role as producer, did something he swore he would never do: he re-edited his director's movie. He hated himself for it and for a long time there was animosity between the two men, with Tommy swearing to anyone who would listen, that his movie was so damn better than what John foisted on us cabbage heads in the seats. This was a bigger deal to Tommy than you might think, because Tommy was with John since the beginning of the HALLOWEEN franchise, editing and doing production design on HALLOWEEN, as well as doing bit parts as The Shape itself. As an editor, Tommy had good ideas that went into the final cut of the wildly successful HALLOWEEN. So Tommy felt betrayed and John felt bad for hurting him.
Then Tommy made the mistake of writing and directing another sequel to a cool movie just to prove himself. That movie was FRIGHT NIGHT Part 2. Egad whatta TURD! Too bad John wasn't around to try and save THAT!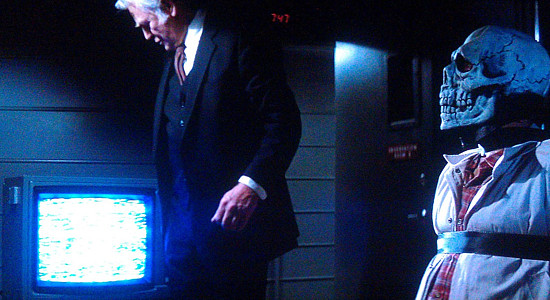 Since you won't accept my LinkedIn request, I'm afraid you leave me no choice...
HALLOWEEN III starts out with a very slow chase. A man on foot is able to elude a car that, you think would drive much faster in a pursuit, especially when the driver is simply chasing an Old Man On Foot! But the old guy gets away, makes it to a hospital, and tells everyone that they are going to be killed. Someone later comes into the old man's room and crushes his face. The assassin doesn't seem to mind that he is seen leaving the scene of the crime. In fact, he leisurely walks out to his car, douses himself with gasoline, and sets himself on fire.
Doctor Dan Challis (Tom Atkins: THE FOG, ESCAPE FROM NEW YORK) witnessed the self-immolation and found it unsettling (wouldn't you?). He wants to know more about the case even if he has to find out through less than legal means. Along for the ride is the old man's daughter, Ellie Grimbridge (Stacey Nelkin), who wants to know why her toy making Pop was popped.
Meanwhile, a prominent clue (one might say On The Nose) is what the old man was holding when he was brought into the hospital: A pumpkin mask from the famous Halloween mask manufacturer, Silver Shamrock. So off Dan and Ellie go to the company town where everyone is freaky and scared. The town is run like a large gulag and though the CEO of the town, I mean company, Conal Chochran (Dan O'Herlihy: FAIL-SAFE, ROBOCOP), is old and kindly, it doesn't salve the suspicions.
Come nightfall everything quickly goes to hell in a hand basket - not just within the story, but the story itself.
The pacing of HALLOWEEN III is uneven in the extreme.
It frequently betrays its own logic; the motivations make no sense, and aren't explained; it stuffs itself full of common Horror Thriller movie clichés like that would be a welcome thing; so many things go wrong here.
That said, the purposefully irritating commercial song, "Trick or Treat for Halloween" (to the tune of London Bridges Falling Down), is the only perfect thing in this movie, in that it is exactly as irritating as it is supposed to be. The commercial counts down the passing days to Halloween with each version of the song (intentionally) sounding a little sicker and a little more malevolent.
Finally, here's a spoiler that might actually help you to enjoy the movie a tad more. There is a false expectation with this film that is due more to poor title-ing than anything in the story itself. HALLOWEEN III: SEASON OF THE WITCH? There is no freaking witch!
There is no freaking mention of a witch and no freaking mention of the autumn/Halloween season having anything to do with any god damn witch! Would it have been a good idea to have ROBOCOP, with no damn Robocop?
BAH!
You wanna impress us? Re-Imagine THIS!
Two Shriek Girls: Ripe for Reboot.



This review copyright 2007 E.C.McMullen Jr.