IRON MAN 2 - 2010
According to Box Office Mojo, IRON MAN 2 flew away from its first weekend with well over $128 million, beating the first weekend box office of its predecassor and making over Three Times as much as all the other top 10 movies COMBINED! Now it only needs to more than triple that to push it over the $400 million break even mark. IRON MAN 2 cost an extra $60 million to make, so let's see what happens next weekend.
IRON MAN 2 NEWS

MAY 11, 2010
'Iron Man 2' Cast Reveals Inspiration For War Machine, Whiplash, Justin Hammer
Mickey Rourke went to prison for research, while Don Cheadle and Sam Rockwell ... read comics?
Their characters have existed on the comic book page for decades, etched into readers' minds long before the idea of adapting "Iron Man" for the big screen was even hatched. But that history of pen and ink, of well-established characterization, of colorful heroes and even more colorful villains, didn't mean cast and crew were boxed in when it came to conceiving cinematic equivalents for characters like War Machine, Whiplash and Justin Hammer.
Continued at MTV.
---
Movie Profile: MICKEY ROURKE ELECTRIFIES 'IRON MAN 2' AS WHIPLASH
When an amazing actor like Mickey Rourke gets a chance at a comeback, he'll do whatever it takes to make things right the second time around.
And after toiling around the low-budget world for years after his early 1980's success, the actor has made it back in the big leagues, first with his Academy Award nominated performance in last year's indie hit THE WRESTLER and now, starring as the foreboding Russian baddie Ivan Vanko aka Whiplash in summer boxoffice hit IRON MAN 2.

Continued at IfMagazine.
---

Can 'Iron Man' stop the 3-D conversion menace?
Expectations are a funny thing in the movie business. Generate too few and your film comes and goes quietly. Generate too many and you're in an even tougher spot -- basking in the limelight but also fielding the hard questions and the second-guessing.

Continued at LATimes.
---
'Iron Man 2' Almost Went 3-D, Marvel President Says
Instead of a quickie 3-D conversion, Marvel opted to preserve 'the film's quality,' president Kevin Feige reveals.
Given the $133.6 million opening weekend for "Iron Man 2," Marvel Studios isn't likely to have any regrets regarding the recent rollout of their premier superhero franchise — though a 3-D opening would have been a nice bonus.

Continued at MTV.



IRON MAN - 2008

According to Box Office Mojo, IRON MAN walked away from its first weekend with over $100 million. To put this in perspective, IRON MAN made nearly twice as much in its opening weekend as all the other movies in the top ten COMBINED! That's what you call great marketing! Now let's see if the fans love it and give it the legs it still needs to push it over the $280 million dollar break even point. The 2nd weekend drop will tell. Next weekend, May 9, is Speed Racer. I don't expect much from the Warchowskis' flick. It looks like they are selling Speed Racer on 100% special effects and nothing else. And from what I've seen of the special effects, its nothing that I don't see every weekend on Poptart and Fruit Roll-Up commercials.

"This 'Tony Stark' character in your IRON MAN script ... it's a challenge."
"How so?"
"Well he's a wealthy, successful, troubled alcoholic. A real Morton Downey Jr. type."
"Well, since Morton Downey Jr. is dead, how about we get an actual actor like Robert Downey Jr.?"
"Whoa! I LIKE your thinking!"
The trailers look so cool, it's entirely possible that you've caught IRON MAN mania. Or perhaps you just have a touch of the flu.
Still, even if you're a soldier off fighting in Iraq, you might be saying to your friends, "When I get back home, I'm going to do this, eat that, screw the other, and go see IRON MAN!"
You may not have all the time in the world to go searching through the Internet, tracking down info on this movie, but you do have me, and hey, I get paid to do this!*
*well, I get paid if my visitors go and buy stuff from my Feo's Stuff store! Ahem! Hint! Hint!
So here are the latest and best links I've found for information on the upcoming May 2, 2008 release of IRON MAN!
First as always, the Official website! IronManMovie.com
And naturally, all the stats, tracks, and trivia at IMDb.com.

Hoo! Marvel Comics could tell ya a thing or two about IRON MAN!
IRON MAN doesn't have a MySpace page but he does have a MySpace Movie Group.
IRON MAN director, Jon Favreau, on the other hand, DOES have a MySpace page: MySpace.com/JonFavreau.
Of course, fans of Marvel have their own story. MarvelDirectory.com
The Ultimate Iron Man Experience since 1993! AdvancedIron.org
News around the net (new to old)

MARCH 2, 2008
All new never-before-seen (by you) IRON MAN pics! Courtesy of Super Hero Hype!
---
TWO Final Epic Iron Man Posters Revealed - Updated!
March 6, 2008
Source: IMPAwards, Cinematical
by Alex Billington
To top off an incredible trailer and the immense amount of excitement surrounding the upcoming Iron Man movie, Paramount has released a final well-designed poster for the film. We've already previously featured a number of the great Iron Man posters that have hit and now it's time to give some extra special love to the last one.

Continued at FirstShowing.net
---
Iron Man's Director Jon Favreau Talks Flying and Action Scenes
February 25, 2008
by Alex Billington
One of the biggest concerns I've heard recently regarding the upcoming Iron Man movie is whether director Jon Favreau will be able to take on an action movie as well as a comedy or drama. Everyone seems to feel confident in Favreau as a director, but they're really unsure whether he's truly capable of pulling off the action that a comic book movie like Iron Man requires in order to be amazing. During press interviews after the presentation at WonderCon in San Francisco, Favreau specifically addressed that question. His answer not only settled any of my own concerns, but actually turned all of my hesitation around into pure excitement. I've said it before and I'll keep saying it - Favreau really knows what he's doing and really was born to direct Iron Man.

Continued at FirstShowing.net.
---
IRON MAN GETS BIRTHDAY SUPRISE
Museum Replicas Limited announced today, that their premium Classic Iron Man replica helmets will ship the end of November. Two helmets, one in brass plated steel and the other in nickel plated steel, are preserving the costume of the original Iron Man from the characters first appearance in Marvel Comics' Tales of Suspense #39. The nickel helmet is being limited to 1,463 pieces while the brass helmet's run is 500 pieces, so their combined total is 1963, the year of Iron Man's first appearance.

Continued at ComicBookBin.
---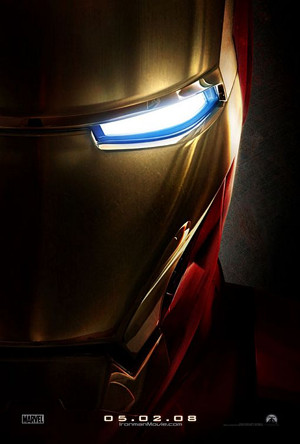 Ghostface Killah's Iron Man Obsession Lands Him A Cameo In Upcoming Comic Book Flick
By Shaheem Reid
With all this talk about Common possibly landing the role of the Green Lantern in the upcoming "Justice League of America" film, we've all been sleeping on a hip-hop superhero from Shaolin who's going to get shine in another comic book film. In a surprising yet fitting move, Ghostface Killah — who goes by the hip-hop nickname Tony Starks and named his 1996 debut Iron Man — has a role in the upcoming "Iron Man" flick.

Continued at MTV
---
Ghostface Films Scene For Iron Man Movie
In a new interview with MTV, Wu-Tang MC Ghostface talks about his cameos in two upcoming Hollywood movies. After naming his debut album Iron Man and adopting his Tony Starks alias, Ghost's obsession with the Marvel Comics superhero has become obvious.

Continued at HipHop-Elements.com.
---
Want To Hear A Really Groovy Marvel Rumor?
Hey, everyone. "Moriarty" here.
This is interesting, and it plays into something we've been saying for a little while here at AICN. We broke the story earlier this year that Sam Jackson will appear in IRON MAN as Nick Fury.

Continued at AintItCool.com.
---
ROBERT DOWNEY JR. TALKS 'IRON MAN'
The actor discusses living large, working out and going to a happy place when you're stuck in the armor
By Rickey Purdin
Posted December 3, 2007 9:15 AM
Ask anyone what they think of actor Robert Downey Jr. and you're just as likely to hear praise over his brilliant acting career as you are about the drugs, booze and decadence that nearly destroyed his life. But starting May 2, 2008, all you'll hear is the sonic boom he discharges when he jets into theaters at Mach 2 as the metal-clad superhero Iron Man.

Continued at WizardUniverse.com
---
First look: Downey forges a bond with 'Iron Man' role
By Scott Bowles, USA TODAY
LOS ANGELES — Robert Downey Jr. is hardly the obvious choice to play an iconic crime fighter.

Continued at USAToday
---
Robert Downey Jr. Talks 'Iron Man'
by Jim Kiernan
(November 9, 2006) -- Academy Award Nominee Robert Downey Jr. has played a singing detective, a pick-up artist, Charlie Chaplin, and most recently, a man covered head to toe in hair in "Fur." He can now be added to the distinguished list of "actors turned on-screen superheroes taking on injustice" in the adaptation of Marvel's "Iron Man".

Continued at AccessHollywood.com
---
Robert Downey Jr. Talks Iron Man
Source: Edward Douglas
November 7, 2006
In the new indie drama Fur: An Imaginary Portrait of Diane Arbus, Robert Downey Jr. is covered from head to toe in luscious fur, but when ComingSoon.net/Superhero Hype! spoke to Downey Jr. about the movie, we were more interested in another suit he will be wearing soon, one of armor in Jon Favreau's Iron Man.

Continued at Coming Soon.net