Review by
Shirley Muramoto

IT HELPS


TIP JAR




HARRY POTTER AND THE CHAMBER OF SECRETS

- 2002
Warner Brothers
Rating: Argentina: Atp / Austria, Switzerland: 10 / Brazil: Livre / Canada, Philippines: G / Australia, Ireland, Singapore, UK, USA: PG / Finland: K-11 / France, Japan: U/ Germany: 6 / Greece: K / Italy: T / Netherlands: MG6 / Norway : 11 / Peru: PT / Spain, Sweden: 7 / South Korea: All
HARRY POTTER AND THE CHAMBER OF SECRETS (based on J.K. Rowling's book of the same name) is the second movie in the series following the adventures of the young wizard Harry Potter (Daniel Radcliffe: THE TAILOR OF PANAMA, All the Harry Potter movies).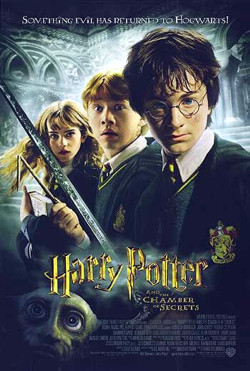 Somebody at Warner Bros. marketing thought it would be a really GOOD idea to have an overt display of phallic one-upmanship between two 12 year-old boys on the poster.
Hermoine, age 12, swishes her hair around like bimbos in a Girls Gone Wild video.
It's the start of Harry's second school year at Hogwarts, and it begins quite ominously. A pitiful house elf, Dobby (Voice of Toby Jones), comes to the home of the Dursleys, Harry's non-magical aunt and uncle, with an ominous message. A dire plot is afoot at the school this year: terrible things, horrible things, things which would place Harry's life in danger. Harry Potter must not return to Hogwarts, the house elf warns.
Harry returns to Hogwarts despite the warnings, and as the foretold plot begins to unfold, he is plagued by continued mishaps, mysterious dangers, and self-doubt – all of which he must overcome to save himself, his friends, and the very school itself.

Again with his cocky expression and sword jutting up from waist level. Now with Ron worriedly looking at his small limp wand.
Hermoine, mostly hidden in the dark corner of the poster, gazes with wide-eyed apprehension at the bold Harry and away from her insignificant, unlit wand.
Marketing sex to tweens: priceless.*
The talented cast makes a triumphant return, with Radcliffe once again convincingly portraying the hero Harry Potter (this time without the voice shifting back and forth). Particularly surprising was the well-timed and well-acted comic moments offered by a squeaky-voiced Rupert Grint (Ron Weasley: All the Harry Potter movies).

Some new faces to the cast provide their own stellar performances as well. Jason Isaacs plays the part of the insidious Lucius Malfoy brilliantly, with just the right expressions of superiority and arrogance that perfectly captures the character.
When the vain fame-chasing wizard Gilderoy Lockhart (Kenneth Branagh: FRANKENSTEIN) first appears, it's almost as if he stepped out of the book.
Christian Coulson plays the part of Tom Marvolo Riddle with sinister charm. Even the part of the quirky (and rather annoying) ghost Moaning Myrtle (Shirley Henderson: CLOSE YOUR EYES, FROZEN, HARRY POTTER AND THE GOBLET OF FIRE) is played convincingly well.
As before, the movie really does a good job of capturing the essence of the written tale (thanks in no small part to screenwriter Steve Kloves). With the gifted actors and a magical script, Chris Columbus manages to give us this thoroughly entertaining film.
HARRY POTTER AND THE CHAMBER OF SECRETS gets 4 out of 5 ShriekGirls

This review copyright 2007 E.C.McMullen Jr.
HARRY POTTER AND THE CHAMBER OF SECRETS
BLU-RAY
HARRY POTTER AND THE CHAMBER OF SECRETS
3 DISC ULTIMATE EDITION
HARRY POTTER AND THE CHAMBER OF SECRETS
SOUNDTRACK
HARRY POTTER COMPLETE 31 DISC BLU-RAY COLLECTION
HARRY POTTER AND THE CHAMBER OF SECRETS
NOVEL
*
TRIVIAL COINCIDENCE
2002 was also the year that convicted child molestor, Roman Polanski, saw his movie, The Pianist, nominated for an Oscar. Roman begged his Hollywood friends to whine and cry in his behalf (which they did in abundance) about his personal suffering: That of not being allowed to receive his Oscar in America because he still faced punishment for his crime of drugging, forcibly raping, and sodomizing a 13 year old girl when he was 43.
Polanski said the reason that he skipped the country 11 months after his arrest was because "I've been tortured by this for a year and that's enough."

Yeah, it's all about your feelings, isn't it, you insufferable douchebag?
E.C. McMullen Jr. is a participant in the Amazon Services LLC Associates Program, an affiliate advertising program designed to provide a means for sites to earn advertising fees by advertising and linking to amazon.com.
FROM


E.C. McMullen Jr.




WILLOW BLUE




KINDLE



"'Willow Blue' will burrow under your skin and stay there long after you've put the book down."
- Jeffrey Reddick, Creator of FINAL DESTINATION

PERPETUAL BULLET
PAPERBACK

"'Some People' ... may be the standout story in the book."
- John Grant, 2 time Hugo Winner and creator of Infinityplus

ALSO

E.C. McMullen Jr.'s
short story
CEDO LOOKED LIKE PEOPLE
in the anthology


FEAR THE REAPER




PAPERBACK


"This Ray Bradbury-esque is one of the most memorable and one of the more original stories I've read in a long time."
- Reviewer, Amazon

HORROR 201: The Silver Scream
A tome of interviews and essays by
RAY BRADBURY,
JOHN CARPENTER,
WES CRAVEN,
TOM HOLLAND,
E.C. McMULLEN Jr., GEORGE A. ROMERO, and many more.