Review by
Shirley Muramoto

HARRY POTTER AND THE GOBLET OF FIRE

- 2005
USA Release: Nov. 18, 2005
Warner Bros.
Rating: Argentina: 13 / Australia, New Zealand: M / Brazil: 12 / Canada, Singapore: PG / Denmark, Norway, Sweden: 11 / Finland: K-11 / Germany, Netherlands, South Korea: 12 / Iceland: L / Ireland: 12A / Japan: PG-12 / Switzerland: 10 / Philippines, USA: PG-13 / UK: 12A
The movie HARRY POTTER AND THE GOBLET OF FIRE is based on J.K. Rowling's fourth book in her world-renowned series about a young boy growing up in a realm of magic, hidden right in plain sight of the modern, everyday world.
The movie opens with an old man going to investigate a strange light at the manor house nearby, and encountering an evil wizard – and sudden death. It's at this point that Harry Potter (Daniel Radcliffe: All the Harry Potter movies) is awakened from a troubled sleep, and we understand that the vision we've just seen was Harry's dream. But was it just a dream, or was it something more? It's an ominous moment which helps to set the tone from the first.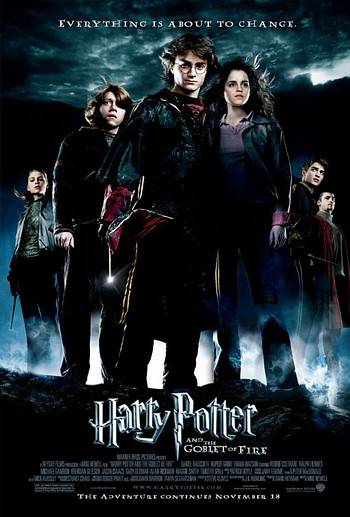 As the story unfolds, Harry is once again thrust into danger. Someone has entered Harry's name in the dangerous Tri-Wizard Tournament, and has made sure that his name was selected as one of the champions. With the help of his friends Ron (Rupert Grint: All the Harry Potter movies) and Hermione (Emma Watson: All the Harry Potter movies), Harry tries to survive the three dangerous challenges intact, while also dealing with the everyday (and yet still difficult) task of growing up. And all the while, as Harry struggles with schoolwork, friends, the tournament, and that same recurring dream, there is an ominous feel in the air, the threat of something dark and deadly, rising from the hidden depths.
HARRY POTTER AND THE GOBLET OF FIRE is a thoroughly enjoyable movie to watch. The screenplay tries to keep a balance between important character-building scenes and the dynamic action sequences, and does a good job. For example, Harry's first task of the Tri-Wizard Tournament has him facing off with a fire-breathing dragon, armed with just his wits and his wand. There's a lot of excitement. But later on, he also has to face a more daunting task – asking someone out to the Yule Ball. There's a particularly amusing scene, where Harry and Ron are discussing the matter during a test in Professor Snape's (Alan Rickman: DOGMA, all the Harry Potter movies) class.
The characters of this series are not timeless, ageless, forever-children – they're growing up and maturing. They're teenagers now, and they have a lot of teenager-type problems. During the film, Harry has a crush on a classmate named Cho (Katie Leung). Watching his awkward moments with her is amusing, rather sweet, and utterly believable. The fight between Hermione and Ron at the Yule Ball, the argument between best friends Harry and Ron, these are all real kinds of situations that happen to teenagers everywhere. It's this touch of realism that adds to the character development of Harry and his friends.
At the same time, the visuals and the action do not disappoint. When the visiting two schools swoop down upon Harry's school, it was very well done. The entrance of the Durmstrang students had a very martial feel, which gave a quick yet distinct characterization of the school as a whole. That image is totally different from the Beauxbatons school, but again the entrance of the students sets things up nicely, without taking up too much time.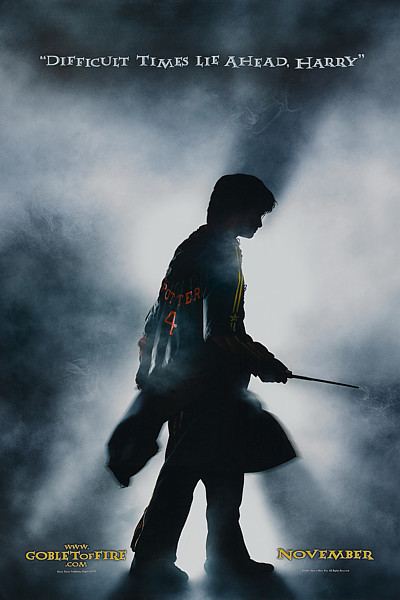 Mike Newell (THE AWAKENING) was the director this time around, and while the film doesn't have that trendy, artsy feel of HARRY POTTER AND THE PRISONER OF AZKABAN, the main story is solid and well told. Screenwriter Steve Kloves (All of the Harry Potter movies) manages to cleanly cut out many of the intricate subplots from the novel (otherwise it wouldn't have been a movie, it would have been a series of movies just by itself), while keeping true to the spirit of the original tale (not an easy task). As a result, the movie doesn't feel incomplete or disjointed, making it much easier for those not familiar with the books to follow. The actors give good solid performances, the visuals are well done, the action is stirring, and the movie is definitely enjoyable investment of time.
Just make sure not to drink too much soda during the film, or you might miss something.
4 out of 5 Shriek Girls





This review copyright 2005 E.C.McMullen Jr.
LOVE THIS SITE?
Support it when you buy my books
E.C. McMullen Jr.
WILLOW BLUE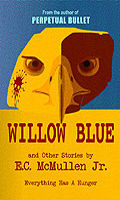 "'Willow Blue' will burrow under your skin and stay there long after you've put the book down."
- Jeffrey Reddick, Creator of
FINAL DESTINATION
E.C. McMullen Jr.
PERPETUAL
BULLET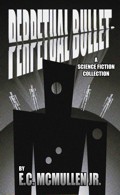 "'Some People' ... may be the standout story in the book."
- John Grant, Infinityplus
IN OTHER BOOKS
E.C. McMullen Jr.'s
short story
CEDO LOOKED LIKE PEOPLE
in the anthology
FEAR THE REAPER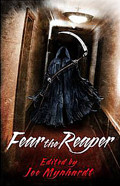 "This Ray Bradbury-esque is one of the most memorable and one of the more original stories I've read in a long time."
- Amazon Review
HORROR 201:
The Silver Scream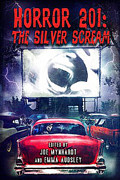 Filmmaker's Guidebook
featuring
RAY BRADBURY,
JOHN CARPENTER,
WES CRAVEN,
TOM HOLLAND,
E.C. McMULLEN Jr.,
GEORGE A. ROMERO,
and many more.
Extensively quoted in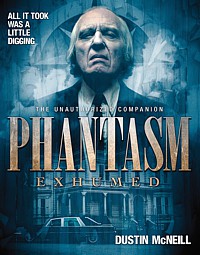 PHANTASM
EXHUMED
The Unauthorized Companion
Robert S. Rhine's
SATAN'S 3-RING
CIRCUS OF HELL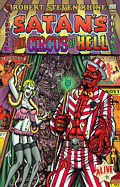 Forward by
GAHAN WILSON &
FEO AMANTE.
Featuring comics by
ALEX PARDEE,
WILLIAM STOUT,
STEVE BISSETTE,
FRANK DIETZ,
JIM SMITH,
FRANK FORTE,
ERIC PIGORS,
MIKE SOSNOWSKI,
OMAHA PEREZ,
DAVID HARTMAN,
STEVEN MANNION,
and more!
Also
IN CINEMA
E.C. McMullen Jr.
Head Production Designer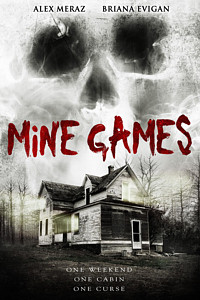 MINE GAMES
(Starring:
JOSEPH CROSS, BRIANA EVIGAN,
ALEX MERAZ)
Dept. head
Special Effects Make-Up
(SFX MUA) and Michael Madsen's stunt double on the movie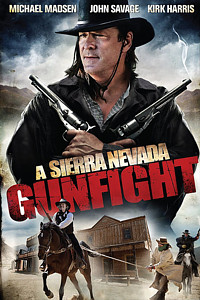 A SIERRA NEVADA
GUNFIGHT
(MICHAEL MADSEN & JOHN SAVAGE).
PRODUCTION DESIGNER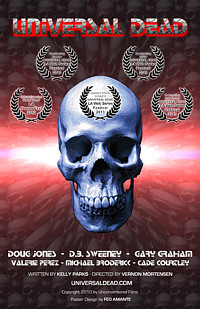 UNIVERSAL DEAD
(DOUG JONES,
D.B. SWEENEY,
GARY GRAHAM)
ART DIRECTOR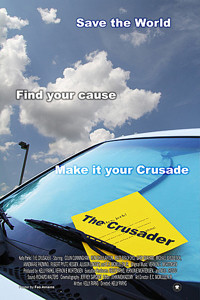 THE CRUSADER
(COLIN CUNNINGHAM,
GARY GRAHAM)