Review by
E.C. McMullen Jr.

SHOULD YOU?


TIP JAR




SPAWN


MOVIE REVIEW

THE VENTURE BROS

- 2003 -
USA Release: Feb 16, 2003
Astro Base Go!, Cartoon Network, Noodlesoup Productions, Titmouse, Williams Street, World Leaders Entertainment, Adult Swim, Cartoon Network, WB
What if someone made a full blown satire of the old Johnny Quest animate series that was so complete, you never had to see the original series to enjoy it?
Well what if they did? Whatta YOU gonna do about it?
For those of you who still haven't discovered THE VENTURE BROS., now's the time.
The show is about self-proclaimed Super Scientist, Dr. Thaddeus "Rusty" Venture (James Urbaniak) who, along with his sons, Hank (Christopher McCulloch) and Dean (Michael Sinterniklaas), who have suffered through a stunted intellectual and emotional growth, thanks to their father who wanted to skate through their childhood and mentor them once they reach adulthood, have adventures.
As we learn through Dr. Venture's adventures, he's emotionally and intellectually stunted himself, as his own father, Jonas Venture (Paul Boocock), an actual Super Scientist genius and businessman was too busy inventing and having his own adventures to be tied down to baby sitting his son.
Fortunately, the family Venture's aftermarket generations, with their diminishing returns in intellect, are protected by the U.S. Military trained Army and Marine veteran (and who knows what else? Probably Green Beret and SEAL too), Swedish Murder Machine, Brock Samson (Patrick Warburton: MEN IN BLACK II, SCREAM 3, CHICKEN LITTLE, ARCHER [TV], SCOOBY-DOO: MYSTERY INCORPORATED, A SERIES OF UNFORTUNATE EVENTS [TV], AGENTS OF S.H.I.E.L.D.).
Hard core Hetero Brock loves two things in life, fighting and having sex.
Protecting the Venture Bros. and their father gives Brock ample opportunity for both. The government pays Brock to watch over the Ventures, as the long deceased Senior Venture was so massively prolific that the U.S. government still hasn't catalogued all of his inventions. A job which is far from easy as simply turning on one of the old inventions might make either a delicious milkshake or level a city block.
These are the flaws that haunt the Venture family in every episode. Hank and Dean going through puberty and, seasons later, burgeoning adulthood. Dr. Venture is beset by everyone who isn't giving him money or flattering him or catering to his small whims. And yet these people are often necessary to his survival like the oft mentioned Brock and Thaddeus' paying tenant, Dr. Orpheus (Steven Rattazzi).
So Thaddeus goes about the slow process of carefully cataloging, and transferring the dangerous old data onto new hard drives with the latest tech.
Yet the government doesn't pay him unless he's figured out a forgotten invention of his father's that has military applications.
The Ventures and body guard live in the Genius Venture's 1950s home that remains, somewhat, cutting edge technological state of the art when it comes to security.
Highly advanced, yes, but mostly before the age of transistors and silicon chips. Everything is way bigger than it needs to be in a modern world.
Meanwhile there is a self-styled Super villain who calls himself The Monarch (Christopher McCulloch). Yes, while he does his best to ooze awe-inspiring machismo, he named himself after a butterfly.
His Girlfriend, who he calls Dr. Girlfriend (Doc Hammer), has a voice considerably deeper and rougher than his own: To the point that Brock believes Dr. Girlfriend is a transvestite, or perhaps a transsexual. All the same, The Monarch is only held in tenuous check by his fear of Brock Samson. Should Brock ever leave the picture, The Monarch will destroy Doctor Venture for reasons never explained through many seasons.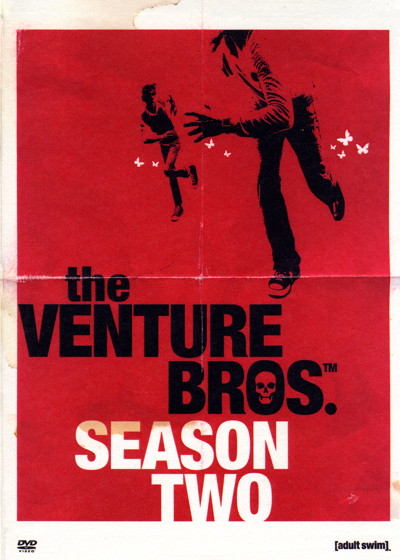 Yes, the DVDs come to us used, stained, and creased, right out of the factory
What's amazing about this show is that it's funny at all. THE VENTURE BROS. is largely one big Sausage Party, heavy on the male homosexuality, with only Brock Samson, the twin brothers, Hank and Dean Venture having enough heterosexual ambition to bring in gals into the picture, and that is only for love and sex interest.
Wait a minute, am I really talking about male homosexual chauvinism?
Yeah, pretty much. It seems that the only men who have a healthy equanimous relationship with women are also the Super villains. The most prominent "woman" on the show, Dr. Girlfriend, is voiced by a male actor. Yet after well over a decade on TV, there remains no backlash.
How can that be?
A mocking love note to a 50+ year old TV cartoon that is fading into obscurity? And all about a bunch of elderly past-their-prime powerless losers all jockeying for position amongst one another in the hopes of getting noticed by someone younger and more powerful who can put them back in high esteem, doesn't sound appealing.
It doesn't seem that this show would work or even make it past the pitch.
Yet I swear by the Word Processor of Show runners, Christopher McCulloch, James Urbaniak, and Doc Hammer, that I have been beaten, confounded, and wonderfully surprised by the unexpected hilarity of THE VENTURE BROS. until I could only surrender in a defeat of laughter that dissolved into paroxysms of coughing fits.
By TV standards, this show is better than most shows have any right to be (although such high quality is true to form for Adult Swim) and year after year THE VENTURE BROS. gets better in every way! And by better I mean insanely funny and fun!
5 Shriek Girls






This review copyright 2019 E.C.McMullen Jr.
YOU MIGHT ALSO ENJOY
(Animated Horror Thriller)
HEAVY METAL
MOVIE REVIEW
SPAWN
MOVIE REVIEW
AKIRA
MOVIE REVIEW