Review by
E.C. McMullen Jr.

SHOULD YOU?


TIP JAR




XTRO 2


MOVIE REVIEW

XTRO

- 1982
USA Release: Jan. 7, 1983
Electric Shepherd Productions, Gambit Pictures, Media Rights Capital, Universal Pictures
Rated: USA: PG-13
New Line Cinema was riding high in the 1980s with A NIGHTMARE ON ELM STREET. This meant that they could put out whatever crap they wanted to and, if it was cheap enough, make their money back in the first two weeks of distribution. Then they'd sell the sequel rights to the next sucker walking by.
"But wait!" you say. "Movie companies can't sell their crap today just because they have a single hit. What gives?"
Besides the enormity of fact regarding the world-wide cultural game changer of the Internet, in selling their garbage to the public, New Line Cinema reminded everyone that they had a hit with A NIGHTMARE ON ELM STREET in every trailer.
From the people who brought you A NIGHTMARE ON ELM STREET: XTRO!
So what is XTRO? A silly, half-assed ALIEN wannabee.
Now truthfully, I have no problem with ALIEN wannabees. ALIEN itself was a rip-off of IT: THE TERROR FROM BEYOND SPACE.
The thing is, Dan O'Bannon's masterpiece was also a superior rip or riff on IT: THE TERROR FROM BEYOND SPACE, as that movie blew!
But this is a review of XTRO so...
It begins with a boy and his father playing with their pet dog. Pop calls out to his son, Tony (Simon Nash: BRAZIL), then throws a stick into the air. The stick freezes in mid-flight, explodes, day turns to night, and a bright light in the sky whips up a windstorm. Well I know what to do whenever that shit happens to me, but Tony and his Pop are out to sea on the matter. Then Tony wakes up.
Tony has been having these bad dreams ever since his Pop, Sam Phillips (Philip Sayer: THE HUNGER, SLAYGROUND) left three years ago. Tony's Mom, Rachel (Bernice Stegers: MACABRE, DOLL'S EYE), insists Pop just walked out on them, but Tony maintains that Dad was abducted by a light in the sky. Someday Pop will come back, Mom. Then you'll be sorry you got a new boyfriend!
Kids!
Tony doesn't like Mom's new boyfriend Joe (Danny Brainin: DREAMCHILD) and Joe has given up trying to impress the kid.
Meanwhile, there's a light in the sky somewhere else. It sets the woods on fire to really bad keyboard playing (the soundtrack was composed by cowriter and director Harry Bromley Davenport).
This results in some kind of badly designed alien varmint that - in a head banging-ly stupid scene - demonstrates that it is an evil alien.
Then it attacks a woman in a method that fulfills its credentials as an alien rip-off.
Speaking of credentials, the whacked out birth scene, of the Pop as a full grown adult, gives XTRO its full-blasted cred as a Horror movie. If only the rest of the movie was this good!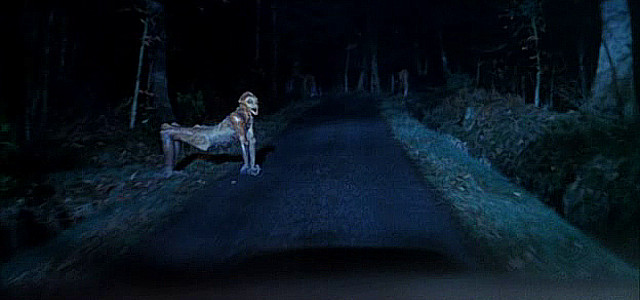 Many bad movies were saved from box-office disaster by one heart-stopping scene that freaked the audience. This still is from that infamous scene, but it's not scary until you see it in context.
Then we turn to Rachel's au pair (Nanny to most of us), (Maryam D'Abo: IMMORTAL SINS, TOMCAT: DANGEROUS DESIRES, DOUBLE OBSESSION, STALKED, SAVAGE HEARTS, TIMELOCK, TRESPASSING, DORIAN GREY [2009]), getting her carpet munched in a full blown nude scene. Actress Maryam D'Abo loved getting naked for her movies and during her first two decades in films, I can't think of a single movie she made where it didn't happen. Naked was her schtick and it started here.
Sex scene had nothing to do with the rest of the movie but before the Internet, inept producers on a low budget knew that the only way to save their crappy flick was to have nudity in it. These days we get our porn for free by women who record themselves on their phone for bragging rights.
Home sex is killing the porn industry.
So anyway, Pop makes his way back to the new homestead and, while pretending he doesn't know what happened over the last three years to the adults, insists on being head of his abandoned family again. Since it is Joe's house, he isn't about to put up with that shit. Moreover, Joe, who, for years didn't want Rachel to rush him into marriage, suddenly decides that now is a damn good time to rush Rachel into marriage. Rachel of course, has changed her mind.
Meanwhile, Tony is finding Pop up to all kinds of weirdness. He eats his son's pet snake's eggs and the freak show gets weirder from there.
From toys that grow up to adult size and kill to Alien Pop huffing cooking gas, all of the weirdness would be welcome if it only made some kind of sense within the framework of the story. But it's just weird for weird sake, without a lead up or follow through.
Hey, why not throw in a dwarf dressed like a clown?
Sure enough, we got that too. But why?
All righty then. What to make of this tale by Michel Parry (THE UNCANNY [1977]), Harry Bromley Davenport (WHISPERS OF FEAR, THE HAUNTING OF JULIA, XTRO 2, XTRO 3, HAUNTED ECHOES), Iain Cassie, and Robert Smith (AFTER DARKNESS, XTRO 2)?
XTRO is a good concept. So good that there is actually a decent story in there trapped by a murder of writers who didn't know how to bring it to life. Is it ripe for a remake? A reboot would be better, but yeah.
Of course, there is nothing wrong with making an original evil alien movie either!
Two Shriek Girls.




This review copyright 2012 E.C.McMullen Jr.