Opinion by
E.C. McMullen Jr.
NEWS UPDATES
after the article



YEAH, ABOUT AVATAR
Yeah, About AVATAR
No wait. It's December 7 and the movie isn't released yet, but the more I see of AVATAR the more I feel like commenting. I've been withholding comment because I love James Cameron's work on the two best TERMINATOR movies, ALIENS, and I loved (not liked but loved) Titanic (obviously I'm not ashamed to say it, though long time FeoFans will acknowledge that I have no shame).
I watched the Academy Awards the night James Cameron's Titanic swept through the Oscars. And when he shouted "I'm King of the world!" geeks like me embraced his enthusiasm. Cameron was the guy who made sequels that were actually better than - or at least as good as - the original!
What I never loved or even liked was THE ABYSS, which I considered a nearly 2 hour trot through sanctimonious preachville, complete with evil aliens that we should love because they look like translucent pink and blue insects. You know, the kind that appear beautiful at first, but will munch the heads off their mates as soon as have sex with them.
THE ABYSS was such a misfire I felt certain that, if I only saw Cameron's full cut, his vision, (the one his producers wouldn't let him release), he would be vindicated. That particular cut was a while in coming. TERMINATOR 2 was released in the meantime and my shaken faith was restored!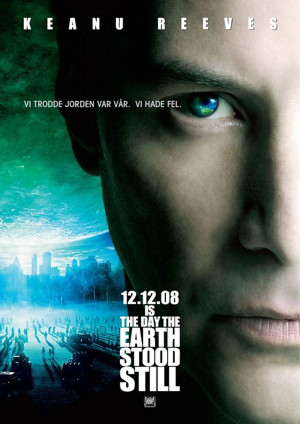 A Serious Half-face on a Blue/Green poster.
But the inevitable happened. The missing pieces of THE ABYSS finally saw light as a Special Edition. 'At last,' I thought, 'everything that was wrong with the theatrical version would be set to right!'
I was wrong.
THE ABYSS, The Special Edition, was an additional 28 or so minutes of sanctimonious preachfest coupled with patronizing snobbery, and a sanction for genocide.
These underwater varmints, who live in the ocean and so witness first hand the unmerciful, vicious, yet natural violence of life All Around Them, conclude that of all life, only we humans are so warlike that we must all be wiped from the face of the earth - and they are just the ones to do it!
Do they obliterate all of humanity? The ending will leave you in facepalm land with its inanity. I don't toss out spoilers, but the SE ending is every bit as dumbfoundingly stupid as the epiphany Professor Barnhart gave the allegedly hyper intelligent Klaatu in the 2008 remake of THE DAY THE EARTH STOOD STILL.
THE ABYSS took a dive at the U.S. theaters, but squeaked into profit in world release and video over a period of time.
So what kind of envious jerk am I that I would bring up past failures?
Because AVATAR, as much as I want to like it, is starting to smell like THE ABYSS. It features we humans in the far flung future, with some of us still moseying around in wheelchairs
(a few hundred years in the future? I'd like to think Cameron has a good reason for that), with soldiers covered in hideous scars that appear entirely treatable by today's standards of facial surgery
(I'd like to think Cameron has a good reason for that), and blue woodland creatures threatened by white humans
(now I'm thinking Smurfs) and one blue alien infiltrator created by us humans
(seriously, Gargamel infiltrated the Smurfs by inventing Smurfette).
So yeah, I'm really thinking a grown-up version of the Smurfs and I wish I wasn't. But every new release of trailer and tidbit from 20th Century Fox just keeps dragging me deeper into that mind set.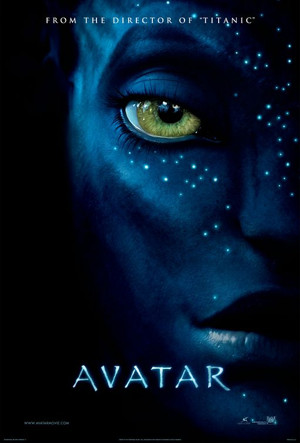 A Serious Half-Face on a Blue/Green poster.
There are those, however, who think of another cartoon, Fern Gully.
Dishearteningly, Adam may be right.
According to a 2007 article in EW, Cameron said he got his idea for AVATAR 11 years ago (1996), but that the technology for creating his vision wasn't there yet.
Fern Gully was out about 4 years before James wrote his first 80 page treatment for Avatar. He wrote the script in the first four months of 2006.
It must be noted that the animated short film, Battle For Terra, which also has a similar plotline (humans invade a peaceful green planet of aliens, but one of the human invaders befriends and joins the aliens) knocked around for years in Hollywood, looking for a home, before being released in 2007 as the feature film, TERRA.
It must also be noted, in all fairness, that Science Fiction is filled with evil alien invaders attacking earth but then one or a handful of the invading aliens turn good (from our perspective), switch sides and help us overthrow the alien menace (This Island Earth, Teenagers From Outer Space, V, any number of the more laughable episodes of the original Star Trek. Oh, you don't think any of the original episodes of Star Trek are laughable? I'll bet 50 quatloos that you are wrong!). And of course, there are a few real world examples as well.
Although in the real world those folks are called Traitors.
In all honesty, I give a lot of respect to what Cameron HAS accomplished with AVATAR. It's amazing to look at the realistic blue aliens and realize that they are really just wireframe and pixel skins. What's curious though is how uncreative they are in design. For the money and trouble Cameron went through to create them, their differences from humans are rather cosmetic, and far tamer than anything we saw from Star Wars back in the 1970s. More like the aliens we saw in Star Trek: Deep Space Nine. Eyes are a little larger than average. Nose is a little wider than average, everything else however, would just be mask and makeup. I'll be among those making AVATAR have a wondrous opening weekend.
I WANT to be Wowed!
But unless James Cameron has something far better up his sleeve than what the stills and trailers are telling me, I won't be contributing a second time.*
This article copyright 2009 by E.C.McMullen Jr.
*That's a lie. I'm such a sucker for James Cameron movies that I'll buy the freaking steelbook BluRay even if I already have the movie on BluRay. And then I'll buy the 4K! And then the steelbook 4K!
And I'm the same with John Carpenter movies and Stephen King books.
I'm a tool.