Page 1 YEAH, ABOUT AVATAR
UPDATES -
James Cameron: Yes, 'Avatar' is Political
"Avatar" director James Cameron responded to right-wing critics of his blockbuster hit movie on Tuesday night, saying that "as an artist, I felt a need to say something about what I saw around me."
Speaking at a private industry screening of the film, the director with his star Zoe Saldana said that "Avatar" -- with its depiction of mineral exploitation on a distant planet and a cadre of trigger-happy mercenaries charged with instituting a scorched earth policy -- is very much a political film.
Continued at The Wrap.
"There are boots on the ground, troops who I personally believe were sent there under false pretenses, so I hope this will be part of opening our eyes."
- James Cameron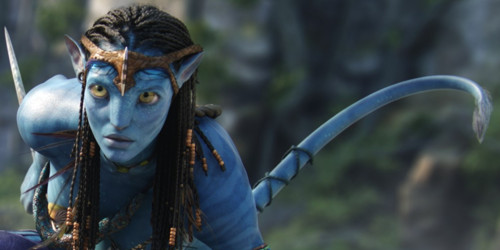 "The Na'vi represent the better aspects of human nature, and the human characters in the film demonstrate the more venal aspects of human nature,"
- James Cameron
Feo -
Then why did you make the Na'vi a bunch of fractious warrior tribes all constantly fighting and killing each other? That's your idea of the better aspect of human nature?
In AVATAR you made the Na'vi all WARRIORS. There are no farmers, no one tending to the social enrichment of the tribe, no. They are all a bunch of dragon riding hunters and warriors, prejudiced against any and all outsiders including their own race if that yokel belongs to another tribe.
The greatest warrior becomes the tribal leader. You didn't write a single Na'vi in the role of peacemaker: Not one. And because they have no peacemakers, you made the white guy be the ONLY one who CAN be their peacemaking Great White Father.
You made the White male - and only the white male (the one with the venal human nature) - the one who can talk some sense into all of the thick heads of the bloodthirsty alien tribes, so they'll drop their endless feuding bullshit with one another and unite against the common threat: American Marines!
This Cameron quote has to be weighed against the fact that he precisely puts the blame directly on those "boots on the ground" and not their leaders who, at the time of this movie's release, belonged to his party.
The inexplicably Koo Koo Berries Colonel or General~ in charge of the stupid troops, who deserve what they've got coming to them, is a hackneyed Hollywood contrivance seen in most SciFi movies. Practically every two-bit Syfy Channel monster movie involving the military as well as theatrical releases like DREAMCATCHER and THE MIST.
Cameron chose to make his Mercenaries/Marines unbelievably stupid and blood-thirsty vicious. His catharsis moment in the movie comes in the climatic battle when the Marines are being slaughtered, screaming in pain, cut in half, crushed, and so on.
That's what he made and it is exactly how he wanted it. For him to demurely preen before an audience that he was making an allegory about Iraq, and then say,

"There are boots on the ground, troops who I personally believe were sent there under false pretenses, so I hope this will be part of opening our eyes." Is him being an openly two-faced hypocrite.
Cameron is 100% about the money and he knows how to make it: By pandering to and stoking unbridled hate. You are supposed to adore his fictional Smurfs and despise the human ones (your people, self-hate) that represent the U.S. Marines (and HOW he succeeded! Have you heard or read of all the real life boobs who are getting all depressed because they AREN'T Na'vi and don't live on Pandora?). I didn't want to believe that at first. I defended him on that point, but now he's gone all Mark McGwire and showed his hand.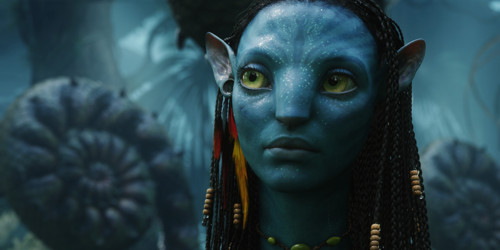 "Strangers aren't welcome on our turf!
We Na'vi are all warriors, split into warring tribes.
We kill each other and we'll KILL YOU!
Bigotry is the better aspects of my nature, talking!"
He's not being anti-exploitation, because he created the exploitation in his movie. 90% of the time our real-life U.S. Marines are not involved in war but in humanitarian rescue operations: from Indonesia to the current Haiti. But that's not how Cameron wants you to think of American Marines. He wants his world-wide audience to think of them as worse than Al Qaeda terrorists and that's how he portrayed them. He wants people to hate them and cheer when American Marines die, so that's how he portrayed them.
AVATAR is 100% fiction, so whatever Cameron writes and directs remains 100% fiction. He could have wrote about any future military and any future government no problem. It's not like he didn't do it before with ALIENS. Joss Whedon did that with Firefly and the Alliance. Babylon 5 simply had the government of earth. Before that there was Star Wars and the Empire. Star Trek and the Federation, and so on.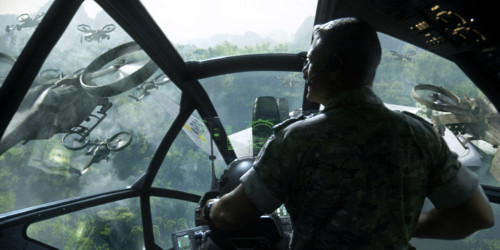 Ahh... There's nothing like getting back to nature!
And destroying it.
Cameron wanted to comment on his point of view of Americans*, the war in Iraq, and how he saw the modern Marine. So he went out of his way to have world-wide audiences know that his future Marines were specifically American Marines and were a reflection of the modern American Marine. He felt that inciting anger and hatred toward American Marines in his movie would make him the most money.
And he was right.
We know this because he made AVATAR and has now said WHY he made AVATAR.
Cameron is already looking forward to sequels and the last thing he wants is for AVATAR to have a bad DVD opening due to any belated backlash. I've praised his movies for over 10 years on my website and there is no denying that he is a great director. A human being? Maybe not so much.
*Irony Moment: James Cameron's movies are perched at #1 and #2 on the all time world-wide box office. He could never have done that, and would not be the James Cameron we know, if it weren't for the opportunities available to him only in the U.S. and no where else in the world (certainly not his home country).
~This is not new or unique. As a published fiction writer, I've twice had a story rejected for no other reason but that I had NOT made a military commander a blood thirsty psychopath. That was the actual primary reason. The editor didn't feel the character was realistic in being presented as a well-adjusted human being. I was also upbraided by a published author, who was part of my circle of readers, for the same thing. He felt it was bad character development for me to make a sympathetic and level headed military leader. He had never served a day in any military, but to him the very idea that such a person could exist was unrealistic.
---
March 31, 2020
'Avatar' Finally Loses the Papyrus Font After 10 Years and One Damning 'SNL' Sketch
By Claire Spellberg
It's the end of an era for Avatar's long-derided Papyrus font. According to The Independent, Disney has finally changed the 2009 film's text font for Disney+ users around the globe. The shift from Papyrus to a more standardized block typeface comes after a decade of ridicule from fans, industry heavyweights, and even Saturday Night Live, which skewered the Avatar font in a 2017 sketch starring Ryan Gosling. SNL: 1, Disney: 0.
Continued at Decider.
---
March 17, 2020
Coronavirus: 'Avatar' Sequels Suspend Filming In New Zealand
By Andreas Wiseman
Filming on James Cameron's long-in-the-works Avatar sequels has been suspended in New Zealand due to coronavirus.
Continued at Deadline.
---
September 17, 2018
Avatar 2 – Everything You Need To Know About James Cameron's Sequels
By James White
James Cameron long-promised that we'd see sequels to his 2009 sci-fi smash Avatar – and while it's taking a long while to get there, he's currently hard at work on four of them at the same time. With the first return journey to Pandora and its Na'vi inhabitants looming, here's what you need to know about the Avatar sequels.
Continued at EmpireOnline.
---
February 17, 2010
Trouble on Pandora: 4 Big 'Avatar' Failures
With a phenomenal worldwide box office of more than $2 billion, nine Oscar nominations -- including Best Director and Best Picture -- and technology that is revolutionizing the film industry, you'd think "Avatar" would have some coattails outside the theaters.
You'd think that … but all that glitters in Pandora's box is not Unobtainium.
Here are four areas where "Avatar" has failed.
Continued at The Wrap.
FeoNote: Nope. Sorry. But with all I've said about AVATAR (and I've said a LOT!), the one thing it isn't is a failure. Any movie that makes over $2 billion world wide in its first theatrical run, and becomes the #1 best selling movie in history (in its first run!) isn't a failure. You can call it many things - and I have - but a failure isn't one of them.
---
Feb. 15, 2010

James Cameron on 'Avatar': 'It's my most personal film'
Cameron on a beloved scene that just didn't make the cut...
Continued at LATimes.
..."No... gasp! You... you go on without me!"
"Leave... gasp! Leave me behind... save yourselves!"
"It's... gasp! It's getting dark. Who turned out the lights? Mother? Mother?"
"You... gasp! You must must lead the people now!"

Great Cthulhu! James Cameron actually filmed an even MORE emotionally insipid death scene - thankfully cut - that will soon be seen on the AVATAR disc extras.
---
Feb. 4, 2010

Avatar presentation at Autodesk University
autodesk.com/modernpipeline Academy award winning producer Jon Landau talks about how Autodesk's Digital Entertainment Creation tools were essential elements in the creation of Avatar at Autodesk Univeristy 2009. Avatar producers and their production teams used Autodesk Maya and MotionBuilder to pioneer many virtual filmmaking techniques that are now making their way into leading feature films and games cinematics.
---
Dec. 29, 2009

'Avatar' and the faith instinct
You probably don't need a long synopsis of James Cameron's half-billion-dollar epic, "Avatar," in part because even if you haven't seen it, you've seen it. As many reviewers have noted, Cameron rips off Hollywood cliches to the point you could cut and paste dialogue from "Pocahontas" or "Dances with Wolves" into "Avatar" without appreciably changing the story.
Continued at LATimes.
---
Dec. 10, 2009

"WELCOME to Avatar."
The director James Cameron had materialized, as if by digital magic, before an early screening audience here of his latest blockbuster-in-waiting. But it's not quite clear what the director was inviting them into this day in early December. The little $230 million picture he had just finished? The "world" created by his production's advanced digital techniques? The "shameless engine of commerciality" he has not so jokingly claimed to have constructed? Whichever "Avatar" Mr. Cameron had in mind, a lot of people's holiday happiness, and profit, rest upon it. And the debut did not come without a hiccup.
Continued at NYTimes.
---
Dec. 3, 2009

'Avatar's' True Cost -- and Consequences
Reports of $500M budget are overblown - and the film looks poised for a profit
Not only is "Avatar" not the most expensive movie ever made - its total budget and marketing costs fall somewhere below $400 million, according to Fox - but it looks well-poised to turn a profit.
Continued at The Wrap
---
Oct. 26, 2009

Is James Cameron's Avatar Actually an Uncredited Rewrite of a 1957 Poul Anderson Story?
The line between deliberate rip-off and unintentional reflection is thin and blurry. There's now an accusation that James Cameron's upcoming Avatar might sit somewhere uncomfortably close to that line. Seems that the film bears an uncanny resemblance to Poul Anderson's 1957 short story Call Me Joe
Continued at SlashFilm and io9.
---
Aug. 27, 2009

Titanic director James Cameron grabs film's holy grail in new film Avatar
DIRECTOR James Cameron doesn't do things by halves. He doubles up at every opportunity. When Titanic was flailing before its release under the weight of expectations in 1996, Cameron released a four-minute trailer, more than double the conventional length. It helped.
Continued at TheAustralian.
This article copyright 2009 & 2010 by E.C.McMullen Jr.