Now I rarely do reviews of limited edition books and especially limited edition books printed by Delirium Books. The reason in broad terms is that limited editions are usually so damn limited that they sell out in a matter of months, rendering the review immaterial. It's not like you can read the review, like what is written, and go out and buy the thing, right?
The reason I don't do reviews of Delirium Books is because publisher Shane Ryan Staley is known to sell out of all of his limited editions - not in a matter of mere months or even weeks - but freakin' days, man! Sometimes even hours! People who work in the post office near him are probably used to the bullet whistle of his book boxes whizzing past.
So, bear in mind that the clock is ticking on this one. As for the eventual archive of this book, this review can also serve in the case of some future publication of this story. What I'm doing here, is attempting to interest you in a really fine writer. So sit back in your furniture and let me tell you about FAILURE.
The story opens with a young high school guy named Raymond and his failed suicide attempt. Raymond is such an utter failure that he can't even get his own death right. He's his town's biggest loser, a standing he shares with his best friend, Sal. Actually, Raymond and Sal aren't friends at all. Suicidal people, who don't value even their own life, have no value for anyone else's life, and that includes the people closest to them. One of those people is Cindy. Although Cind isn't a friend to either of them, they all share a common ground of taking drugs to dull their self-loathing. They are all disassociated from their parents as well.
In FAILURE, however, like attracts like and Sal has attracted the attention of another loser named Aaron. Aaron is a wizard, or he would be if he could get his spells to work. But Aaron has only seen one person in the whole world weave genuine, actual magic, and now she's dead, her secrets carried to the grave. Aaron won't stand for that though. He fully intends to revive her corpse, knowledge intact, and force her to reveal all of her secrets. His spells have never worked before, but he had never committed human sacrifice before. And the kind of human sacrifice Aaron has in mind requires a little sex-magik.
It's not easy to make a reader care about people who don't care about themselves, and FAILURE likely couldn't hold interest if it had to span across the typical 80,000 plus words of a standard sized modern novel. But Everson also adds innocents to the mix who stumble into the paths of Raymond, Sal, Cindy, and Aaron. That plus the fact that I got so involved in what Aaron was trying to do that I became genuinely curious over whether or not he could pull it off. With a title like FAILURE, I suspected that Aaron would probably mess up, but if and how he would mess up kept me hooked.
A story this long in a book this size is the perfect read for commuting or during those times when you find yourself alone at a restaurant or coffee shop. You know, like the other failures.
4 BookWyrms.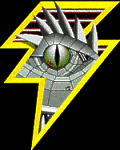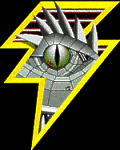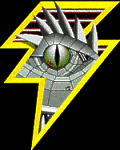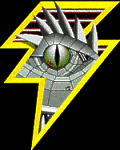 This review copyright 2006 E.C.McMullen Jr.
LOVE THIS SITE?
Support it when you buy my books

E.C. McMullen Jr.
PERPETUAL
BULLET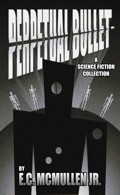 "'Some People' ... may be the standout story in the book."
-

John Grant

, Infinityplus

E.C. McMullen Jr.
WILLOW BLUE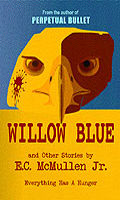 "'Willow Blue' will burrow under your skin and stay there long after you've put the book down."
- Jeffrey Reddick, Creator of
FINAL DESTINATION

IN OTHER BOOKS
E.C. McMullen Jr.'s
short story
CEDO LOOKED LIKE PEOPLE
in the anthology
FEAR THE REAPER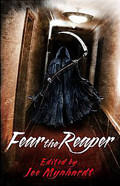 "This Ray Bradbury-esque is one of the most memorable and one of the more original stories I've read in a long time."
- Amazon Review

HORROR 201:
The Silver Scream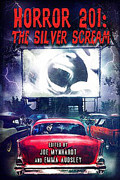 Filmmaker's Guidebook
featuring
RAY BRADBURY,
JOHN CARPENTER,
WES CRAVEN,
TOM HOLLAND,
E.C. McMULLEN Jr.,
GEORGE A. ROMERO,
and many more.

Also
IN CINEMA
E.C. McMullen Jr.
Head Production Designer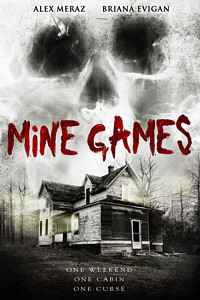 MINE GAMES


(Starring:
JOSEPH CROSS, BRIANA EVIGAN,
ALEX MERAZ)