STUART GORDON
MOVIE DIRECTOR
EVERYTHING WE'VE EVER COVERED
Click on the movie posters for reviews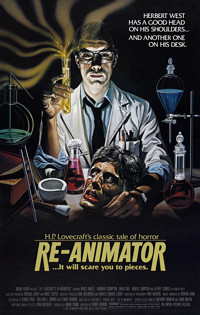 RE-ANIMATOR
- 1985
Empire Pictures / Vestron Video
Rating: USA: R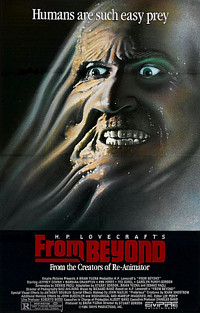 FROM BEYOND
- 1986
Empire Pictures / Taryn Prov / Vestron Video
Rated: France: -12 / UK: 18 / USA: R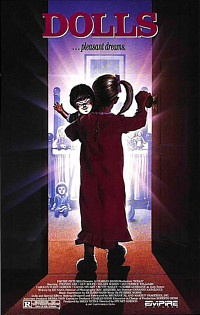 DOLLS
- 1987
Empire Pictures / Taryn Productions Inc.
Ratings: Finland: K-18 / Australia: M / UK: 18 / USA: R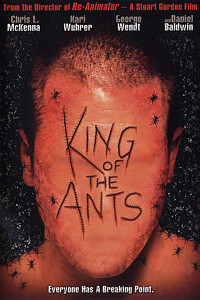 KING OF THE ANTS
- 2003
Anthill Productions, The Asylum, Hecht Co., Red Hen Productions
Rated: Germany: 18 / Norway: 18 / UK: 18 / USA: R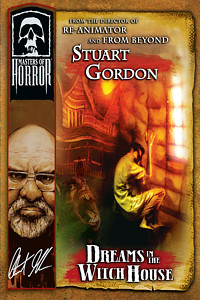 DREAMS IN THE WITCH HOUSE
- 2005
Nice Guy Productions / IDT Entertainment / Anchor Bay Entertainment
Rating: N/A

FeoNote: If this was a theatrical release, it likely would have got an R for full frontal nudity, full backside nudity, sex, violence, and foul language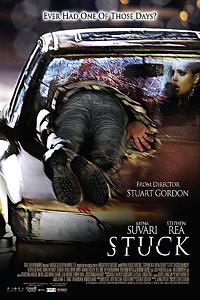 STUCK
- 2007
Raucous Releasing/Artisan Entertainment
USA: Rated R
Meeting Stuart Gordon for the first time, you are impressed by just how nice the guy is.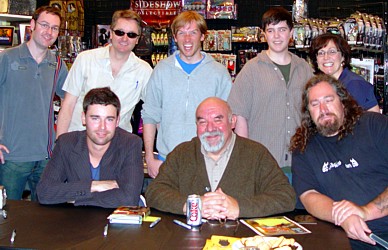 Director Stuart Gordon, bald, bearded and in the center at the table.
Sitting to his right is actor Ezra Godden (DAGON, DREAMS IN THE WITCH HOUSE).
Photo by Feo Amante
at Dark Delicacies

There is nothing off-putting about him. He's open, friendly, and seems to appeciate his fans.

I've met Stuart a few times now, at signings and conventions. He has cool stories about his life as a director and appears amazed that people want to spend time with him, let alone get his autograph. Still, he appreciates the attention, (who wouldn't?), and happily signs anything you put in front of him.

I last caught up with Stuart at Dark Delicacies Bookstore in Burbank, California. There, a small number of fans actually came all the way down from Canada, one family from Ontario and one from Toronto, just to meet him. Stuart is currently in pre-production on his new film, STUCK. The film is Horror, of course, and is co-wrote by Stuart along with fellow H.P. Lovecraft fan, John Strysik (THE MUSIC OF ERIC ZANN [SHORT], TALES FROM THE DARKSIDE [TV], MONSTERS [TV], DEATH BED). John has worked with Stuart before when Gordon produced director Danny Draven's DEATH BED.

In this photo, among his fans, Stuart Gordon also sits with his new actor, Ezra Godden, who, in the new millineum, has many of the traits Jeffrey Combs had in the 1980s.

I FLUB AN INTERVIEW WITH STUART GORDON


This brief interview was done because I was trying to get on the gameshow, Deal or no Deal. Part of getting on there is to make a 5 minute video of yourself, what you like, your friends, and such.
Well, everyone knows that I like Horror Thriller, Mystery, and Suspense. So when I had the chance to meet Writer / Director / Producer Stuart Gordon (RE-ANIMATOR, DOLLS, FROM BEYOND, KING OF THE ANTS, DREAMS IN THE WITCH HOUSE, STUCK) at a Dark Delicacies signing in Burbank, California, I asked him if I could do a quick interview with him. This interview, at about 20 seconds, is quite brief.

Don't be fooled though. This video was really shot on March 31st in time for April Fool's Day, Stuart was totally in on the gag and loved the idea of attacking a rude idiot (in this case me), who can't be respectful during an interview. His enthusiasm at going for my throat made me wonder if he had dealt - for real - with such people in the past. Perhaps I gave him the moment to live out a fantasy.

E.C. McMullen Jr. is a participant in the Amazon Services LLC Associates Program, an affiliate advertising program designed to provide a means for sites to earn advertising fees by advertising and linking to amazon.com.
LOVE THIS SITE?
Support it when you buy my books
E.C. McMullen Jr.
PERPETUAL
BULLET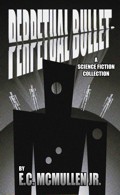 "'Some People' ... may be the standout story in the book."
- John Grant, Infinityplus
WILLOW BLUE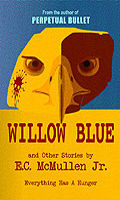 "'Willow Blue' will burrow under your skin and stay there long after you've put the book down."
- Jeffrey Reddick, Creator of
FINAL DESTINATION
IN OTHER BOOKS
E.C. McMullen Jr.'s
short story
CEDO LOOKED LIKE PEOPLE
in the anthology
FEAR THE REAPER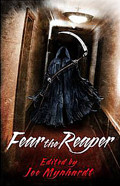 "This Ray Bradbury-esque is one of the most memorable and one of the more original stories I've read in a long time."
- Amazon Review
HORROR 201:
The Silver Scream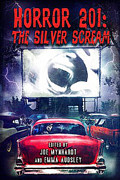 Filmmaker's Guidebook
featuring
RAY BRADBURY,
JOHN CARPENTER,
WES CRAVEN,
TOM HOLLAND,
E.C. McMULLEN Jr.,
GEORGE A. ROMERO,
and many more.
Extensively quoted in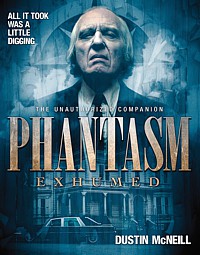 PHANTASM
EXHUMED
The Unauthorized Companion
Robert S. Rhine's
SATAN'S 3-RING
CIRCUS OF HELL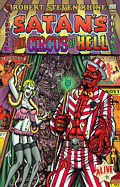 Forward by
GAHAN WILSON &
FEO AMANTE.
Featuring comics by
ALEX PARDEE,
WILLIAM STOUT,
STEVE BISSETTE,
FRANK DIETZ,
JIM SMITH,
FRANK FORTE,
ERIC PIGORS,
MIKE SOSNOWSKI,
OMAHA PEREZ,
DAVID HARTMAN,
STEVEN MANNION,
and more!
Also
IN CINEMA
E.C. McMullen Jr.
Head Production Designer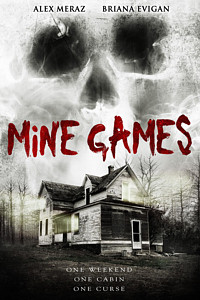 MINE GAMES
(Starring:
JOSEPH CROSS, BRIANA EVIGAN,
ALEX MERAZ)
Dept. head
Special Effects Make-Up
(SFX MUA) and Michael Madsen's stunt double on the movie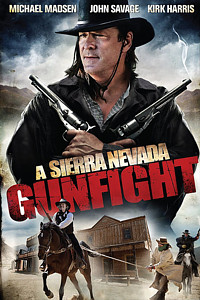 A SIERRA NEVADA GUNFIGHT
(MICHAEL MADSEN & JOHN SAVAGE).
PRODUCTION DESIGNER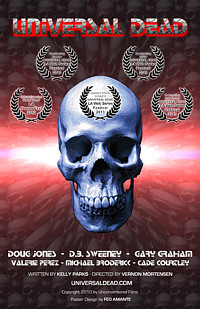 UNIVERSAL DEAD
(DOUG JONES,
D.B. SWEENEY,
GARY GRAHAM)
ART DIRECTOR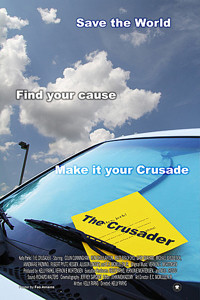 THE CRUSADER
(COLIN CUNNINGHAM,
GARY GRAHAM)