Review by
E.C. McMullen Jr.

GHOSTBUSTERS

- 1984
USA Release: June 8, 1984
Delphi Productions, Black Rhino Productions, Columbia Pictures Corporation
Rated: USA: PG
Some movies are textbook examples of how to make a good one. Like this one!
An old lady in a library basement goes about her business, filing books and doing her job.
Something unseen is with her and Merry Mishaps occur.
Just that fast, GHOSTBUSTERS takes off!
Next we meet the hated Dr. Peter Venkman (Bill Murray: GHOSTBUSTERS II, ZOMBIELAND), who is conducting scurrilous research involving torture and picking up on self-absorbed coeds.
The boyish Dr. Raymond Stantz (Dan Ackroyd: TWILIGHT ZONE: THE MOVIE, INDIANA JONES AND THE TEMPLE OF DOOM, GHOSTBUSTERS II, EVOLUTION) bursts in just as Peter is preparing to seal the deal. An honest to goodness apparition was spotted at the New York public library and Venkman must drop everything to help Ray investigate!
Reluctant and put upon, Peter accompanies Ray to the library where they find Dr. Egon Spengler (Harold Ramis: HEAVY METAL, GHOSTBUSTERS II), busy with his investigations.
A preliminary interview with the recovering old lady and the three men are down in the basement, where they get the paranormal shock of their lives.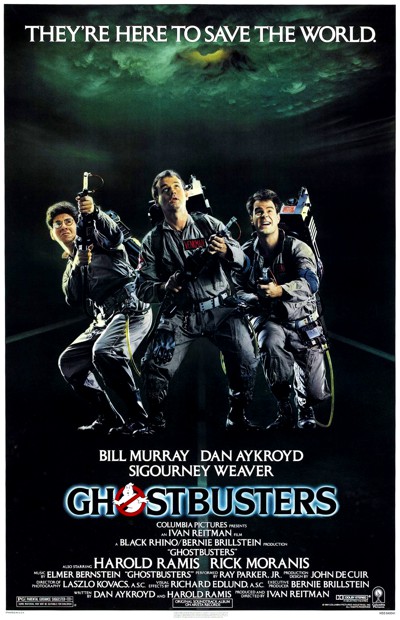 This is only compounded by the shock of getting fired from the university later that day ("Hey! Dean Yager!")
A dire warning from Dr. Stantz ("You've never been out of college, you don't know what it's like out there. I've worked in the private sector. They expect results.") sends the inherent schemer in Venkman to connive Stantz into taking a third mortgage on his birth home ("You didn't even try to talk them down!") to set them up in the business of Ghost Busting.
But Venkman, like Spengler, is a realist. When the three assess their critical business needs and look for a building that will suit them, they're cut off at the knees by the boyish enthusiasm that Stantz, the one with the most to lose, feels for an expensive and decrepit money pit that has a really cool fireman pole ("Hey! Does this pole still work?") that still works ("You gotta try this pole!").
Meanwhile in another part of New York City, Classical musician Dana Barret (Sigourney Weaver: ALIEN [all], GHOSTBUSTERS II, AVATAR, CABIN IN THE WOODS), after extricating herself from her nosy, highly interested neighbor Louis Tully (Rick Moranis: LITTLE SHOP OF HORRORS) makes a terrifying discovery in her refrigerator.
The only sympathetic ears she can find are on the heads of The Ghostbusters.
As she is their only customer, they are running out of money which means they will soon be out of business. Fortune smiles when their secretary, Janine Melnitz (Annie Potts: CRIMES OF PASSION, GHOSTBUSTERS II), gets a phone call from a ritzy hotel. There is a ghost that needs busting!
GHOST BUSTIN' WITH
THE MATRIX-MASH!
SCIENCE NEWS
Holy Mother Puss-bucket! Did scientists discover a real ZUUL?
TRIVIA
In the original script, written with Eddie Murphy in mind, his Winston character was the 4th scientist.
Eddie Murphy couldn't decide whether or not he wanted the part, so shooting started without him. When the production couldn't shoot around his character anymore, the script was re-written for the last minute addition of Ernie Hudson, a dramatic actor who had little comedy experience at that time.
Their first untested time out of the gate proves an expensive disaster for their customer, but before the public's startled eyes, they get their ghost. This abrupt launch into media attention, news, interviews, and of course, way more business, puts them on the covers of newspapers and magazines. Business is so great that soon they are hiring more help in the form of Winston Zeddemore (Ernie Hudson: LEVIATHAN, GHOSTBUSTERS II, THE CROW, HOOD OF HORROR).
But fame comes with a price. Not everyone favors the Ghostbusters, some think they're scam artists, and that negative attention draws the U.S. government to the Ghostbuster's station when EPA representative Walter Peck (William Atherton: TOMORROW'S CHILD, BURIED ALIVE, GRIM PRAIRIE TALES, GHOULS) shows up asking intrusive questions and making snide accusations.
Between success and investigation, everything comes to an explosive head and...
Porn and Horror movie producer Ivan Reitman (THEY CAME FROM WITHIN, RABID, HEAVY METAL, GHOSTBUSTERS II, EVOLUTION, THE UNINVITED), running off of Dan Ackroyd and Harold Ramis' excellent screenplay, produced and directed his best movie ever. A movie so influential and fun that not even the uninspired hack sequel a few years later doused the enthusiasm for it. In the intervening decades since GHOSTBUSTERS release, I've never been to a single Halloween or costume party anywhere in the world - ever - that didn't have a group of people come dressed as GHOSTBUSTERS. No other movie is as consistently represented by the fans as GHOSTBUSTERS.
Part of that love is for the character dynamic itself. Dr. Stantz is an incredibly knowledgeable man in his field as well as of the world around him. But this knowledge comes without wisdom as he is constantly checked by his own geeky, boyish enthusiasm.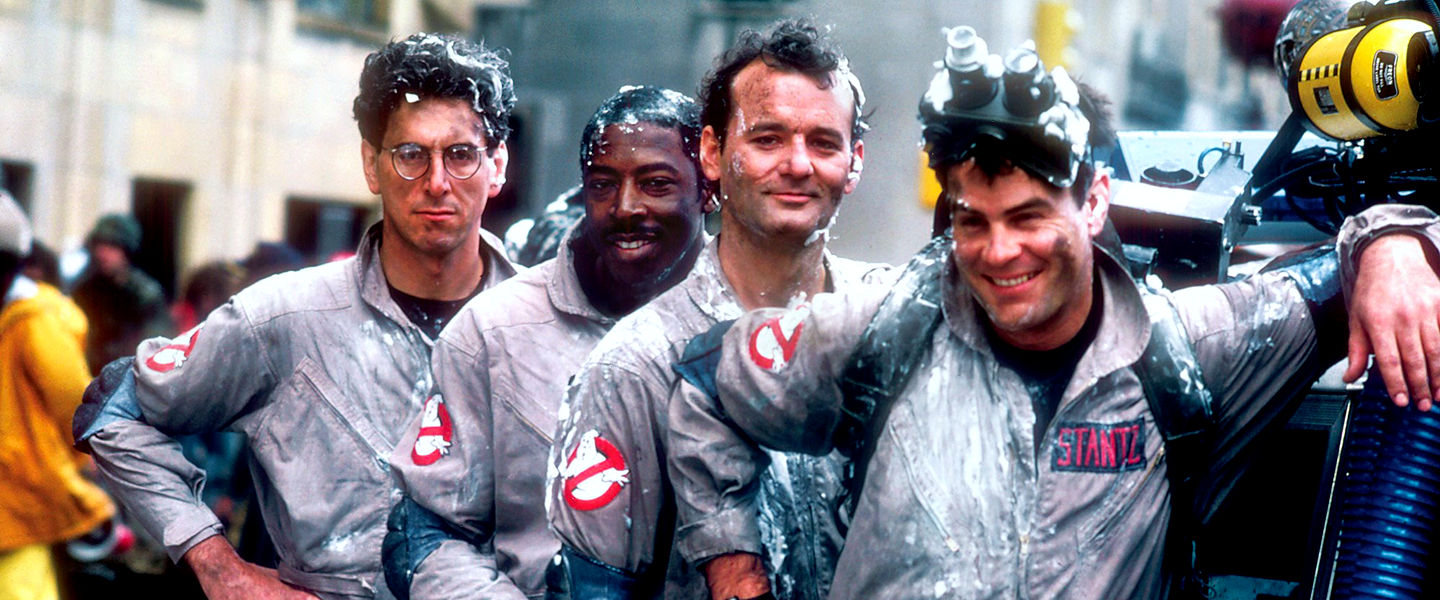 Dr. Spengler is knowledgeable about his subject, brilliant in the tools he creates to investigate in his field, but is an inherent coward preferring safe lab work ("I collect spores, mold, and fungus.") over field testing the often dangerous equipment he invents with Stantz.
"Doctor" Venkman is a selfish, sadistic, skirt-chasing bastard, hated by his students. Delighting in the mocking torture of his companions, he has a sadists' charm (and history is littered with charming sadists). Egon and Raymond put up with him because he's always there to save them from themselves
"Dr." Venkman: "Egon, this reminds me of the time you tried to drill a hole in your head."
Dr. Spengler: "Which would have worked, if you hadn't stopped me."
Venkman is also honest with himself. When confronted by decent people he has truly offended, like Dean Yager, Venkman can only nod and say, "I see."
When he lashes out in frustration at their secretary / receptionist, Janine, he quickly apologizes.
Yet when he meets other people like himself - like the slimy, intrusive Walter Peck - he is compelled to competitively both best and openly mock them. It's this dynamic between all three of them that makes the whole thing work.
GHOSTBUSTERS is quotable and enjoyable, both fun and funny, a cinematic achievement that even makes some of its cheesy special effects work. I've enjoyed this film so may times over the years I've lost count. GHOSTBUSTERS remains one of the funniest Horror comedies ever made and a cinematic classic that deserves all 5 shriek Girls.






This review copyright 2012 E.C.McMullen Jr.