Review by
E.C. McMullen Jr.

THE KILLER SHREWS

- 1959
USA Release: June 25, 1959
Hollywood Pictures Corporation
Rating: USA: N/A
Somebody finally did it. I was sent the latest DVD copy of THE KILLER SHREWS to review.
Voice over narration tells us all about shrews. Shrews man! Brrr! Vicious little varmints to be sure. Good thing they're so small. Can you imagine how awful it would be if someone made them really, really big? Like say, the size of a medium-sized dog?
Okay, so now we're in a boat with Captain Thorne Sherman (James Best: THE BEAST FROM 20,000 FATHOMS, FORBIDDEN PLANET, VERBOTEN!, ALFRED HITCHCOCK PRESENTS, THE TWILIGHT ZONE [1961 -1963], SHOCK CORRIDOR, ROLLING THUNDER, THE BRAIN MACHINE, DEATH MASK, RETURN OF THE KILLER SHREWS).
Think of that name, Thorne! And this is 1959 when movies and TV shows about war were popular and the name Sherman was attached to the public concept of military victories and one hell of a capable tank!
It's like having the name, Cypher Rage, in 2012 - only with extra testosteroney on top.
So Captain Thorne Sherman is in charge of a boat that's about as big as a midsize van, capable of seating six with luggage space. And by "in charge" I mean he has a single crew member, Rook Griswold (Judge Henry Dupree), who, in this two man crew, is somewhere between friend and good employee.
Thorne and Rook are delivering some supplies to a far off island whose inhabitants apparently didn't think far enough in advance to have a boat of their own.
As small as Captain Thorne's boat is, there is no place to dock his craft, so he has to weigh anchor and come ashore in an even smaller dinghy. For you landlubbers, imagine leaving your van in the parking lot and driving your tow vehicle - a golf cart - to the mall to pick up your passengers and bring them back.
The party of folks who greet Captain Thorne and his first mate Rook, are enthusiastic. By enthusiastic I mean one of them is carrying a locked and loaded rifle and a scurrilous expression. The greeting party consists of Dr. Marlowe Craigis (Baruch Lumet), his amazingly lovely daughter Ann (Ingrid Goude: Miss Sweden 1956), and his stink-eyed assistant, Jerry Farrell (Ken Curtis* - who, if you like watching Shitkickers, is most famous for over a decade of playing "Festus" on the long running hit TV show Gunsmoke).
Thorne has just met Jerry and man, he wants to punch this surely jackass in the face so much as look at him!
But for the moment Jerry has the gun.
Dr. Craigis just wants his supplies and Thorne can be on his way, Thank you very much. But Thorne has set his eyes on two things, that suspicious looking sky which could turn into a storm on the way back, and Dr. Craigis daughter, Miss Sweden 1956!
So Dr. Craigis invites Captain Thorne back to his place for drinks while Rook has to stay behind. This is a cringe worthy moment in the movie and when you watch it you'll see why. Seriously. "Captain Thorne" is merely a cabby on water. His boat ain't the U.S.S. Ranger or even the S.S. Minnow. Yet Thorne's first mate "Rook" is treated like a second class citizen because in 1956, he was.
Back at the house it's time for drinks and smokes. And holy shit do they ever pile on the drinks and smokes.
You could make a drinking game of how many times each of the main characters has another drink and you'll all likely get plastered before the characters do.
Speaking of characters, two more make their appearance, the socially awkward (even by the standards of this oddball group) Dr. Radford Baines (Gordon McLendon: THE GIANT GILA MONSTER) and the butler or all around man servant, Mario (Alfredo DeSoto).
"Mario, please make us a drink!"
"Si, Senor."
And that's pretty much it for Mario being in the house. We never see the lab, and seeing as the outside of this house looks like a Ranch-style three bedroom job, why would anyone need an extra pie-hole to feed like Mario?
The entire set-up looks pretty damn seedy. Most meth labs have better equipment and quality control (although, ahem! I'm no expert!).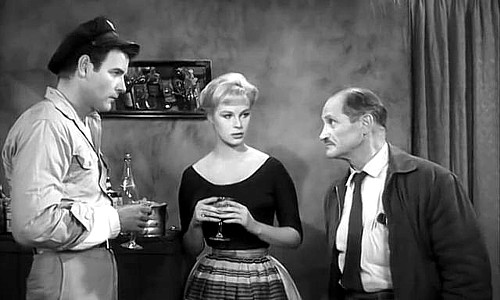 I'm testing the effects of drinking while doing dangerous research.
As Dr. Craigis succumbs to increasing blood/alcohol levels, he spills the beans on his secret island research - shrinking humans down to half their size so the earth will -
Thorne: "THANKS DOC! WELL, I'LL BE ON MY WAY! THE STORM? OH HO, FUCK THAT STORM AND FUCK YOU!"
That would be my reaction, but I haven't been drinking near as much as Thorne by that time in the movie (though it would be a better movie if I had) and the Captain's roving eyes makes it clear that he is carrying quite the burning boner for Ann. So no, Captain Thorne never says that.
Then, between hints from Dr. Craigis, babbling from Dr. Baines, and a jealous flare-up between Ann and Jerry, everyone finally comes clean about that other thing.
You know, that "title of the movie" other thing.
They've been experimenting on shrews for their research. You know about shrews, right Captain Thorne? As the opening narration said, they are quite tiny, yet possibly the most vicious predators of all rodents. Why, they have to eat three times their own body weight each day or they'll die.
Well, it seems that instead of making them smaller, I accidentally made them ... giant: like the size of coon dogs giant. So far they've ate eaten every living animal on the island. They only come out at night, which will be in about 30 minutes, and we've been able to hold them off ... so far with very little loss of human life... so far. But I'm sure -
Thorne: "THANKS DOC! WELL, I'LL BE ON MY WAY! THE STORM? OH HO, FUCK THAT STORM AND FUCK YOU! COME ON, ANN! LET ME TAKE YOU AWAY FROM THIS DEATH TRAP!"
Again, that would be my reaction, but Thorne is blitzed by this time and is ready to put his moves on Ann, if he can just get a little privacy.
So the promised storm never happens, sun goes down, Merry Mishaps occur, and the two minorities are the first to be eaten alive and screaming.
Which earns this independent movie the dishonor of the !!!UNFAIR RACIAL CLICHE ALERT!!! KILLER SHREW style.
Surrounded by death and lots of ridiculous looking "Shrews" that look for all the world like either hand puppets or dogs under a shag rug (because that's precisely what they were), everyone goes on a drinking binge when they aren't arguing with each other,
taking note of the body count that has now reached critical mass (i.e., white people are dying too),
or listening to Dr. Craigis over-explain the plot
("I'd really like to delve into deeper explanation about these shrews, Captain Thorne, which I not only find fascinating, but to distract you from that dog-humping expression you are giving to my daught-Look At Me When I'm Talking To You, Asshole!").
Ken Curtis, like James Best, was an established character actor with name recognition at the time of this flick. Ken also produced this movie and took his role of Jerry seriously, which is more than can be said for the script by Jay Simms (THE GIANT GILA MONSTER, THE CREATION OF THE HUMANOIDS, PANIC IN YEAR ZERO!). Which in turn is what makes Jerry so mock worthy hysterical (THE KILLER SHREWS would go on to become one of the most popular episodes of Mystery Science Theater 3000).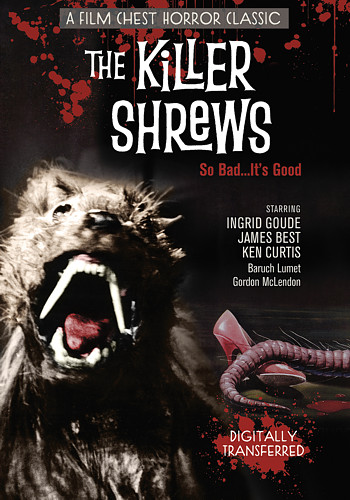 Executive Producer, Gordon McLendon put up the money for THE KILLER SHREWS as a twofer double feature deal with THE GIANT GILA MONSTERS. So yeah, he gets to act in his movie.
Well, he got to be in his movie. I wouldn't call it acting and there was nothing necessary about his character.
That money, which was $123,000 in 1958, was micro-budget cheap, yet calculating for inflation, would be $1,013,000 in 2014. Which can make a pretty decent movie where everyone gets paid, and goes a long way to explaining just how much of the budget is saved these days by using digital over film stock.
As for director Ken Kellog, oh, poor Ken.
A military veteran cameraman and Veteran visual special effects artist, Ray Kellog (14 HOURS, THE DAY THE EARTH STOOD STILL [1951], 5 FINGERS), directed this mess. That said, don't expect a visionary eye or excellent effects, the budget just couldn't afford them. Considering Ray's life in pictures, that must have been killing when he saw the finished product.
In World War II, Ray was a cameraman for the U.S. Navy and covered the Nuremberg War Crimes Trials. While he wasn't the only cameraman, he covered most of it so, when you watch that old footage, you are likely watching his work. Moreover, after WW2, Ray's forte was in super realistic visual special effects as a Matte Artist (that fabulous backdrop). So instead of working in SciFi or Horror, studios like 20th Century Fox had Ray work on their high-toned dramas and comedies, featuring the top actors of the period from Humphrey Bogart to Marilyn Monroe.
Ray was a master craftsman in his field, and yet he wanted to direct so badly he accepted work on this.
THE KILLER SHREWS definitely falls into the So Bad It's Good category as I love this film warts and all. And man, does this movie ever have some giant hairy warts!
Inept, hapless, yet oh, so sincere, this is usually the formula for So Bad It's Good movies. Ken Curtis and James Best were working actors who were not about to let some indie side project and a few extra bucks ruin their careers. Actors Judge Henry Dupree, Baruch Lumet, Ingrid Goude, and Alfredo DeSoto, were all hoping to launch their careers (it didn't happen). Actor Gordon McLendon paid for this movie and wanted his money back and then some. He also wanted to tell folks that he was a movie actor and producer.
Years later, Gordon would go out with a bang. In 1981, shortly before his death in 1986, he helped fund the megastar hit movie, Victory, starring then hot talents, Sylvester Stallone, Michael Caine, Max von Sydow, and Pelé, and directed by Oscar winning John Huston. McLendon only had three movies to his name, but they were all hits.
The latest video company to put this out is Film Chest Media Group and they've treated it better than most. The video quality is above par for what you'll usually find and the sound is clear. It's not great mind you, but I don't know if a great print of this film exists anymore. The FCMG quality is definitely better than what I saw on the MST3K version.
Four Negative Shriek Girls





This review copyright 2014 E.C.McMullen Jr.