Review by
E.C.McMullen Jr.

PSYCHO II

- 1983
USA Release: June 3, 1983
Oak Industries, Universal Picture
Ratings: USA: R

Verdict:

PSYCHO II is the best of the sequels.
PSYCHO II begins in black and white. We see the Bates Motel neon sign. We watch the shower scene again, witness the horrific tragedy of a senseless murder on a defenseless person.
Again we hear Norman's horrified discovery.
"Oh god, Mother! Mother! Blood! Blood!"
The black and white of the picture warms to red then full color. The sun is rising. It's a new day.
It is 22 years later, and Norman Bates is coming home.
Once again, Robert Bloch's most infamous character comes out to play.
It was 1983 and Anthony Perkins returned to the role that made him famous and would define his career forever.
Lila Loomis, formerly Lila Crane (Vera Miles: PSYCHO, BRAINWAVES, THE INITIATION), is at Norman's release hearing with a petition in hand. She doesn't want Norman released: Not ever. Nutso Norman murdered her sister and five other people, but was found not guilty by reason of insanity. The years have not been kind to Lila. She spent her life staring into the abyss of Norman's madness and it's affected her.
Norman doesn't respond to Lila's accusations. What can he say? Quietly introspective as always, he let's someone else speak for him. In this case his psychiatrist, Doctor Raymond (Robert Loggia: INNOCENT BLOOD).
Returning home at last, we already see the roots of his madness remain present. Looking at his iconic house, he tries to brush away his foreboding as mere nervousness, which his doctor accepts.
In a nod to the era, his doctor has misgivings about "the cuts", which mean a social worker won't be visiting Norman.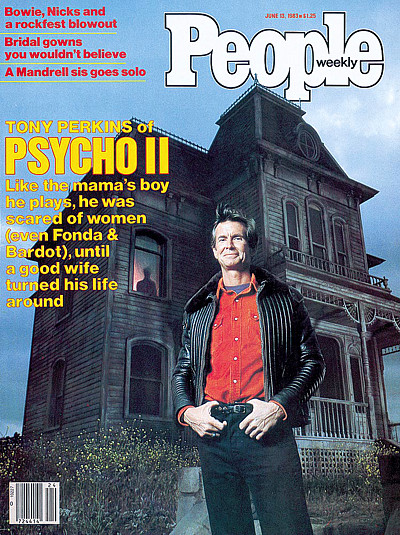 In an Internet world I can't adequately explain the enormous audience anticipation for this sequel in 1983.
"But I have you!" Norman says with fragile cheer.
"Damn right you do," Dr. Raymond agrees.
No sooner is Norman alone but that the madness returns, as Dr. Raymond predicted it might. But Norman can handle it now. After 22 years of analysis and effort, he has the tools. It's up to Norman to control his life and the creatures in it.
Norman needs to be self-sufficient, so he goes to the nearby diner where his new job awaits.
He's introduced to the head waitress, Miss Spool (Claudia Bryar: I WAS A TEENAGE FRANKENSTEIN), who introduces him to his new boss Ralph Statler (Robert Alan Browne: PSYCHO III, AMITYVILLE: THE EVIL ESCAPES), and the other waitresses, Myrna (Lee Garlington: PSYCHO III, HELL COMES TO FROGTOWN, EVOLUTION, ONE HOUR PHOTO) and Mary Sanders (Meg Tilly: ONE DARK NIGHT, IMPULSE, BODY SNATCHERS).
Miss Spool is kindly, Myrna is sullen, and Mary has boyfriend troubles. Ralph is all business, Mary is all emotion, and Norman is adrift in the swirl of it all as he tries to adjust.
By closing, with Norman hearing Mary on the phone all day fighting with her boyfriend, he invites himself into her hectic life by offering to help her out. He's ultra sensitive to how abusive people can drive you mad. If she needs a place to stay, he owns a motel.
Then there is the matter of Mr. Warren Toomey (Dennis Franz: THE FURY, DRESSED TO KILL, BLOW OUT [1981]) who's been running the motel while Bates was in the asylum. Toomey doesn't know what to make of Norman and Norman doesn't like the swinging singles place Toomey has turned his home/motel into.
Mary is a soft-headed emotional punching bag who apparently has a bottomless well of tolerance for her boyfriend's abuse. It's clear she can't talk to him for more than a few seconds without defending herself from his accusations.
On the first night, Mary wants to like Norman but there's just some creepy thing about him that sends off an alarm. Suddenly Mary changes her mind and wants out of the house.
Norman begs her to stay, pleads and in a deeply emotional scene, it makes all the sense in the world why a frightened young woman would risk staying with a man who admits to murder and madness. He's desperate to get better and this is his first night back home where it all began. Through stutters and ticks, we see that he's frightened, possibly more than Mary. He already feels the stress, fears the cracks.
Working in a diner, Norman has to get used to using a knife again. Toomey drops by, drunk and angered over being fired. He decides to aggravate the weak Norman. Norman may have gone to the insane asylum for killing women, but Toomey feels he's a big enough man to handle anything the frail Norman can dish out. He starts by sexually harrassing Mary.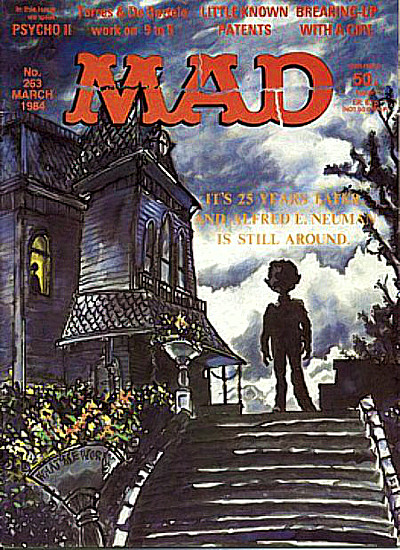 In an era when most U.S. theaters had a single screen, PSYCHO II had an $8 million opening weekend, going on to make over 6 times its (

$5 million

) budget!
Things do not go well.
Norman quits his job and returns to live day and night in his house. That's when the phone calls begin.
It seems that his dead Mother is calling him.
Someone is out to send Norman back to the hospital for good. Is it Toomey? Is it Lila Loomis? Or is Norman just falling apart?
Anthony Perkins is perfect in reprising his role, something that rarely goes right in sequels, particularly with the time/distance involved in this one. Anthony retained his thin boyish figure and when we don't see the lines on his face, he stands with the guile-less, unassuming innocence of a child. Norman remains a boy that never grew up. Only his body is getting old.
Meg Tilly is perfect as well as the flawed innocent we fear for. Mary is the kind of woman whose misplaced compassion draws her to troubled men and few get more troubled than Norman.
SFX master, Albert Whitlock (THE CAR)'s visual effects oppress Norman's world and to this day, cannot be duplicated by cgi (soon, no doubt, but not yet).
From motel to house, Production Designer John W. Corso and Set Decorator Jennifer Polito allow Norman to walk through a faithfully reconstructed environment suffused with the memories we recall from the original, only now in color.
And then there's Tom Holland (CHILD'S PLAY, FRIGHT NIGHT) and his excellent script, which was effectively told by Director Richard Franklin. Richard knew exactly where the camera needed to be with every frame.
Master Cinematographer, Dean Cundy (John Carpenter's THE THING, ESCAPE FROM NEW YORK) and his skin crawling effective use of light, made the most of every shot: Fractured shadows fall across Norman's face as he unravels. Combined with a nerve jangling score by Jerry Goldsmith (ALIEN), PSYCHO II unfolds in a way that surely would have made Alfred Hitchcock proud.
Some of the best people in cinema, at the top of their form, came together to make PSYCHO II, and it shows brilliantly.
Five Shriek Girls.






This review copyright 2013 E.C.McMullen Jr.