Review by
E.C.McMullen Jr.

THAT'S WHY I'M HERE.


TIP JAR




PREDATOR


PREQUELS, SEQUELS, and
REMAKES
AN ALIEN SCIENCE
SCIENCE MOMENT OF ALIENS and PREDATORS

THE PREDATOR

- 2018
USA Release: Sep. 13, 2018
20th Century Fox
Rating: USA: R
Predator Spaceships roaring loudly through the vacuum of space!
Well that's typical PREDATOR for you and, while I don't like this dumbed down anti-science Hollywood trope, it's been a part of many movies I love so I grit my teeth and deal with it.
One spaceship enters a "rip in space" and comes out of the other side in our solar system, galaxy, I dunno, maybe universe?
There's an awful lot we don't know about Predator science or culture for that matter. We have no idea what they're technologically capable of or what their limits are. All we know is that they are tourists who enjoy hunting trips on our planet. Like any number of earthlings who go camping and hunting to "rough it", they may have intentional fixed limits on what they bring in order to enhance that outdoorsey feel and provide an enjoyable element of "Sport".
TRIVIA
How do the PREDATOR movies fit together?
For that matter, how do they fit with the ALIEN movies?
Get your mega-dose of Geeky Goodness with Kelly Parks and E.C.McMullen Jr.'s
ALIENS VS PREDATOR?
---
ALIEN vs PREDATOR
with the
VGCATS
PREDATOR DVD EASTER EGG
Don't Drink the Water!
Go the photo gallery on the second disc and scroll to the 16th photo of Hawkins with his glasses on his head. Highlight the predator-targeting triangle on the right-hand side of the screen and click it to view a hidden documentary about the cast getting sick in Mexico.
That much we have seen. When they hunt they're known to be relatively crude, even though still slightly advanced beyond us. But should things go South for a Predator and the Do or Die shit goes down, their tech rapidly rachets up to protect their anonymity.
They apparently have laws, rules, and honor, in addition to their "Sport".
Meanwhile on earth, there is no sport to be found when two groups of humans in Mexico are meeting to exchange hostages.
These two groups are being watched by U.S. military snipers, lead by Quinn McKenna (Boyd Holbrook: THE HOST [2013], MORGAN, LOGAN).
But of course, all of the earthling's best laid plans go to hell when the Predator's spaceship interrupts all the stealth and literally crashes the party.
Rapidly trying to retrieve his men from danger, Quinn finds himself over his head but quick. Suddenly a deeply quiet, private and illegal moment is interrupted by an alien and soon after, Black Ops from the U.S.
Alone and carrying mementos from the crashed spaceship, Quinn finds a way to get his contraband back to the U.S. and makes it back himself.
Almost.
Captured by U.S. forces, Quinn finds himself in a debriefing room. As this isn't his first rodeo, he soon renders his inquisitor silent. Quinn knows that this interrogation has nothing to do with why he was really in Mexico and everything to do with what his questioner is dancing around - Contact with an otherworld alien life form.
The two men watching from behind a two way mirror are, Traeger (Sterling K. Brown: STAY [2005], THE SUSPECT, BLACK PANTHER, HOTEL ARTEMIS) and Sapir (Niall Matter: BEYOND LOCH NESS, WATCHMEN, PRIMEVAL: NEW WORLD [TV - Canada version], ALLY WAS SCREAMING).
Traeger and Sapir are busy little secret bees. They've also enlisted the aide of Dr. Casey Bracket (Olivia Munn: SCARECROW GONE WILD, INSANITARIUM, IRON MAN 2, DELIVER US FROM EVIL, X-MEN: APOCALYPSE), an Evolutionary Anthropologist who has spent her career attempting to extrapolate what she knows of earth life toward what she wants to know of xenoforms (non-terrestrial aliens). She let the U.S. government know that if they ever need her, she is ready to go on a mission.
Bracket is so ready to go the distance on a secret government operation, that she's also trained herself in weapons and hand combat. She's ready to kick alien ass for Uncle Sam and her Gung-Ho attitude gives cold killers like Traeger and Sapir, pause.
In a brief aside to Dr. Bracket, Traeger also makes it clear that THE PREDATOR is the sequel to the first and second movie.
"We first came into contact with them in 1987. Again in 1997. Their visits have become more frequent since then."
It seems PREDATORS may not be part of the canon.
At a secret location in a secret underground lab made to look like an industrial power plant on the outside, is the experienced secret Government scientist, Dr.Keyes, who will bring Casey up to speed. This is wonderfully played by Jake Busey (HIDER IN THE HOUSE, THE FRIGHTENERS, CONTACT, STARSHIP TROOPERS, ENEMY OF THE STATE, IDENTITY, THE HITCHER II, THE KILLING JAR, THE DEVIL'S DOZEN, SPARKS, PARANORMAL MOVIE, REAPER, FRACTURED, MOST LIKELY TO DIE, ARBOR DEMON, FROM DUSK TILL DAWN: THE SERIES [TV], FREAKISH [TV]), successfully acting against type.
Meanwhile, thanks to McKenna putting the fear of death into a Mexican local, his package arrives toot sweet at his private mail box. Except Quinn has been In- Country for so long he hasn't paid his monthly dues in a long time. So the company delivers an overstuffed box of his junk to his house, along with the bill.
That's where Quinn's autistic son, Rory McKenna (Jacob Tremblay: ROOM, BEFORE I WAKE, SHUT IN), decides to open the biggest box and makes the biggest discovery of his very young life.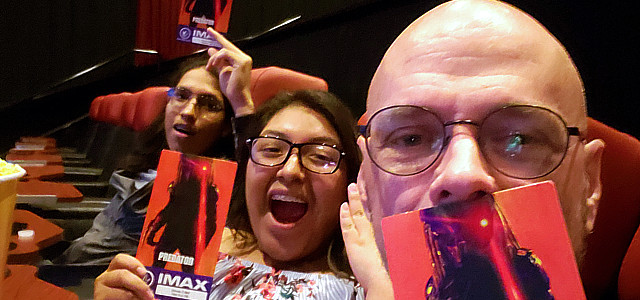 THE PREDATOR is fun for the whole family.
Director Shane Black (IRON MAN 3), writing with his oft time partner Fred Dekker (HOUSE, THE MONSTER SQUAD, TALES FROM THE CRYPT [TV], ROBOCOP 3), keeps the pace high, the dialogue rapid fire, and when the action isn't present, maintains an edgy suspense of the audience knowing all hell will break loose at any second.
Unfortunately, THE PREDATOR also gets an
!!!UNFAIR RACIAL CLICHE ALERT!!!:
I won't spoil this here, but if you want to learn what this worn-out hackneyed Hollywood tool is, go to the URCA.
If you want to know why this movie gets one, go to URCA/ThePredator.
First and foremost, Shane Black's THE PREDATOR actually is a PREDATOR fan's movie.
From start to finish, THE PREDATOR is rock-em, sock-em action-packed gory SciFi Horror fun, same as PREDATOR and most of PREDATOR 2.
Am I saying I enjoyed it?
YES!
While bringing fresh twists to the franchise, THE PREDATOR never betrays its own internal logic or canon, and it never lets the audience down.
Four Shriek Girls!





This review copyright 2018 E.C.McMullen Jr.