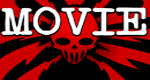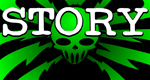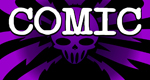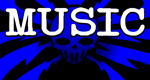 You Support This Site
When You Buy My Books
E.C. McMullen Jr.
PERPETUAL
BULLET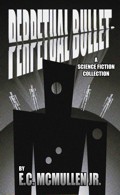 "'Some People' ... may be the standout story in the book."
-

John Grant

, Infinityplus

E.C. McMullen Jr.
WILLOW BLUE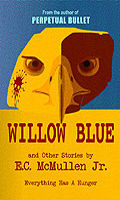 "'Willow Blue' will burrow under your skin and stay there long after you've put the book down."
- Jeffrey Reddick, Creator of
FINAL DESTINATION

IN OTHER BOOKS
E.C. McMullen Jr.'s
short story
CEDO LOOKED LIKE PEOPLE
in the anthology
FEAR THE REAPER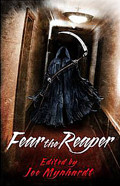 "This Ray Bradbury-esque is one of the most memorable and one of the more original stories I've read in a long time."
- Steve Isaak,
Goodreads

HORROR 201:
The Silver Scream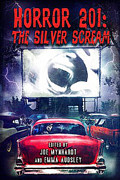 Filmmaker's Guidebook
featuring
RAY BRADBURY,
JOHN CARPENTER,
WES CRAVEN,
TOM HOLLAND,
E.C. McMULLEN Jr.,
GEORGE A. ROMERO,
and many more.



Extensively quoted in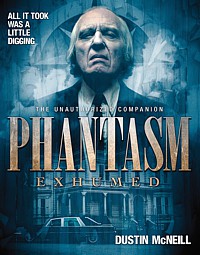 PHANTASM
EXHUMED
The Unauthorized Companion

Robert S. Rhine's
SATAN'S 3-RING
CIRCUS OF HELL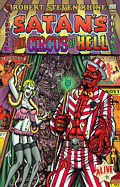 Forward by
GAHAN WILSON &
FEO AMANTE.
Featuring comics by
ALEX PARDEE,
WILLIAM STOUT,
STEVE BISSETTE,
FRANK DIETZ,
JIM SMITH,
FRANK FORTE,
ERIC PIGORS,
MIKE SOSNOWSKI,
OMAHA PEREZ,
DAVID HARTMAN,
STEVEN MANNION,
and more!

And In
CINEMA


E.C. McMullen Jr.


Head Production Designer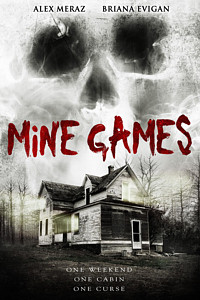 MINE GAMES


(Starring:
JOSEPH CROSS, BRIANA EVIGAN,
ALEX MERAZ)

Dept. head
Special Effects Make-Up
(SFX MUA)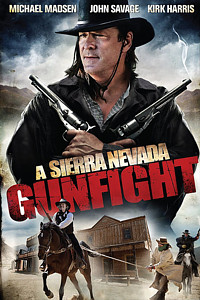 A SIERRA NEVADA
GUNFIGHT
(MICHAEL MADSEN & JOHN SAVAGE).

Production Designer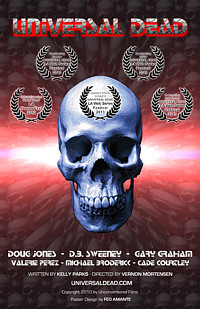 UNIVERSAL DEAD
(DOUG JONES,
D.B. SWEENEY,
GARY GRAHAM)

Art Director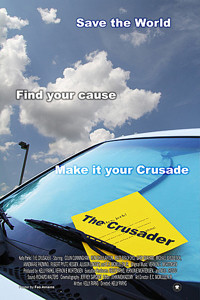 THE CRUSADER
(COLIN CUNNINGHAM,
GARY GRAHAM)
Review by
E.C. McMullen Jr.

GINGER SNAPS

- 2000
USA Release: Oct. 23, 2001
TVA International, Oddbod Productions, Tattersall Sound, Casablanca Sound and Picture, Ontario Film and Television Tax Credit (OFTTC), The Movie Network (TMN), Canadian Film or Video Production Tax Credit (CPTC), Space: The Imagination Station, Téléfilm Canada, Canadian Television Fund, CTF: Licence Fee Program, Telefilm Canada: Equity Investment Program, Unapix Entertainment Productions, Lions Gate Films, Motion International, Water Pictures, Copperheart Entertainment
Rating: USA: R
Imagine that, in a family of only two children, you are the younger sister and you adore your older sister. Your older sister is stronger, taller, beautiful, she's everything you wish you were and hope you can be.
She's also hardcore goth and loves staging gory photos of her and your death.
She is so into death, the both of you have even made a death pact. That was a while ago and you're both still alive, but oh, one day...!
You have a few boys who hang around to help you stage the photo shoots but it's clear that they are there for her.
None of the girls at school like you because you are so weird. Ginger is as repellent as she wants to be yet still attracts the attention of the boys, which further enrages the popular girls. You don't care. You don't care so much you've penned a book full of hyper-judgemental reasons why you don't care and why you wish death on them. Even what deaths you'd prefer for each.
This is the poser life of 15 year old Brigitte Fitzgerald (Emily Perkins: IT [1990], DA VINCI's INQUEST [TV], BLOOD: A BUTCHER'S TALE, REPEATERS, EXTRATERRESTRIAL, SUPERNATURAL [TV]) who is in thrall with her older sister Ginger (Katharine Isabelle: VOYAGE OF TERROR, DISTURBING BEHAVIOR, DA VINCI's INQUEST [TV], BONES, SPOOKY HOUSE, INSOMNIA, CARRIE [2002], FREDDY VS. JASON, SHOW ME, OGRE [2008], RAMPAGE [2009], HARD RIDE TO HELL, 30 DAYS OF NIGHT: DARK DAYS, VAMPIRE [2011], AMERICAN MARY, VICTIMS, EVE OF DESTRUCTION [TV], 13 EERIE, TORMENT [2013], BEING HUMAN [TV Canada], PRIMARY, SEE NO EVIL 2, 88, HANNIBAL [TV], THE GIRL IN THE PHOTOGRAPHS, BAD TIMES AT THE EL ROYALE, THE ORDER [TV]), and Brigitte doesn't regret a second of it.
This is their comfortable life of luxury in the Canadian suburb of Baily Downs. A place where an unseen bloodthirsty something called The Beast of Baily Downs is butchering dogs - though not actually eating them.
For their class project, the sisters submit a slideshow of their gory staged death photos. Their realism thrills the boys but disgusts their teacher, Mr. Wayne, (Peter Keleghan: TRILOGY OF TERROR II, BONE DADDY, WATER DAMAGE, SHATTERED, RUBY GLOOM [TV], MURDOCH MYSTERIES [TV]). He sees them after class but his words are wasted as they're happy they've disgusted him and celebrate after by smoking cigarettes: their domesticated idea of rebellion.
At home Ginger expects to be fed, clothed, and sheltered, yet treats her bubbly Mother Pamela (Mimi Rogers: LITTLE WHITE LIES, LOST IN SPACE [1998], THE X-FILES [TV], PENNY DREADFUL, ORDER OF CHAOS, THE SURFACE) and ineffectual Father Henry (John Bourgeois: SEA OF LOVE, SEEDS OF DOUBT, X-MEN: APOCALYPSE), with undisguised contempt. Whenever she chooses to build up to her dramatic exit, Brigitte immediately follows after.
At this point in the movie both sisters are wildly unlikable douchebags but Brigitte is the more unlikable for being such a toady. Granted she loves her older sister but her willingness to erase her own identity for Ginger is gag worthy.
This is no slight on the writers, Karen Walton and John Fawcett, nor on the directing abilities of John. This is what they were going for and it works.
An abrupt change in the dynamic comes when, ready for revenge and mischief against a fellow student, Trina, the sisters go out into the night with havoc on their mind. They find it of course, but in all the ways they neither wanted or expected.
Ginger nearly dies from the attack of a massive, practically hairless varmint. As Brigitte finds it within her cowering self to rescue her bloodied sister and drag her to safety, the varmint pursues, unmindful of traffic, and gets mowed down by a passing van, ripping it to pieces and ending its life.
The van happens to be owned by highschool drop out and popular drug supplier, Sam (Kris Lemche: eXistenZ, MY LITTLE EYE, STATE'S EVIDENCE, FINAL DESTINATION 3, ROSENCRANTZ AND GILDENSTERN ARE UNDEAD, IN TIME, ALTER EGOS, THE FRANKENSTEIN THEORY, HAVEN [TV], TALES FROM THE DARKSIDE [2015], THEY'RE WATCHING).
So there we are, all of the pieces are in play, and the typical werewolf story plays out.
Except, wonderfully, it doesn't.
Walton and Fawcett chose to cleave to some Werewolf mythos while axing others and the result is a indie low-budget, Cool for School Werewolf movie that shares the stage with other Highschool Horrors from THE LOST BOYS to IDLE HANDS.
Maybe you love the sanitized comedy TEEN WOLF movie, but be warned there is nothing sanitized with GINGER SNAPS.
20 years after production ended and GINGER SNAPS remains legendary. If you haven't seen it, don't wait any longer!
Four Shriek Girls.





This review copyright 2008 E.C.McMullen Jr.