Review by
E.C.McMullen Jr.

HELLBOUND: Hellraiser II

- 1988
USA Release: Dec. 23, 1988
Film Futures, New World Pictures, Troopstar
Rated: Australia: M / Finland: K-18 / Germany: 16 / Sweden: 15 / UK: 18 / USA: R
"Your suffering will be legendary!"
The perfect way for me to watch HELLBOUND: Hellraiser II, is to watch HELLRAISER first, then the sequel. These two movies really don't stand alone well, but they complete each other wonderfully. Of course, being as these are the HELLRAISER movies, you may find my use of the word "wonderful", questionable under the circumstances. But moving forward...
The biggest problem with HELLRAISER was its direction and loose script. Better editing would have been a big help too. When it ended there were too many story threads still hanging loose.
Exit Director Clive Barker. Enter Director Tony Randel.
Exit Screenwriter Clive Barker, enter screenwriter Peter Atkins.
Director Tony says that the main reason for the darkness of this film is that he was going through a very difficult period in his life. Well Good for him! HELLBOUND is arguably his best movie ever. I certainly think so. The Anchor Bay Entertainment DVD version of this film is the best I've ever seen. Best reproduction, stills, trivia, and interviews. Yet Tony, Clive, and Peter Atkins seems a bit embarassed by it.
I can't understand why. All three men have gone on to make far worse movies.
Clive made LORD OF ILLUSIONS.
Tony Randel Directed AMITYVILLE 1992: Its About Time, TICKS, and FIST OF THE NORTHERN STAR (which he both co-wrote and directed - no excuses!)
Peter Atkins co-wrote (with Randel no less) HELLRAISER III (The Parody), FIST OF THE NORTHERN STAR, and on his own wrote HELLRAISER: Bloodline. Atkins said in an interview (on the DVD) that there are more good stories to come out of the HELLRAISER universe, but he won't be the one to write them. Good! A man's got to know his limitations.
Still, Peter kicked butt with HELLBOUND, bringing order and reason to HELLRAISER.
Ashley Laurence returned as Kirsty and benefits the movie greatly. As a teen going through some unexpected twists in her life (to say the freaking least) she balances her warrior fight for survival with a teetering on the brink of madness sensibility that more should follow. In these two movies she is going through HELL gang. Yet with so many movies that cast teens in these circumstances, they all turn into 2 dimensional robots. Their friends get killed, they survive, and within minutes they are having a party. More friends get killed, the survivors escape, and then they have another party (I'm thinking of the SCREAM, I KNOW WHAT YOU DID LAST SUMMER, and the URBAN LEGEND movies)!
Lawrence finely parcels her character between strength and madness until at one stage the two intermingle and she has to go nuts to survive. Kudos to Atkins as well for writing her character that way.
The movie starts right after HELLRAISER and Kirsty is recovering in a mental hospital. The cops don't believe her story of course (would you?), and are looking for answers. They have left her to the tender care (mercies) of one Dr. Channard (Kenneth Cranham: TALE OF A VAMPIRE) in hopes that he can open her up. As we watch him at work, we realize that he is a sour sadistic man. One who is embedded in societal respect and culture, but secretly looking for some pretty twisted answers to his pretty twisted questions (in that last respect, just like Uncle Frank from HELLRAISER).
So Channard is a cannard to the world but his secret interior is perfect fodder for the Cenobites.
TRIVIA

Writer Clive Barker, Screenwriter Peter Atkins, and Director Tony Randel are all interviewed in Stanley Wiater's TV series,
DARK DREAMERS.
A relative newcomer at that time, Imogen Boorman, played the silent Tiffany. She is also a resident in the Mental Hospital. But her purpose is to further Dr. Channard's investigation of the puzzle boxes. He's spent his life studying them, is aware of the horrors they can bring if solved, and doesn't want to become victim to the Cenobites - thank you very much.
Tiffany, on the other hand, is a damaged screwball who does nothing but quietly solve puzzles all day long. She's quite adept at it, and the good Doctor is preparing to use her for his own machinations.
The first step is to bring the mattress back from the house where all hell broke loose in the first film (the one that Julia - Clare Higgins - died upon, clutching the puzzle box that Kirsty took). The second is to sacrifice a person on it. When this done, Merry Mishaps occur.
Pinhead returns along with his minions
Lead Cenobite: Doug Bradley (all of the original HELLRAISER franchise, NIGHTBREED, PROTEUS, THE PROPHECY: UPRISING),
Female Cenobite: Barbie Wilde (GRIZZLY II: THE CONCERT) replacing Grace Kirby,
Chattering Cenobite: Nicholas Vince (HELLRAISER, NIGHTBREED),
Butterball Cenobite: Simon Bamford (HELLRAISER, NIGHTBREED),
and Doug Bradley does his thing. Pinhead is wholly evil but with a purpose. His evil is defined and disciplined.
"It is not the 'hands' that call us, but desire."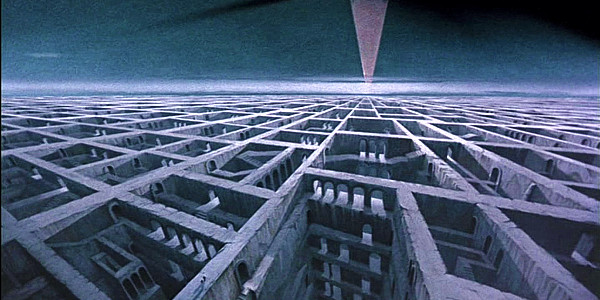 Peter Atkins and Tony Randel's view of hell is an interesting one: Interesting in a good way. The vision of HELLBOUND is that Hell is a landscape of endless deserted buildings. Hell is being eternally lost and alone punctuated by sporadic bouts of pain and torture. True to Clive Barker's original vision, it is both beautiful and hideous.
The Lord of this domain is not Satan, but Leviathan. Again, Leviathan takes the Barker-esque form of being an evil, not of organic means, but of static means. The evil of machines, things cold and indifferent to humanity.
There is a real depth here and it seems that both director and writer wanted to say more, but realized too that they had to intersperse periodic, investor expected heavy-handed Horror elements throughout the story.
I'm curious as to where this movie would have led if Randel and Atkins didn't bother with such considerations. It may have become a mess, judging by their many other movies, or it may have become profound judging by some of Peter's stories.
We'll never know of course, but HELLBOUND: Hellraiser II is nothing for either man to be ashamed of. It is their finest work to date.
4 ShriekGirls.





This review copyright 2001 E.C.McMullen Jr.