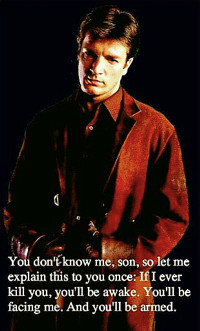 So there's this theater Professor working in the University of Wisconsin-Stout. He puts a fan poster from the long since cancelled TV series, FIREFLY on his wall. The University cops take it down. It threatens people's lives, they say. It is not Free Speech, they say. Then they threatened the Professor with criminal charges if he ever put the poster up again.
Oh, and keep in mind: This is a fan poster for a cancelled TV show, right?

One that was cancelled nearly 10 years ago at the time of this incident.
So the drama teacher puts up a poster warning of the dangers of fascism. The University cops take that down too. Warning people of the dangers of Fascism is a threatening gesture, they say. It's not Free Speech, they say. That's your second warning, they say. Your threatening the lives of the students will now go on your record.
So how did this all play out? Well, some fans of FIREFLY got wind of it and the dim top brass of the University of Wisconsin-Stout got a real shiny lesson, from fans of FIREFLY no less, on what the United States Constitution really protects people from...

Actor Adam Baldwin (Jayne) threw in his support for the Professor

University Professor Censored Over… 'Firefly' Poster?
The First Amendment to the U.S. Constitution is one of America's most sacred freedoms and our public universities often among its staunchest defenders. But at the University of Wisconsin-Stout (UWS), it seems this sacred freedom is in the eye of the beholder.
UWS theater professor Dr. James Miller is relatively new to the short-lived, now cult hit TV series "Firefly." Some of his students are loyal fans and asked Dr. Miller to check it out for himself. He liked it enough to hang a Firefly poster on his office door. Given its remote location in the theater wing, where mostly only theater students would see it, who would have expected the poster to cause such a firestorm?
Continued at BigHollywood.Breitbart.

According to Adam, Nathan Fillion (Malcolm Reynolds) added,
"There are times we must try hard to find meaning. I understand that. I don't understand when we try hard to find malice."
---
Dec. 29, 2011

FIRE's Firefly Victory
A new video from the Foundation for Individual Rights in Education (FIRE) tells the story of James Miller, the University of Wisconsin at Stout theater professor whose Firefly poster (right) was removed from his office door by campus police on the grounds that it constituted a threat of violence.
Continued at Reason.
---
Dec. 28, 2011
University Police & Administration Freak Out Over Nathan Fillion Firefly Poster; Censor, Threaten Professor
Via Neil Gaiman, we come across yet another case of idiotic censorship by law enforcement who appear to have little understanding of the law. It involves a professor, James Miller, from the University of Wisconsin-Stout, who had the temerity to put up a picture of actor Nathan Fillion on his door, with the text of one of his lines from the show Firefly:
Continued at TechDirt.
---
Dec. 27, 2011
How Firefly Fans and Neil Gaiman Used Social Media to Save Free Speech
Firefly fans and the Foundation for Individual Rights in Education helped protect free speech, and a university professor's job, with a little help from author Neil Gaiman and Twitter.
Continued at Forbes.
---
Oct. 5, 2011
University of Wisconsin retreats from censorship
Readers probably recall that I am a big fan of the short-lived series Firefly, as well as its excellent film continuation Serenity. I'm also a big fan of FIRE, the Foundation for Individual Rights in Education, which has fought speech codes that restrict both students and faculty on college campuses for years. Both express values of free speech and individual rights, but I didn't expect there ever to be a connection between the two. However, when a University of Wisconsin campus took action against a theater professor for hanging a Firefly poster in his office, FIRE and Firefly stars Adam Baldwin and Nathan Fillion swung into action — and won:
Continued at HotAir.
---
Sept. 26, 2011
'Firefly' and Anti-Fascism Posters Get Professor Threatened with Criminal Charges on University of Wisconsin Campus
MINNEAPOLIS, Sept. 26, 2011—A professor has been censored twice, reported to the "threat assessment team," and threatened with criminal charges because of satirical postings on his office door. Campus police at the University of Wisconsin–Stout (UWS) censored theater professor James Miller's poster depicting a quotation from actor Nathan Fillion's character in the television series Firefly, and the police chief threatened Miller with criminal charges for disorderly conduct. After UWS censored his second poster, which stated, "Warning: Fascism," Miller came to the Foundation for Individual Rights in Education (FIRE) for help.
Continued at TheFire.
When Firefly posters are outlawed, only outlaws will have Firefly posters
For a show that only lasted 14 episodes almost 10 years ago, Joss Whedon's sci-fi/western mashup Firefly sure has left a lasting impression. There were enough clamoring fans to merit a feature-film sequel (but not enough for any further ones). Its premature cancellation gave geeks a decade's worth of "Friday night on FOX" jokes. And it gave libertarians everywhere a science fiction show to call their very own, if only for a little while.
Continued at DailyCaller.
Want to know more about the Foundation for Individual Rights in Education (FIRE)?

This news copyright 2011 E.C.McMullen Jr.
Also -
Official site of NEIL GAIMAN
Firefly drinks at The Drunken Moogle
E.C. McMullen Jr. is a participant in the Amazon Services LLC Associates Program, an affiliate advertising program designed to provide a means for sites to earn advertising fees by advertising and linking to amazon.com.