WHAT IT SAYS: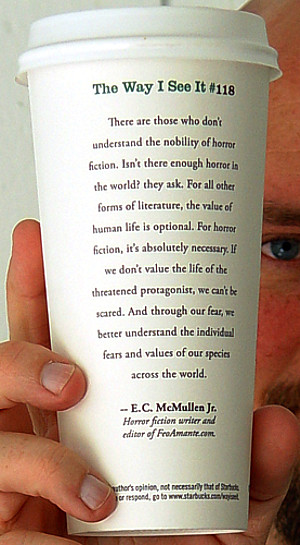 The Way I See It #118
There are those who don't
understand the nobility of horror
fiction. Isn't there enough horror in
the world? they ask. For all other
forms of literature, the value of
human life is optional. For horror
fiction, it's absolutely necessary. If
we don't value the life of the
threatened protagonist, we can't be
scared. And through our fear, we
better understand the individual
fears and values of our species
across the world.
-- E.C.McMullen Jr.
Horror fiction writer and
editor of FeoAmante.com
UPDATE: "The Way I See It" was an ongoing theme that ran from 2005 through 2009 and was owned and created by Starbucks Corporation. The author's opinion is not necessarily that of Starbucks. Though it would be pretty sweet if it was!
Some of the folks who found cup #118 and sent in their photo.
---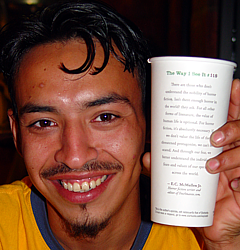 JULY 10, 2006
STARBUCKS HORROR
As you may have read recently, my comments are now featured on Starbuck's coffee cup #118 "The Way I See It". Readers are invited to send in their photos with links to their websites or blogs.
Today's Feo Reader, Oscar Ballinas, is an artist who hails from Culver City, California. He doesn't have a website, blog, a place where he goes to post on a message board or squat. He IS a fan of the site though, and a big fan of horror and thriller movies and books. Thanks for the photograph, Oscar!
---
JUNE 30, 2006
STARBUCKS HORROR #118 Part 2
Jason and Sunni Brock: Together they are JaSunni, a documentary making team who are currently at work on a project that includes no less than 5 documentaries at once, and features creators in Horror as diverse as Harlan Ellison, Forrey Ackerman, Dan O'Bannon, Ray Bradbury, Ray Harryhausen, John Landis, Joe Dante, William F. Nolan, Richard Matheson, Bill Stout, David Skal and more.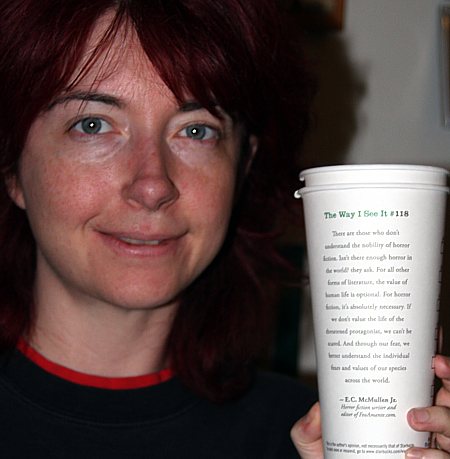 Sunni Brock and Starbucks Cup #118
Jason took this photo of Sunni holding Starbucks cup #118, which features Starbucks "The Way I See It" point of view of E.C.McMullen Jr. aka Feo Amante, also known as me talking in the third person.
---
JUNE 26, 2006
STARBUCKS HORROR #118
Horror writer, Harry Shannon (BAD SEED, NIGHT OF THE BEAST) and his daughter, Paige, went to Starbucks and found Starbucks' "The Way I See It" cup #118, which was written by E.C.McMullen Jr. aka Feo Amante (that's me, you slow drip!).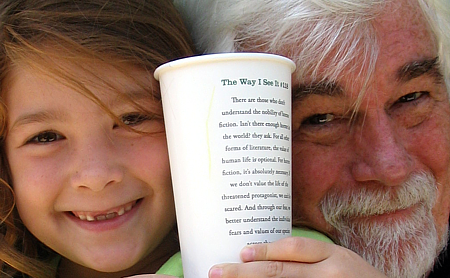 Harry Shannon is also an occasional reviewer and interviewer here at feoamante.com, and has had a few of his works reviewed here as well. His biggest upcoming project is the movie, DEAD AND GONE, which will star Katherine Bates (VAMPIRE AT MIDNIGHT), Chris Bruno (THE DEAD ZONE [TV]), Kyle Gass (BRAIN DEAD, JACOB'S LADDER, IDLE HANDS, EVOLUTION, and the band: TENACIOUS D), Ben Moody (EVANESENCE), as well as Harry himself. Harry wrote the screenplay and DEAD AND GONE is directed by Yossi Sasson.
---
Around 2009, Starbucks ended their quote cups and ever since, those few who enjoyed them have asked why.
After all, the quotes on the cup were different from every person making them: There was no agenda.
Straight and Gay, Religious and Atheist, Liberal and Conservative, and everyone in between had their say the way they wanted to say it. The straights didn't enthuse about how wonderful it was to be straight and many gays had something else to talk about than sex. Many god believers didn't preach and many atheists spoke on subjects that had nothing to do with being an atheist. It was all worthwhile, peaceful and positive.
But by and large, there are those ratty people who tend to be big-mouthed, whiny, self-absorbed, navel-gazing bitches.
Starbucks allowed a ratty religious person to preach god in 2005.
Some big-mouthed ratty atheists were in an uproar. So Starbucks allowed atheists to have equal time. Instead of writing something positive about atheism, the person decided to crap on god believers (and like idiots, Starbucks allowed itself to be the forum for the attack), so some big-mouthed ratty Christians defecated on themselves.
Then it started going back and forth with every side trying to out-poison the other.
What was once so gracious, calm, and equal became so toxic, obnoxious, and partisan. The mouth-breathing, crippled pinch-brains sniveled so loud and so long and seemed to grow in such great numbers, and threatened so many boycotts and protests - in order to silence any and all opposition to their personal ultra-negative opinion - that Starbucks correctly felt it wasn't worth it anymore.
"But there were those among us who were jealous and so forth, you know.
You know what they did.
Little by little, they put us back on the narrow path
This is the way things have been in our town for as long as anyone cares to remember."
- Ken Nordine, The Flibberty-jib
Coffee critics' cognitive collapse
Discover Magazine
Tempest brews over quotes on Starbucks cups
The Seattle Times
Starbucks stirs things up with a God quote on cups
USAToday


END