Review by
Kelly Parks

THE MATRIX RELOADED

- 2003
USA Release: May 15, 2003
Warner Brothers Pictures
Rated: Australia: M / France: Rated U / Germany & Netherlands: 16 / Hong Kong: IIB / Italy: T / Norway, Sweden, UK: 15 / Spain: 18 / USA: R
"I'm gonna kick your ass, Matrix-style"
There's lots of ways you might react to that statement. You might say, "Please, don't hurt me!" or you might say, "Bring it on, movie critic boy!" Either way, the odds are good you'd know that I intended to attack with kung-fu kicks and gravity-defying leaps, because THE MATRIX was so popular that it's become part of our culture. By the way, attempting even a single gravity-defying leap would put me in the hospital so don't worry. You're safe.
THE MATRIX RELOADED, the long-awaited sequel and the second movie of a three movie trilogy (THE MATRIX REVOLUTIONS will be out later this year), opens with a seemingly normal situation, as a shift change takes place at a large company. But then you notice that all the men punching in are security guards and you know what happens to security guards in these movies.
Sure enough, Trinity (Carrie-Anne Moss: THE MATRIX, MEMENTO, FIDO) makes an amazing entrance and makes the security guards wish they'd gone to barber college. But the action turns out to be a dream and the dreamer awakes. Neo (Keanu Reeves: DRACULA,THE MATRIX, THE GIFT, THE WATCHER, THE DAY THE EARTH STOOD STILL [2008]) has been having dreams about his true love Trinity in danger for some time now. He's worried but in true hero style, he keeps it to himself.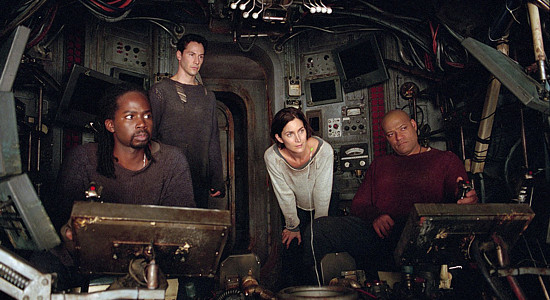 ARRR, CAPTAIN! AYE! ARRR! SEA! ... IRC!
Trinity and Neo are still aboard the Nebuchanezar, which is still captained by Morpheus (Lawrence Fishburne: EVENT HORIZON, THE MATRIX). An operator named Kain (Harold Perrinaeu: Oz [HBO]) guides the crew through their virtual missions.
The ship returns to Zion, the last human city, hidden deep underground from the machine civilization on the surface. One of the cool things about this movie is that we get some more detail about Zion and how this culture works. We see that while Morpheus is a prominent citizen of Zion, he's far from being in charge. There's lots of other captains, among them Niobe (Jada Pinkett Smith: Tales From The Crypt: DEMON KNIGHT, SCREAM 2), a former romantic interest of Morpheus. Now Niobe is involved with Commander Lock (Harry J. Lennix), Morpheus' nominal boss and chief military officer for Zion.
We also learn that not everyone in Zion buys into the whole mystical Neo-is-the-One thing. Opinions vary. But many do believe and the believers come to Neo like worshippers, bringing offerings and asking him to watch over their loved ones. Neo himself doesn't know how to take the cultish adulation and is still trying to figure out who he is and why he's special.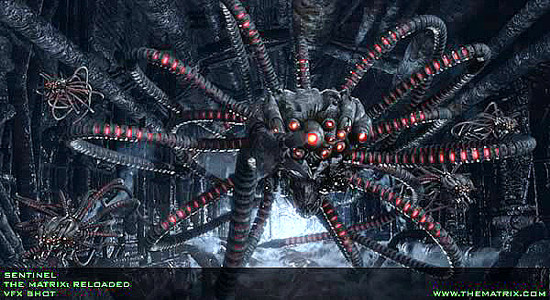 Okay, I thought it was just me, but I think
the Warchowski Brothers Sisters are seriously into dreadlocks.
The main threat to Zion was revealed in an animated short film that was shown among the previews in various movie theatres over the last few months. If you were lucky enough to see THE ANIMATRIX: The Flight of the Osiris (seen with DREAMCATCHER) then you know that the machines have an approximate location on Zion and are drilling their way down to it. Commander Lock is preparing the defenses and tells Morpheus that no ship can be spared. But Morpheus has another mission in mind. He must contact the Oracle (Gloria Foster: THE MATRIX).
We also learn more about the machine culture, discovering that it's not as orderly and organized as one would assume. There are renegade programs that operate outside the system, but the Master Control Program is bringing them under control … No, wait, that was TRON. I doubt the similarity is intended but when they refer to each other as "programs" that will trigger TRON flashbacks in the geek crowd.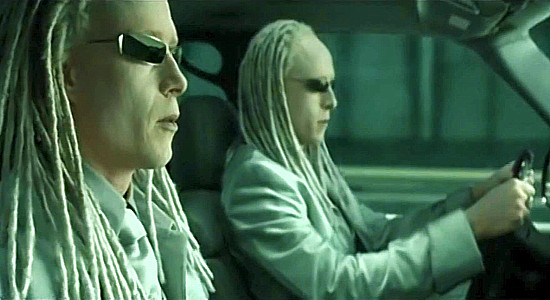 No really: SERIOUSLY into dreads'!
Among the renegades (this isn't a spoiler - it's in the trailer) is Agent Smith (Hugo Weaving: THE MATRIX, THE LORD OF THE RINGS, THE WOLFMAN), although he's really not an agent anymore. Smith has his own agenda.
At this point you're probably thinking, "Yes, yes, all well and good. But did it rock?" Before I answer that I must reveal my own agenda by reading from my
!!!SCIENCE MOMENT!!!:
I was pleased to see no attempt to add to the ridiculous idea mentioned in the first film that the machines are using their unwitting human slaves as a power source. That's just plain stupid for a long list of reasons and they wisely skipped over it here.
On the other hand a lot of the computer references are as ancient as Tron. The story centers around a plan to get into the enemy "mainframe", an idea right out of the 70's. Have these artificial intelligence programs not heard of distributed networks? Like, for example, the internet?*
Continued at THE SCIENCE MOMENT: THE MATRIX RELOAD
But that's nit picking, just like it's nitpicking to mention that the movie does have some slow spots. One scene in particular where Neo gets a lot of exposition from one character seems to go one forever.
But, aside from that, yes, this movie rocks! The effects are better than ever, good enough that the fights can be shown at full speed (instead of just slow motion) and still look awesome. The more detailed world where the story takes place feels like a real place and the characters couldn't be cooler. I give THE MATRIX RELOADED four shriek girls.
Finally, a sad note. Actress Gloria Foster died during the filming of THE MATRIX RELOADED, from complications due to diabetes. She does a great job as The Oracle and her talent will be missed.





This review copyright 2003 E.C.McMullen Jr.
FeoNote:
FOR THOSE WHO SCROLL
If you wait until the very end of THE MATRIX: RELOADED, and I mean after that long, LONG scroll of credits, you get rewarded with a special preview of the final MATRIX sequel, THE MATRIX REVOLUTIONS! If you love everything that has gone before, that preview will knock you out of your chair!