Review by
E.C.McMullen Jr.

FINAL DESTINATION 2

- 2003
USA Release: Jan. 31, 2003
Zide-Perry Productions, New Line Cinema
Rated: USA: R
FINAL DESTINATION was a great movie. One of the all time classics, and inspiring enough to be repeated, copied, and satirized countless times in movies from SCARY MOVIE to THE DEVIL'S REJECTS and more (think of all of the movies you've seen where the surprise shock moment is someone unexpectedly gets hit by a vehicle).
So here we are at FINAL DESTINATION 2, and you know what the say about Horror movie sequels.
They say they SUCK!
If you are very lucky, they say that the sequel is okay, but nowhere near as good as the original.
That's partly because any sequel must obey the rules of logic applied by the first to some degree and so can't be as exciting and original as... well, as the original! Yes, James Cameron can beat this meme while drunk and blindfolded (ALIENS, TERMINATOR 2) but that's only because he is James Cameron.
FINAL DESTINATION 2 was directed by David R. Ellis (SNAKES ON A PLANE, THE FINAL DESTINATION), someone whose resume is largely as a very good stunt man.
The screenplay is by the writing team of Eric Bress and J. Mackye Gruber (THE BUTTERFLY EFFECT).
The original FINAL DESTINATION had several standout moments from the first catastrophe right on through the final "Punch" ending.
FINAL DESTINATION 2 starts out with a memorable rainy highway scene. And I mean memorable. This opening scene will haunt you.
Kimberly Corman (A.J. Cook: LASERHAWK, THE VIRGIN SUICIDES, WISHMASTER 3, RIPPER, THE HOUSE NEXT DOOR, NIGHT SKIES, MOTHER'S DAY) is driving her Pop's SUV loaded with three of her insufferably stupid and annoying friends. Holy crap but you can't wait for them to die in as gruesome a manner as possible.
Apropos of nothing, a whole massive car accident happens, everyone gets gruesomely slaughtered, and if nothing else, I have a lot of friends now who are extra careful about where they place their water bottles prior to driving.
But this is just Kimberly's vision! Then she snaps out of it.
So Kimberly, shaken, not stirred, refuses to pull out onto the highway. Her friends go apeshit, pushing themselves right through my annoyance envelope straight into the Texas defense of "They Needed Killing!". Her SUV blocks the rest of the traffic on the on-ramp behind her, and that attracts the attention of a cop, Thomas Burke (Michael Landes: BEACON HILL, LAKEVIEW TERRACE, POSSESSION, HOMECOMING) who now won't die in the pile up that's about to commence.
Seeing said pile-up occur just as Kimberly said it would gives everyone pause.
Everyone that is except for the ridiculous manner in which her three benighted friends die. In the first ten minutes of this movie, I didn't like Kimberly because I hated her friends. So there must be some bad news about Kimberly as well to have made such a mistake in choosing her pals, not once, but three times in a row.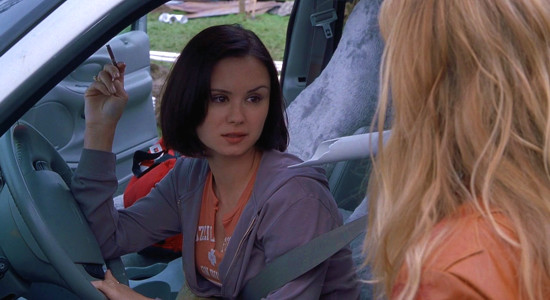 KAT: No, I'm not going to have the seatbelt cut so I can get out of the passenger door.
And I'm not going to have the log sawed in two so I can slide out from under it.
I'm also not demanding that this jagged piece of sharp PVC pipe be removed.
I'm going to stay right here for as long as it takes and maybe rest my neck against
the sharp PVC point while the dorky fireman finds a Jaws of Life machine.
And you know why?
Because he's the expert and you're not, STUPID!
In FINAL DESTINATION, people met their doom in sinister yet clever ways. FD2 Writers Eric Bress and J. Mackye Gruber would have none of that clever stuff. Nothing but the most idiotically complex, Rube Goldberg methods for them. As well as criminally stupid drivers who go blithely plowing through parked vehicles, through fields and people's yards, anywhere there is a moment for someone to be pulled out at the last second, or die in the most *facepalm* fashion.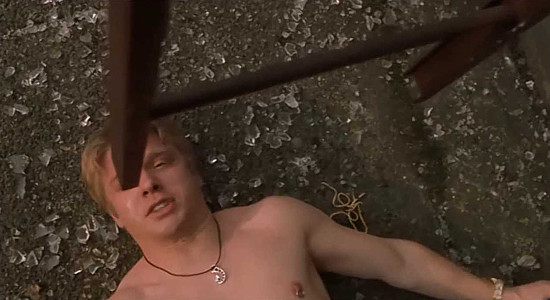 EVAN: WOW! I foolishly set off a ridiculous chain of events that nearly got me KILLED!
Hm. I think I'll just lie here in a filthy alley, broken glass cutting my bare skin,
beneath a few hundred pounds of rusted unstable iron dangling over my face,
while I reconsider all of my poor life choices.
Due to a contract dispute with New Line that kept Devon Sawa's (CASPER, IDLE HANDS) character of Alex Browning out of the picture, we get Ali Larter (HOUSE ON HAUNTED HILL [1999], RESIDENT EVIL: EXTINCTION, HEROES [TV], RESIDENT EVIL: AFTERLIFE) reprising her role as Clear Rivers and escaping from a mental institution to warn the remaining survivors that they are going to die.
And so it goes throughout the movie.
The sad and quietly tragic character of Funeral home director, Mr. Bludworth (Tony Todd: NIGHT OF THE LIVING DEAD [1990], VOODOO DAWN [1991], THE CROW, CANDY MAN [all], WISHMASTER, FINAL DESTINATION, HOUSE OF GRIMM, THE PROPHECY: FORSAKEN, Masters of Horror: VALERIE ON THE STAIRS, HATCHET, SHADOW PUPPETS, TRANSFORMERS: REVENGE OF THE FALLEN), is turned into a giggling doof, chuckling at the prospect of the people he sees before him, all dying and soon, and laughing in their faces about it.
Once we get past that initial wow of the SFX explosive car pile-up, everything else about the movie also crashes and burns.
For example. At the start of the movie, as Kimberly is having her vision, she sees a woman on the back of a motorcycle flash her perfect tits as she zooms by. Okay, totally gratuitous nudity that goes nowhere, but at least you got your "R" rating.
Then in a later scene, a woman needs to have her heart jump-started with a defibrillator. Now if they are going to show the actual defib', and they do, then this is the perfect time for the obligatory tit shot, right? WRONG! This movie is so idiotic that they actually defib on top of the woman's bra!
I haven't seen a sequel bite so hard from a superior original since HOWLING II: YOUR SISTER IS A WEREWOLF. What a tragically pathetic entry in this franchise.
Two Shriek Girls.



This review copyright 2011 E.C.McMullen Jr.