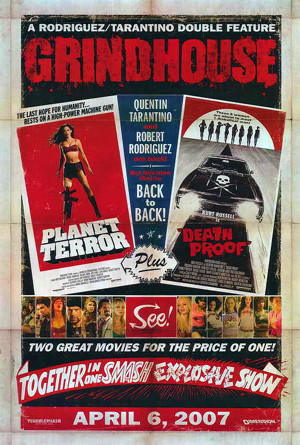 GRINDHOUSE
- 2007
Troublemaker Studios
Rated: USA: R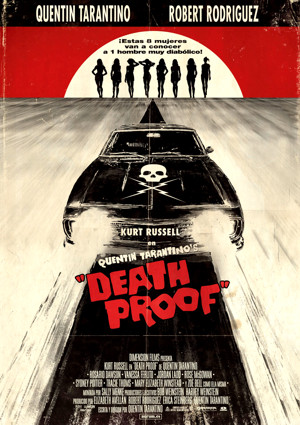 It died at the U.S. box office but it still hasn't died in the news!
After five long years, Quentin Tarantino finally comes clean!
Tarantino Calls Death Proof His Worst Film
Filmmaker reveals his least favorite movie from his 20-year roster.
Following his recent talk about his plans for retirement, director Quentin Tarantino has opened up again, this time to fess up that not all of his films are winners.
"Death Proof has got to be the worst movie I ever made," he admitted in a roundtable conversation with The Hollywood Reporter. "And for a left-handed movie, that wasn't so bad, all right? So if that's the worst I ever get, I'm good. But I do think one of those out-of-touch, old, limp, flaccid-d!@k movies costs you three good movies as far as your rating is concerned."
He also cited other filmmakers that he felt stayed in the game past their prime:
Continued at IGN.
Check out his video interview at The Hollywood Reporter.
Check out the latest GRINDHOUSE news from the Cannes Film Festival.
From Guardian Unlimited:
INFIGHTING DOGS TARANTINO'S LATEST RELEASE
Fans of this site know we're huge Tarantino (FROM DUSK TILL DAWN, KILL BILL Vol. 1 & Vol. 2, SIN CITY) and Rodriguez (FROM DUSK TILL DAWN, THE FACULTY, SIN CITY) fans. And I'm looking forward to GRINDHOUSE like I was looking forward to Star Wars I-III (and was gravely disappointed), the MATRIX sequels (and was gravely disappointed), LAND OF THE DEAD (and was gravely disappointed), and 300 (and was enthusiastically pointed!).
This page is going to give you all of our news, their news, everyone's news on the upcoming GRINDHOUSE. Whatever info is happening anywhere, we'll tell you where it is and give you the links to get there!
From SciFi.com
GRINDHOUSE'S MCGOWAN GOT A LEG UP
Rose McGowan, who plays a one-legged go-go dancer in the upcoming genre homage movie Grindhouse, told SCI FI Wire that she performed in the film with one leg wearing a stiletto heel and the other in a knee-immobilizing cast tipped by a ball bearing, which would be replaced in post-production with a table leg or machine gun. "I was wearing a really heavy gray cast with LED lights, and it wasn't the most high-tech thing," McGowan said in an interview in Beverly Hills, Calif., over the weekend.
Read the full story at SciFi.com/SciFiWire.
Check out the hot GRINDHOUSE trailer!
From LAWeekly
GRINDHOUSE GANG
It was during a typically long and muggy Florida summer that I first wandered into the dimly lit recesses of a local video store and plucked from its dusty shelves the movies of the Australian suspense maestro Richard Franklin, including his 1978 Patrick, with its comatose yet telekinetic title character.
Read the full story at LAWeekly/film+tv/.
Check out the official GRINDHOUSE website!