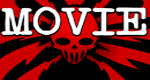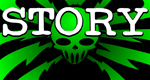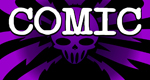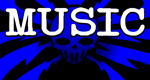 You Support This Site
When You Buy My Books
E.C. McMullen Jr.
PERPETUAL
BULLET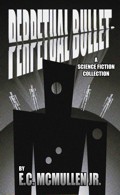 "'Some People' ... may be the standout story in the book."
-

John Grant

, Infinityplus

E.C. McMullen Jr.
WILLOW BLUE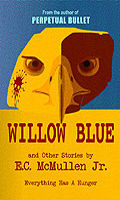 "'Willow Blue' will burrow under your skin and stay there long after you've put the book down."
- Jeffrey Reddick, Creator of
FINAL DESTINATION

IN OTHER BOOKS
E.C. McMullen Jr.'s
short story
CEDO LOOKED LIKE PEOPLE
in the anthology
FEAR THE REAPER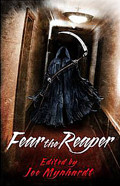 "This Ray Bradbury-esque is one of the most memorable and one of the more original stories I've read in a long time."
- Steve Isaak,
Goodreads

HORROR 201:
The Silver Scream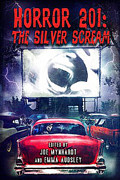 Filmmaker's Guidebook
featuring
RAY BRADBURY,
JOHN CARPENTER,
WES CRAVEN,
TOM HOLLAND,
E.C. McMULLEN Jr.,
GEORGE A. ROMERO,
and many more.



Extensively quoted in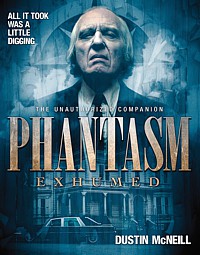 PHANTASM
EXHUMED
The Unauthorized Companion

Robert S. Rhine's
SATAN'S 3-RING
CIRCUS OF HELL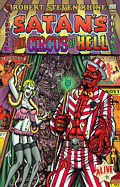 Forward by
GAHAN WILSON &
FEO AMANTE.
Featuring comics by
ALEX PARDEE,
WILLIAM STOUT,
STEVE BISSETTE,
FRANK DIETZ,
JIM SMITH,
FRANK FORTE,
ERIC PIGORS,
MIKE SOSNOWSKI,
OMAHA PEREZ,
DAVID HARTMAN,
STEVEN MANNION,
and more!

And
IN CINEMA


E.C. McMullen Jr.


Head Production Designer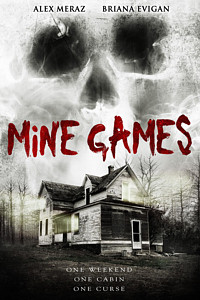 MINE GAMES


(Starring:
JOSEPH CROSS, BRIANA EVIGAN,
ALEX MERAZ)

Dept. head
Special Effects Make-Up
(SFX MUA)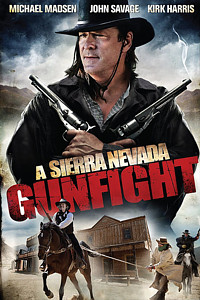 A SIERRA NEVADA
GUNFIGHT
(MICHAEL MADSEN & JOHN SAVAGE).

Production Designer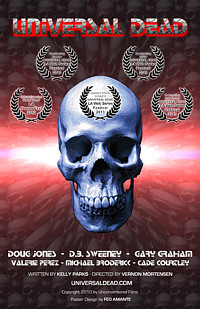 UNIVERSAL DEAD
(DOUG JONES,
D.B. SWEENEY,
GARY GRAHAM)

ART DIRECTOR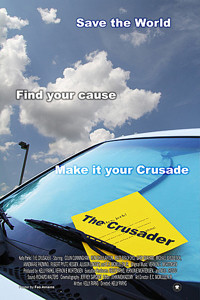 THE CRUSADER
(COLIN CUNNINGHAM,
GARY GRAHAM)

>
Review by
E.C.McMullen Jr.

HOUSE OF 1000 CORPSES

- 2003
USA Release: April 11, 2003
Spectacle Entertainment Group, Universal Pictures
Rated: USA: R
HOUSE OF 1000 CORPSES hit the theaters the same weekend that I attended the World Horror Convention 2003 in Kansas. Was it due to the round the clock action and partying that I started falling asleep during the movie? Read on then tell me.
A late night television "Horror Host" will be back after this word from our sponsor, and right then we see a crappy commercial with a cheapy pitchman. This is the clown, Captain Spaulding (Sid Haig: BLOOD BATH, SPIDER BABY, THX 1138, GALAXY OF TERROR), with the worst teeth and gums you ever saw, and he runs a broken down gas station, fast food takeout service, and Museum of oddities off an offbeaten road.
Meanwhile, the real Captain Spaulding spends his late evening, in full make-up and costume, shooting the shit with one of the local yokels, Stucky, (Michael J. Pollard: JIGSAW, MORBO, SUNDAY IN THE COUNTRY, AMERICAN GOTHIC, SCROOGED, NIGHT VISITOR, SKEETER, OUT OF THE BLACK). It's just another late night in the middle of small town nowhere, when a couple of nervous thugs bust in threatening all kinds of hell if the damn clown doesn't empty the cash register. What these idiots fail to notice is that Captain Spaulding is angered, not frightened, by their robbery. Thus begins the powerful and inspired opening scene of Rob Zombie's first theatrical film, HOUSE OF 1000 CORPSES.
Next to enter Captain Spaulding's life is a group of backroad thrill seekers. They are looking for the lost and forgotten Americana. The fact that they are also looking for cheap scary thrills among the hayseeds both offends and intrigues Captain Spaulding. So he takes them on a tour of his museum, set up like a House of Horror Carnival ride. One so cheap that instead of electricity, they are pushed around in their little "doom buggy" by Spaulding's mask wearing assistant, Ravelli (Irwin Keyes: BLOODRAGE, THE WARRIORS, NOCTURNA, ASYLUM - way more).
By the time the four young folks, two gals and two guys, are ready to leave, Captain Spaulding has their number, and warns them to stay away from a Haunted House in the area. They say they don't want to go there. But of course, Spaulding knows they do and they will.
The four friends of Jerry Goldsmith (Chris Hardwick: TERMINATOR 3, SPECTRES), Denise Willis (Erin Daniels: ONE HOUR PHOTO), Mary Knowles (Jennifer Jostyn: MILO, WRITTEN IN BLOOD, RANCID), and Bill Hudley (Rainn Wilson: DOMINION), set out to find the spooky house and ... of course, Merry Mishaps occur.
HOUSE OF 1000 CORPSES seems to follow the Roger Corman School of film making in that it has an excellent beginning, a wandering middle, and a punchy end. The ending makes no sense - unless it was all a dream - but punchy all the same.
During the course of the film we are introduced to some incredibly interesting evil villains who, unfortunately, are far more interesting in who they are than in what they do.
The four friends have stumbled onto the criminally insane Firefly clan, with your host and leader, Otis Driftwood (Bill Mosely: THE TEXAS CHAINSAW MASSACRE 2, THE BLOB [1988], ARMY OF DARKNESS),
Baby Firefly (Sherri Moon: TOOLBOX MURDERS),
Mother Firefly (unrecognized horror movie queen, Karen Black: THE PYX, TRILOGY OF TERROR [TV], BURNT OFFERINGS, KILLER FISH, INVADERS FROM MARS, IT'S ALIVE III, NIGHT ANGEL, OUT OF THE DARK, and tons more),
the giant Tiny Firefly (Matthew McGrory: MEN IN BLACK II),
Rufus - R.J. - Firefly (Robert Allen Mukes),
Grandpa Hugo Firefly (Dennis Fimple: KING KONG [1976], BUG BUSTER), and to make it even weirder,
Dr. Satan (Walter Phelan: Tales From The Crypt: DEMON KNIGHT, FROM DUSK TILL DAWN, WISHMASTER).
Truly I'm just skimming the surface here. A lot of weird and possibly wonderful characters never get their chance to amount to anything as the story mainly focuses on the four friends and their fate at the hands of Otis Firefly. Writer / Director Rob Zombie shines brilliance throughout this film, punctuated with horribly bad flash cuts as if the entire movie was one long drawn-out MTV video.
Otis really has nothing to say beyond his insane point of view, but he keeps saying it, and saying it, and saying it some more in a series of rapid fire exposition clips. I can only imagine that the clips of Otis long and drawn out world view were cut up to keep from boring the audience, because DAMN! Boring it is!
The great showstopper of this film, the one everyone talks about, is the moment when Zombie makes time seemingly stand still as Otis prepares to off another one of his victims. The reason this stands out so well is because the audience has been through what feels like 30 minutes of rapid fire flash cuts of Otis looking into the camera like he is talking to you from a TV set, and babbling incoherently like a wino on DTs.
HOUSE OF 1000 CORPSES isn't a great film, although everything was there to make it a great film. Instead it is a good film that cultish fans admire for the greatness it could have been. A lot less Otis babble and more Captain Spaulding and Dr. Satan would have made this a classic.
But I like it enough - otherwise I wouldn't have bought the DVD.
Three Shriek Girls.




This review copyright 2003 E.C.McMullen Jr.