Review by
E.C. McMullen Jr.

MEGIDDO: THE OMEGA CODE 2

- 2001
USA Release: Sept. 21, 2001
Providence Entertainment / TBN
Ratings: Australia: M / UK: 12 / USA: PG-13
There was just so much that was wrong, and wrong headed, about THE OMEGA CODE that I had no hope for the sequel at all. Where were they going to go from the first? The devil had been destroyed in a trite way, Yahouwh* won, that was that and the earth smelled of roses ever more. What was going to happen in MEGIDDO: THE OMEGA CODE 2? Was Satan going to come back from hell and chase after promiscuous teenagers with a sharp stick?
For those of you who may be hard core Christians, this is probably as close to the correct Bible interpretation of the Apocalypse as any movie, Christian made or otherwise, is ever gonna get: the curses of Jesus to whomever tampers with the book of the Apocalypse notwithstanding. To tell you right off the bat, The Rapture has once again been ignored. I think they got everything else though, including all the stars falling from Heaven and striking the earth in a manner I can accept (falling stars aka meteorites are not the same as all the stars in the Heavens).
The beginning of this movie didn't impress me. The story starts off half assed and slovenly, with more than a nod (more like a rip-off) to THE OMEN 2 as a starting point.
In fact, I'm inclined to think that associate-producer and co-writer, Stephen Blinn (who co-wrote the first film and again shares associate-Producer credits), wrote the beginning up to the point that we reach the present, and then John Fasano (BLACK ROSES, DARKNESS FALLS), took over with a few tugs of war between himself and Blinn. IMDb.com also mentions another Director at the helm of MEGIDDO: THE OMEGA CODE 2 in addition to Brian Trenchard-Smith (ESCAPE 2000, DEAD-END DRIVE-IN, NIGHT OF THE DEMONS 2, LEPRECHAUN 3 & 4, DOOMSDAY ROCK), so maybe the first 15 minutes is his fault as well. Who knows?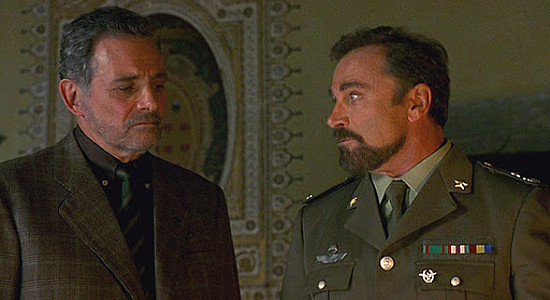 Oh don't take it so hard. We've been in worse!
1960 and the young human vessel of Satan is born white and to a wealthy, powerful, and influential man. Catholics are reviled almost immediately as the nice guy U.S. General (Kent McCord: various Elvis Presley movies, PREDATOR 2, DOOMSDAY ROCK [which is not an Elvis movie]) tells folks at a party that Nixon will win by a landslide, because who is going to vote for a Catholic? Bad guy Daniel Alexander (Michael Hedison: THE FLY) controls the television media and assures the General that a Catholic will be president: He will see to it. That evil, EVIL man! Daniel's little 6 year old (very tall for a six year old) boy, Stone Alexander (Gavin Fink), walks quietly behind his father, taking all this in.
Later, Stone is by his new born baby brother's crib, quietly telling the young sibling how much he hates him for killing their Mother (Mom died in childbirth). Father Daniel tells Stone to "get over his grief" (Pop is a real EST kinda guy) and leaves, unwittingly allowing Stone to try and set his baby bro afire.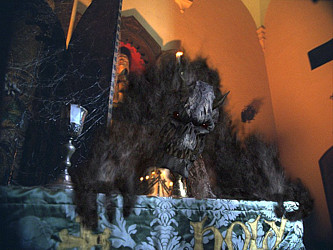 DAMN DOG! GET THE HELL OFF THAT ALTAR!
The baby is saved and Pop feels that Stone has more issues than he can bother with, so it's off to a military school (like in THE OMEN 2) to make a man out of Stone.
We see young Stone wander off - often - even during those classes taught by the stern General Francini (Franco Nero: I CRIMINALI DELLA GALASSIA, I DIAFANOIDI VENGONO DA MARTE, THE VISITOR, DIE HARD), making me wonder just how disciplined this military school really is. At one point, Stone wanders off at night and enters a Catholic Church, where he meets an evil priest who merely anoints his head with a bloody upside down cross. Not a good thing but far less creepy than what 1,200+ Catholic Priests in the US alone - so far - have been accused, convicted, or have confessed to doing.
As in the first movie, the Catholic Priest (Cult fave Udo Kier: SUSPIRIA, BLADE, END OF DAYS, FEAR DOT COM) becomes young Stone's servant / protector / advisor, along with a really wicked CGI bone dog thing, which happened to live in the church. Catholics are vilified through much (though not all) of this movie, as is Television - which is odd considering that TBN IS a television network, and that the major power brokers in US evangelism are all on television. Some, like Pat Robertson, even support blood thirsty dictatorial regimes (Liberia) and make their money in slavery to boot!
Soon Stone is 21 (real soon! In the movie 6 year old Stone turns 21 in only ten years. It's a Miracle!) and all military minded (and now Noah Huntley: EVENT HORIZON, 28 DAYS LATER). He also looks nothing like the future Stone Alexander which we know to be Michael York (THE ISLAND OF DR. MOREAU, GOSPA, THE OMEGA CODE). The movie really sags here due to Huntley's atrociously poor acting, thrown into strong relief by the fine acting of Franco Nero and David Hedison. Sheeit! Don't put a neophyte up against the strong acting talents of these two! Are you nuts?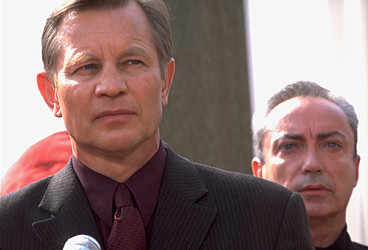 No more will Linux thwart my evil plans.
When Stone graduates from Military school, he has already chose his wife to be, Gabriella Francini (Elisa Scialpi), the school general's daughter, who begins falling for his younger 16 year old brother David, played by Chad Michael Murray, who looks remarkably like a very young Michael York. Blame casting for this flub! Worse! Chad steals every scene away from Noah just by his better acting ability!
Where THE OMEGA CODE had a good beginning and went downhill, however, MEGIDDO: THE OMEGA CODE 2 has a really poor opening and goes up from there.
Things start clicking when we arrive at the present: The first year of the new millennium. Now Michael York is Stone Alexander and David Alexander is played by Michael Biehn (THE TERMINATOR, ALIENS). Both are good actors (when they want to be) and as the polar opposites from each other, York and Biehn play out their roles very well.
Stone married Gabriella (now played by Diane Venora: THE 13th WARRIOR) and uses her (in her innocence) to placate the masses (think Barbara Bush). It is here that things get interesting due to no other fact than the intensity these three bring to their roles. Biehn is always best as the self-doubting gung-ho type, and York can play just about any role he wants to.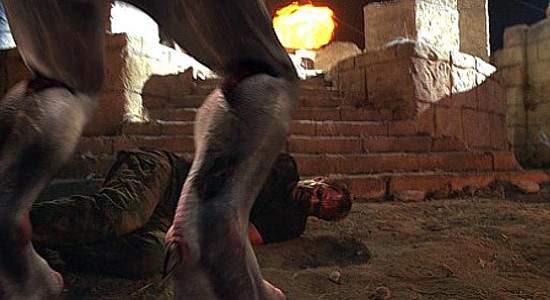 Up-Skirt Shots . . . FROM HELL!
For MEGIDDO: THE OMEGA CODE 2, York took a little more control over the movie (he appears here also as a co-Producer credit) and it shows. Where in THE OMEGA CODE York's Stone Alexander was foppish and dopey, here he is forceful and more than a little scary. His manner is not merely intense, as the embodiment of Satan requires a bit more than a mere "bad attitude", but wretchedly vile, confident, sure of himself, and merciless.
Where THE OMEGA CODE blindly followed the "flavor-of the moment" "Bible Code" garbage, MEGIDDO: THE OMEGA CODE 2 adheres closer to the actual BIBLE, and is far better off for it. York's Stone is usually an evil bastard although at times he lurches back into foolish nincompoop and for that I wonder if it's Blinn's writing (which I got a taste of in the first movie) that is to blame.
The direction by Brian Trenchard-Smith is far better than the crapola of the first film, and Stephen Blinn is far better assisted by the co-writing of John Fasano than he was by Hal Lindsey and Hollis Barton.
There is no mention of the asinine THE OMEGA CODE or Michael Drosnin's discredited "Bible Code" book. No mention of anything regarding THE OMEGA CODE other than a few stock footage shots. This isn't really a sequel so much as the film the Crouch family (creators of the Trinity Broadcasting Network - TBN and numerous production credits in this film) should have made in the first place.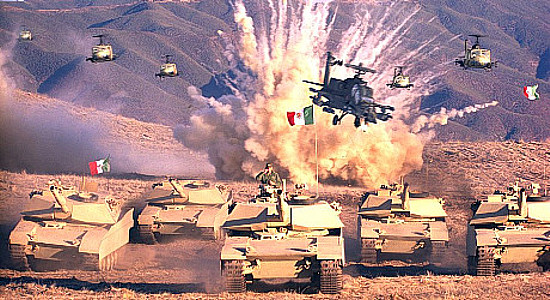 YAHWEE! LET'S KILL THE UNBELIEVERS!
In this scene, Mexico invades the Holy land!
This time TBN made an epic. It cost $22 mil to make and (my theory here) only lost money at theaters due to the bad taste THE OMEGA CODE left in so many mouths. This film would have done far better had there been no mention of OMEGA CODE and it was just called MEGIDDO. In years to come however, MEGIDDO: THE OMEGA CODE 2 will probably be held up as an example of what Christian propaganda films should be.
Why?
All in all, this is just a better movie: More entertaining, closer to the real book, lots of explosions, action, intrigue, and a with few genuinely chilly moments. Minus 2 Shriek Girls for that awful 15 -20 minute beginning, MEGIDDO: THE OMEGA CODE 2, is a Two Shriek Girl flick.



This review copyright 2002 E.C.McMullen Jr.