Review by
E.C. McMullen Jr.

FEAR DOT COM

- 2002
USA Release: AUG! 30, 2002
MDP Worldwide, ApolloMedia Distribution, Fear.Com Productions Ltd., Carousel Film Company, Film Fund Luxembourg, DoRo Fiction Film GmbH, Filmyard Underwaterdeco, Franchise Pictures
Luxembourg Film Fund, Milagro Films, Signature Pictures, Warner Bros.
Rated: France: -12 / UK: 18 / USA: R
Movies are expensive these days, we all know that.
When you see a flick make $100 mil in its first weekend, you have to temper that with the fact that tickets now cost $9 bucks and up and the movie cost $100 mil just to make. With those kind of bucks, plus throw in another $13 dollars minimum for 1 drink and popcorn and the idea that, I just go to movies to enjoy them, kinda sloughs off by the wayside. If I pay that kind of cash I DAMN SURE want to enjoy that movie. At $21 - $30 a pop per flick I am in no way forgiving of a poorly made film. And believe me, I generally enjoy even poorly made films. Hence, the So Bad It's Good rating category here.
If a film can be judged by its pedigree, FEAR DOT COM has a lot going against it. Let's start with the Director, William Malone.
Malone directed the far superior remake of the old William Castle / Vincent Price classic, HOUSE ON HAUNTED HILL. It was a truly good flick all the way, and I couldn't understand the odd stick-in-the-mud critics who pretended as though the original was suddenly an inspired film making achievement.
Castle was known for making schlock and promoting his flicks with gimmicks that would get him sued out of existence today. Causing his audience abrupt bodily pain was a hoot for Castle. So it's not like the man was an auteur on the scale of, say, Hitchcock (who also never took himself too seriously).
We all love Vincent Price, an excellent actor (again, who never took himself too seriously), but he was fond of making schlock and even made a bikini beach movie or two! But Malone is also renown as the man who brought us SCARED TO DEATH, CREATURE, and SUPERNOVA - as well as episodes of Honey I Shrunk The Kids: The TV Series. So cheers to Malone for finally growing as a film maker, but with only one successful good movie to his credit, he has yet to actually prove that HOUSE ON HAUNTED HILL was more than a fluke.
Producers/Executive producers come to this table with a list of credits that include Men at Work, Maximum Risk, Timecop, Get Carter (the one with Stallone), Diggity: A Home At Last, Cybermutt, Baby Geniuses, The Whole Nine Yards, HIGH SPIRITS, I COME IN PEACE, and 3000 Miles To Graceland to name a few.
Ugh! Right?
But it is also co-helmed by Executive Producer Mark Damon (though how much, if anything is done by an exec producer is arguable) who has worked on such influential movies as 9 1/2 Weeks, Das Boot, Never Say Never Again, Prizzi's Honor, and THE LOST BOYS. So Mark is his own business card. Having all this information ahead of time, I was a little apprehensive to shell out my own cash to see this film.
So I waited until it was out on DVD. Was it worth the wait? Yep. I'm kinda sorry that I shelled out $4.00+ bucks to rent it.
The movie starts off well enough.
William Malone is a very good director (I've always said so - more on this later) and we begin in the dark with the frightened countenance of a man (Cult fave Udo Kier: Andy Warhol's FRANKENSTIEN, Andy Warhol's DRACULA, SPERMULA, SUSPIRIA, BLOOD OF DR. JEKYLL, TERROR 2000, MODERN VAMPIRES, BLADE, END OF DAYS, MEGIDDO: The Omega Code 2) walking nervously through the night and rain (everything in this movie is dark and often wet). Obviously scared and bleeding from the nose, he makes his way down to the dark subway station, where he sees a little albino girl holding a white rubber ball. She is wearing a pretty white dress and is playing in the dark subway train tube in the path of an oncoming train. The man (later ID'd as Dr. Polidori), already spooked by something else, desperately tries to save her before the train arrives and... Merry Mishaps occur!
The scene segues nicely into the next, where we meet a mystery woman (Natascha McElhone). In the dark of her bedroom, she is woke, first by her clock, and then by her phone ringing. She is a city health inspector and doesn't bother to answer it. She knows what the call is about.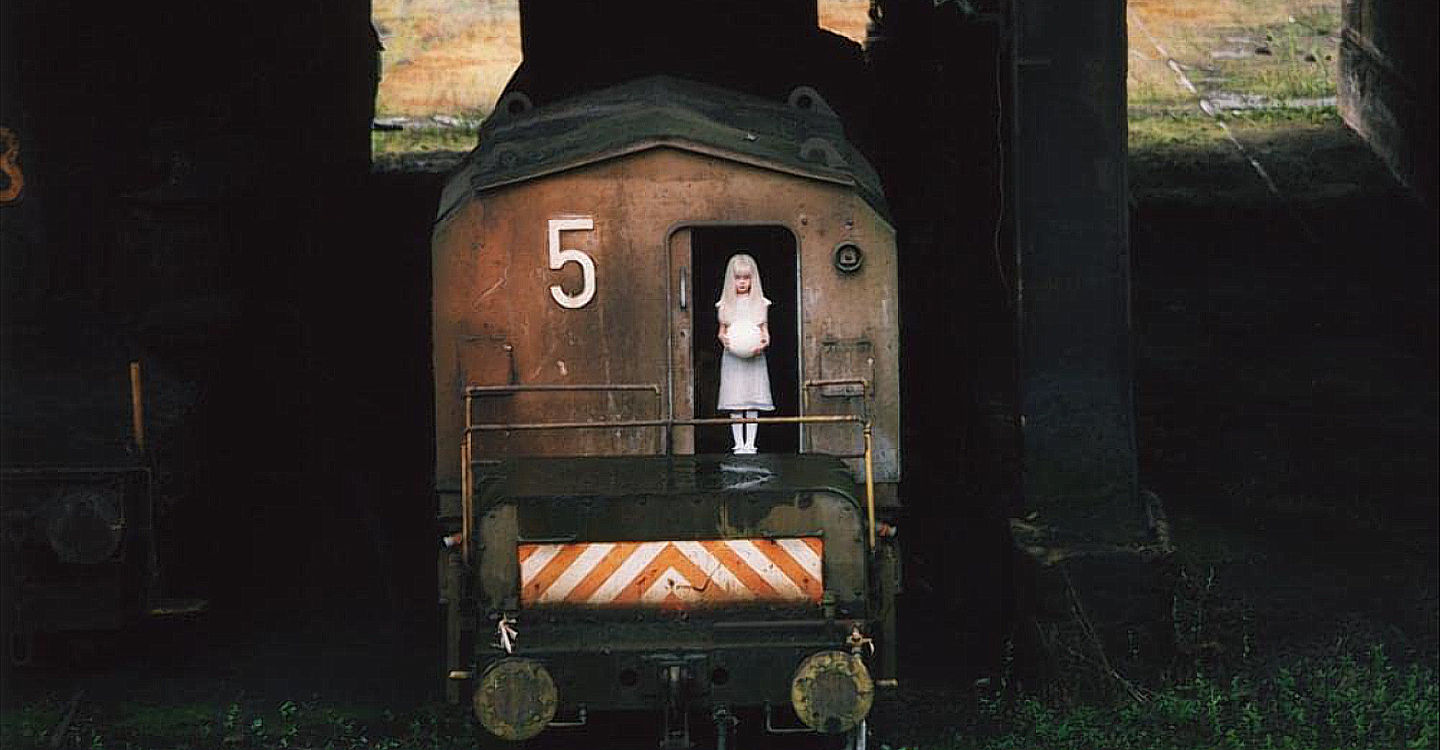 If I've told you once, I've told you some more times:
Stay the Hell away from precious children in creepy places!
Did MEN IN BLACK teach you nothing?
Later, in the dark of the subway tunnel, and despite all the lights to illuminate the death scene, Detective Mike Riley (Stephen Dorff: CECIL B. DEMENTED, BLADE) arrives to find other cops already mulling around. The subway train that hit Dr. Polidori is being pulled away. Blood is spilling from Polidori's mouth, his ears, his nose, eyes, hands, everything (he was hit by a train, right?), and Mike says, "What the f*ck is going on with his eyes?"
Another cop on the scene says "We'll have to wait for the autopsy."
DUH? Maybe all the blood is because he was hit by a speeding TRAIN? He's bleeding from everywhere you freaking dolts!
Then we go to another dark scene where a faceless man logs onto a veddy interestink vebsite, connected by broadband judging from how fast everything moves across his screen. "Now all we need is the leading lady," he says.
Detective Mike returns to the dark police station where, in his dark office, his slovenly partner, Styles, seems to make an appearance for no other reason than the fact he is actor, and cult fan fave, Jeffery Combs (RE-ANIMATOR, FROM BEYOND, THE FRIGHTENERS, THE HOUSE ON HAUNTED HILL [1999]).
Mention is made of a case that Mike couldn't break. Something about a murderous doctor. The "Feds" have taken over the case. A punk dressed kid (Matthias Schweighöfer), covered in blood, spouting German, and fighting with some cops, is hauled into the dark station. Mike comes out of his poorly lit office and starts barking orders. He tells the street cops, who are wrestling with the kid, to "Put him in a holding pen!" (DUH! Always helpful, Mike! What did you think they were going to do? Sodomize the kid in a dark bathroom with an ill lit mop handle?).
The kid is bleeding from his mouth, nose, and eyes. "Call the DoH. (Department of Health) Find out if there's a bug or something," Mike tells a nearby cop. "Something with bloody eyes.", The kid appears to be bleeding from everywhere and is resisting arrest and getting manhandled in his excitement, but at least the question is a little more relevant this time.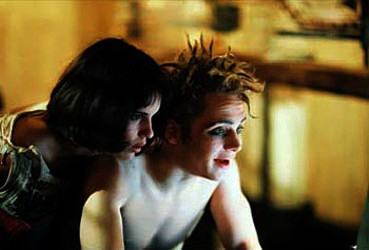 WOW! For only $28.99 a month, AOL gives us slow dial-up,
poor Internet connections, and a bunch of stuff that we can get
for free anyway. No wonder it's #1!
Mike is fixated on the eyes. Why? Who knows? We find out why the eyes bleed later, but why Mike picked up on the eyes when the folks he saw were bleeding from every orifice remains a mystery.
Mike gets the kid's address and he and Sykes go to the kid's dark apartment. In the dark bathroom, Mike finds a girl floating in the bathtub. He meets Teri Houston (Natascha McElhone) who soon tells him that the girl is fascinating because she is exhibiting signs of a hemorrhagic virus - like ebola.
The German boy dies in his dark cell after writing something in German on his cell wall. While the boy's body is carted off to the morgue, the station is quarantined until they find that there is no virus. But there is a camcorder.
Now we're back to the faceless man who is watching a pretty young woman walk across the street on a dark, overcast day.
The faceless man is the murderous doctor (Stephen Rea: A COMPANY OF WOLVES, THE CRYING GAME) and there is no reason why his identity was kept secret in the beginning.
Up to this point, the dialogue is good and Director Malone knows how to get the most out of his actors. This is good because Malone has no idea on how to get the most out of his writers. Moshe Diamante, the man who wrote the story and co-wrote the screenplay was also the executive Producer on one of William Malone's first movies, CREATURE. Moshe has had no success in the writing department and some modest success in the associate and executive producing arenas. After Malone's critically drubbed, but audience approved box office hit, HOUSE ON HAUNTED HILL, he may have been doing Moshe a favor for auld lang syne.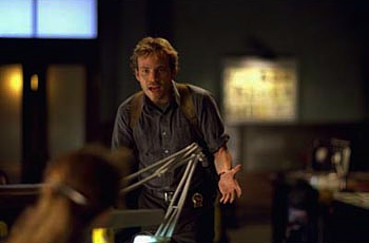 I'm not asking for miracles, just a decent story!
On the plus side is composer Nicholas Pike, who provides the ultra creepy music that keeps us interested in this flick. Kudos also go to Director of Photography Christian Sebaldt. According to the Director's commentary on the DVD, William wanted it dark because he was attempting to make a noir film, and he wanted the entire movie to look like someone's nightmare. Dark to the point of distraction.
Almost kudos for the attempt but I take them back because the experiment failed. Like a movie overloaded on Special Effects, the visual takes the place of the story, which never works. Later, malevolent scenes could have been far scarier with the dark shots, if only we hadn't been numbed to this effect in the first 15 minutes. THE CROW was darkly lit but the choice of lighting was used wisely. The characters were always easy to see and whatever director Alex Proyas wanted you to see, you saw without trouble. This movie was originally shot much brighter and darkened in the lab. So a slightly better movie may surface in the future.
The film quickly boils down to three things. There is a website called feardotcom.com. If you see it, you die in 48 hours a la RINGU. The murderous doctor that Mike has never caught is somehow involved in it. There is a pretty little girl with white hair (instead of RINGU black hair) who is an omen of bad freaking news. She plays with a big white ball.
Does all this sound familiar? It should - because FEAR DOT COM is a rip off of THE RING. I can imagine the pitch.
MOSHE: "Okay! So they are going to make an Americanized version of the big Japanese hit, THE RING, right?"
PRODUCER 1: "Yeah, I guess so."
MOSHE: "So we make the movie first!"
PRODUCER 1: "How do we get around the copyright angle?"
MOSHE: "Okay! Instead of people dying when they watch a video, we'll have them die after they see a website! It's younger! It's richer! It's way more proactive!"
PRODUCER 1: "It's totally in my face!"
MOSHE: (getting excited) "I'M totally in your face!"
PRODUCER 1: "Get out of my face."
MOSHE: "Sorry."
PRODUCER 1: "Still too close to THE RING, though. How about you throw in some Hannibal Lector somewhere? RED DRAGON is coming out soon; it may be money."
MOSHE: "Fantastic! I'm loving this already!"
PRODUCER 1: "What about star power? Who's attached? "
MOSHE: "No real star power I'm afraid."
PRODUCER 1: "Screw the stars then. We'll raise the money from a bagful of producer names."
That could be how this whole farce came together, I dunno; I wasn't there.
Malone is a cheap hire due to the fact that nearly every movie he made in his 20+ year career has bombed at the box office (he's lost everyone millions yet he still gets hired: Clearly a man to be reckoned with). The following actors are all good but the reality is: Stephen Dorff's last big hit was BLADE and that was back in 1998. Natascha McElhone, despite having major roles in movies like The Truman Show and Solaris remains a no name. Stephen Rea's last major hit, THE CRYING GAME, was back in the early 1990s. And as for Jeffery Combs, well, we all love him but he's not going to carry a $42 million dollar budget to box office heaven.
Production design, what I could see of it, was great. I also loved the computer operating system and browser that everyone used. I don't know who makes it, but "gotta have it!"
The choice of lighting in FEAR DOT COM is used well - we know where we are - but not wisely, as we often don't know what is happening or are busy trying to get a decent look at the actor's faces.
There are too many scenes showing folks just walking around: down a hall; up some stairs; the obvious sign of a lost movie. Yet some of these wanderings have a purpose. When Mike walks out of an elevator, we see him, at knee level, walk down the dark hall. Just as he enters another room we, still inside the elevator, see the doors close. It's effective for revealing that Mike is now cut off from everything except what awaits him in that room.
Later, when Mike comes out of the room, the elevator is waiting for him, doors open in a way that makes the elevator itself appear threatening - like a trap.
Another plus is that there really isn't much gore to the movie. Other than some blood on the face and a few flash cuts of something bad, Malone leaves the gore up to our imagination and, for this movie, it's all the more unsettling for that.
So, like Paul W. Anderson (EVENT HORIZON, RESIDENT EVIL), I've always appreciated William Malone's directing abilities. His main problem (like Anderson) is that he thinks he can write - which he can't. Malone is a director and directors are the story tellers, not the story writers. Elvis made it big singing someone else's songs and luckily, he had The Colonel to choose his songs for him.
Unfortunately, Malone can't tell a good story from a bad one: Either that or thinks he can make a silk purse out of a sow's ear (despite decades of proof to the contrary). Moshe's story, and the screenplay he co-wrote with Josephine Coyle, is a turd. A rip-off turd. I can deal with a rip-off, no problem (look at all the tons of Dracula and Vampire movies and books I've gone through over the years!), but entertain me at least!
With our heroes saying stupid things, getting into stupid predicaments for no good reason, and a plotline like a hula hoop - even when it rattles it still has a big hole in the middle - I find myself bummed over FEAR DOT COM.
Good Acting. Good Direction. Good music. Really Bad Lighting. Piss-poor story. Few shocks. Not scary. Two Shriek Girls.



This review copyright 2003 E.C.McMullen Jr.