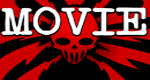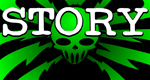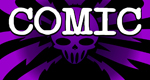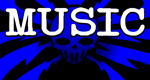 You Support This Site
When You Buy My Books
E.C. McMullen Jr.
PERPETUAL
BULLET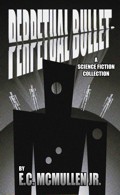 "'Some People' ... may be the standout story in the book."
-

John Grant

, Infinityplus

E.C. McMullen Jr.
WILLOW BLUE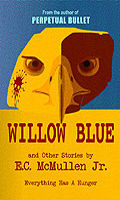 "'Willow Blue' will burrow under your skin and stay there long after you've put the book down."
- Jeffrey Reddick, Creator of
FINAL DESTINATION

IN OTHER BOOKS
E.C. McMullen Jr.'s
short story
CEDO LOOKED LIKE PEOPLE
in the anthology
FEAR THE REAPER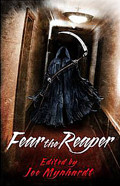 "This Ray Bradbury-esque is one of the most memorable and one of the more original stories I've read in a long time."
- Steve Isaak,
Goodreads

HORROR 201:
The Silver Scream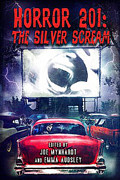 Filmmaker's Guidebook
featuring
RAY BRADBURY,
JOHN CARPENTER,
WES CRAVEN,
TOM HOLLAND,
E.C. McMULLEN Jr.,
GEORGE A. ROMERO,
and many more.



Extensively quoted in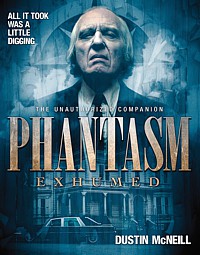 PHANTASM
EXHUMED
The Unauthorized Companion

Robert S. Rhine's
SATAN'S 3-RING
CIRCUS OF HELL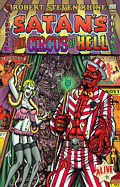 Forward by
GAHAN WILSON &
FEO AMANTE.
Featuring comics by
ALEX PARDEE,
WILLIAM STOUT,
STEVE BISSETTE,
FRANK DIETZ,
JIM SMITH,
FRANK FORTE,
ERIC PIGORS,
MIKE SOSNOWSKI,
OMAHA PEREZ,
DAVID HARTMAN,
STEVEN MANNION,
and more!

And In
CINEMA


E.C. McMullen Jr.


Head Production Designer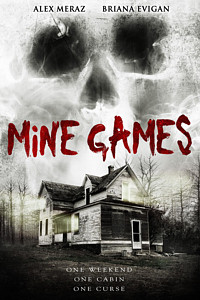 MINE GAMES


(Starring:
JOSEPH CROSS, BRIANA EVIGAN,
ALEX MERAZ)

Production Designer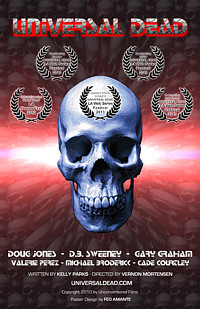 UNIVERSAL DEAD
(DOUG JONES,
D.B. SWEENEY,
GARY GRAHAM)
Review by
E.C. McMullen Jr.

PHANTASM II

- 1988
USA Release: July 8, 1988
MCA / Universal Pictures
Ratings: France:-12 / Hong Kong: III / U.K.: 18 / USA: R
If you've never seen any of the PHANTASM* movies, then shame on you! Go out and see PHANTASM, PHANTASM II, and PHANTASM III.
PHANTASM was and remains Writer/Director Don Coscarelli (PHANTASM [all], BEAST MASTER,SURVIVAL QUEST) masterpiece. While Coscarelli has never been the best writer, what he lacked in storytelling ability, he more than made up for in vision and cinematography. I mean PHANTASM! WOW!
PHANTASM II starts off where PHANTASM left us, with additional scenes of Mike and Reggie that were cut from the first movie. This kind of disturbs continuity because when the film fast forwards ahead to the present, 8 years later, A. Michael Baldwin (PHANTASM, PHANTASM III, PHANTASM IV) isn't playing Mike. The new actor is James LeGros (NEAR DARK, ENEMY OF THE STATE), whose facial features and beefy build are all wrong for Mike. Thankfully we have good old Reggie (Reggie Bannister: PHANTASM [all], WISHMASTER, BUBBA HO-TEP) who is a staple of the PHANTASM series and the awkward but nearly brave clod that we secretly recognize in ourselves.
Bad things are happening to Mike and Reggie. The Tall Man (Angus Scrimm: PHANTASM [all], TRANSYLVANIA TWIST, MINDWARP, SUBSPECIES, WISHMASTER) once thought dead, has returned. The Tall Man is no small potatoes villain a la Jason or Michael Myers. The Tall Man doesn't kill off individuals or even towns. He is killing the world! That's some scope, you know?
Mike is having visions, he "sees" in his dreams a young woman calling his name. She is in trouble, The Tall Man has come to her town. Paula Irvine (BATES MOTEL [TV - 1987]) is Liz, the damsel in distress. Her parents are dead, her grandfather is dying, and her grandmother may be next. Through her psychic bond with Mike, she draws him to her and her town, and a confrontation with the Tall Man.
*
TRIVIA
Watch for the creamatorium scene where the evil undertaker pours ashes into a bag labeled SAM RAIMI (Writer/Director of the EVIL DEAD movies, the hero of which is named Ash).
Brad Pitt originally auditioned for the role of Mike.
2009
PHANTASM's 30th birthday is celebrated at the
Big Bear Film Festival.
For Phans of PHANTASM, Read
RED PLANET
by Rick Elkin.
From the Official and Authorized Phantasm anthology PHANTASM:
Excursions Into Oblivion
PHANSITES
Phan Rudy Munis and his MCACN award winning 1971 PHANTASM 'CUDA
See Feo at the
PHANTASMANIA in Austin, Texas
The Official PHANTASM site
This movie, while not being as original as the first, never the less raises the ante with creepier scenes, spookier settings, and greater depth into the mystery that is The Tall Man. PHANTASM II is more of an action film compared to PHANTASM's more mysterious scariness. PHANTASM II goes less for "Boo!" and more for blood. And speaking of blood, there is more than just one kind of ball this time too, those deadly orbs that, once seen are hard to forget. Lots of people I know who have watched the PHANTASM movies swear to the occasional nightmare about those balls.
PHANTASM II, like PHANTASM is an aquired taste. Not everybody likes it or wants to. Writer/Director Don Coscarelli (PHANTASM [all], BEASTMASTER) has a unique writing style that has carried him through 3 decades but eluded major success throughout that term. He has essentially dedicated his life to making PHANTASM movies which, to this day, remain his babies. The films are visionary enough to have amassed a tight, cult following.
When the execrable PHANTASM IV: Oblivion was released, it split that cult in half. On one side were those who felt that the series was destroyed. On the other side were the rabid diehards who would praise Don slavishly if he just kept a close-up of Angus Scrimm's face squinting evilly at the camera for 90 minutes. After 4, Don said that he wasn't making any more PHANTASM movies, which hit and hurt hard the "Phans" who despised PHANTASM IV and didn't want to see the series end so ignobly. Since his first announcement, Don had a change of heart and said that he will indeed make PHANTASM V. Everybody who cares is keeping their fingers crossed that he will come up with the funding.
It sounds odd, doesn't it? For a movie to possess that kind of fan base? To understand that kind of love for the series, you will simply have to watch them. You will know after PHANTASM, whether or not you are hooked. PHANTASM II gets even better, and PHANTASM III, well, that's another review.







This review copyright 1999 E.C.McMullen Jr.