Review by
E.C. McMullen Jr.

Rob Zombie's HALLOWEEN II

- 2009
USA Release: AUG! 28, 2009
Trancas International Films / Spectacle Entertainment Group / Dimension Films
Rated: USA: R
Okay, now with Rob Zombie's HALLOWEEN II, we have a clear demarcation line between what Rob Zombie had to tolerate in the form of producer interference, and his own creation.
Rob Wrote, Directed, Cast, and Produced this movie and in the time running up to it, I don't recall him having any public fights with any studio heads screwing up his picture. Some of us remember the fights he had with Universal Pictures over HOUSE OF 1000 CORPSES, so we have a starting point from one to the other.
All things considered, Rob did a pretty good job with HOUSE OF 1000 CORPSES and an even better job with THE DEVIL'S REJECTS. They weren't great, but he was-a movin' on up!
Then came Rob Zombie's HALLOWEEN.
Already in the contract was Rob getting to do the sequel. So is this Halloween, like THE DEVIL'S REJECTS, a step up from his first re-imagining?
No.
This movie is awful.
So awful.
How awful is it? Lemme tell you.
HALLOWEEN II begins with Michael's Mom, Deborah Myers (Sherri Moon: HOUSE OF 1000 CORPSES, THE DEVIL'S REJECTS, GRINDHOUSE, Rob Zombie's HALLOWEEN) having a visit with Mike (now played by Chase Wright Vanek) back when he was a boy still in the asylum. Mom gives Mike a plastic statue of a white horse and tells him to think about it and remember her.
I know any number of people who watched the first Rob Zombie HALLOWEEN and thought 'Hell, my old man was way worse than that, and I got picked on in school too!'
Yeah, whatever it was that sent ol' Mikey over the deep end was never adequately explained - short of him being a bully and a homicidal nitwit. Still, Rob Zombie attempts to inject his ultra-badguys with some twisted sense of family ethics (HOUSE OF 1000 CORPSES), sense of family loyalty (THE DEVIL'S REJECTS), tragic history (Rob Zombie's HALLOWEEN), or in this case a foofy sensitive, soft focus dreamworld with his dead Ma dressed like an angel, a ghost of his dead childhood, and a white horse.
It would have been so easy to have handled this imagery in a metaphorical way, accepting the idea that your audience is smart enough to understand unspoken significance.
Rob would have none of that. Mom has to verbally direct adult Michael on why to kill, who to kill, and getting his sister into the family fold.
Cut to now-a-days where Laurie Strode (Scout Taylor-Thompson: WICKED LITTLE THINGS, APRIL FOOL'S DAY) is having nightmares about her recovery period in the hospital, which leads us to yet another,
!!!UNFAIR RACIAL CLICHÉ ALERT!!!:
New here? Don't know what the UNFAIR RACIAL CLICHÉ ALERT (URCA) is? Check it out, and then go to URCA/RZHalloweenII. Beware though. Spoilers live there.
Still, when Laurie isn't tricked out in crying jag mode, she's incredibly happy in Par-TAY mode. There may be a psychological reason for this, one could even say mood swings or schizophrenia, but Rob neither wrote or directed these transitions well enough to describe either, so it comes across as inane.
Which is odd considering that Rob Zombie pretty much treats his audience the way the character Dr. Loomis treats his audience - like a bunch of retards that need to be tickled into giving up their money.
Dr. Loomis (Malcolm McDowell: CAT PEOPLE [1982], FIRESTARTER 2), you see, is trying to hawk yet another book about his former star patient, Michael Myers.
Zero explanation on why Michael would be a star patient, one infamous enough to sell books.
With all of the atrocities committed by Mike, Loomis' fan base is shrinking at a rapid rate. He doesn't get what an insensitive, greedy son of a bitch he is, even while he is being openly mocked, discredited, and jeered at nearly every promo tour he attends. Loomis has become an "It's everybody's fault but my own!" kinda guy. The best jeer - the best part of the movie in fact - comes from a cameo by Weird Al Yankovic, who totally OWNS his screen time.
Meanwhile, adult Michael (Tyler Mane: THE X-MEN, Rob Zombie's HALLOWEEN) has crawled back out of the deep woods muck, and gets beat up by a couple of mean rednecks who are nowhere near as mean & redneck-ie as he.
Mike does them in, as well as the woman who tried to help him. There are a lot of moments where we are set up to both despise Michael yet somehow feel sympathy for him. But while we see that's what Zombie is going for, he can't pull it off. There's nothing sympathetic about Michael and everything involving his visions of an angel Mother and a white horse come off as derisively funny (in a pop-music, Nu-Romance-wave, 1980s soft-focus VH1 video kinda way), and I don't think that sappy crap is what Zombie was going for. But if he WAS going for that, he should have made it a whole lot funnier: Something along the lines of Harold and Kumar funny.
Brad Dourif (CHILD'S PLAY [all], DEATH MACHINE, THE LORD OF THE RINGS: THE TWO TOWERS) is back playing the Sheriff again. But Brad's role is such a poorly written throwaway, and he's so criminally under used, that he milks it for far more than it's worth. Actor Danielle Harris (HALLOWEEN 4, HALLOWEEN 5, URBAN LEGENDS), returning as Annie, had a role that was even worse!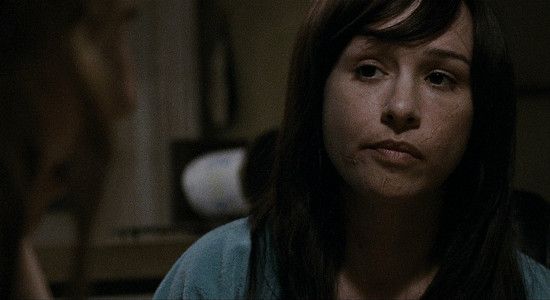 So much for all my hard work building an acting career.
I guess I'll have to settle for selling autographs at hotel conventions.
There are also many silent scenes of stark contrast, unlike anything I've seen Zombie do before, that I found myself thinking I was watching something the Second Unit Director shot. I've never been so pulled out of a movie before, but that's what a misshapen, dull-witted mess Rob Zombie's HALLOWEEN II is. Even while he is pummeling us into the ground with his On-The-Nose dialogue and story, he reveals how little he understands himself.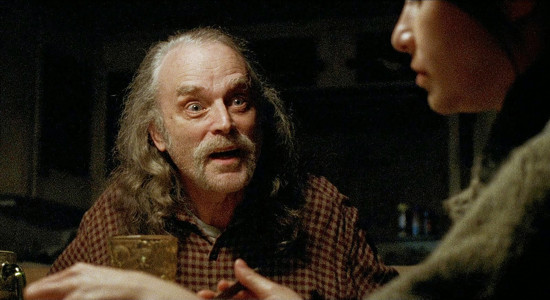 I had to do that a few times, myself. But things get better, you'll see!
I mean, look where I am now? ... OH! Oh God, I'm SO sorry I said that! Please don't cry!
Oh, did I mention that there are scenes after a kill where Michael apparently got hold of a can of spray paint and indulged in some graffiti? Yeah. We never see him do it. But how else to explain the graffiti on the walls of his victim's house AFTER a kill?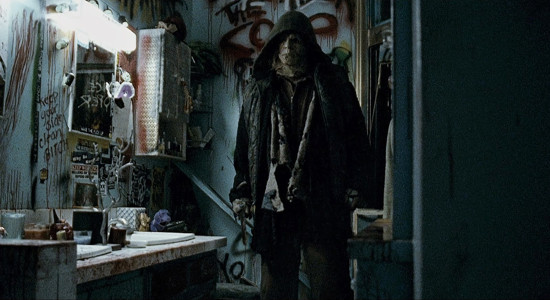 Not only do I brutally kill innocents, I also vandalize!
Y'know, uh... just in case I didn't make my point with gruesome murders alone?
I watched this movie with Horror writers John Skipp and Scott Bradley. When we discussed the movie after, they both felt I was being too kind. And Scott actually liked Rob Zombie's HALLOWEEN.
One Shriek Girl and One Negative Shriek Girl. This is the kind of movie that even SyFy and Cinemax would reject for their after midnight line-up if the Halloween name wasn't attached. It's not only the worst HALLOWEEN movie ever, it's not even bad enough to be good.



This review copyright 2009 E.C.McMullen Jr.