Review by
E.C. McMullen Jr.

PHANTOM OF THE PARADISE

- 1974
USA Release: Nov. 1, 1974
20th Century Fox
Rated: USA: R
Through the introductory narration of Rod Serling's voice we learn the history of eccentric rock music legend, Swan.
Normally opening narration dulls the opening of a movie, but when THE PHANTOM OF THE PARADISE was released, his dulcet tones were luring America into the weird for around 15 years from THE TWILIGHT ZONE to THE NIGHT GALLERY. I'm willing to go along for the ride.
The movie opens in 1974 with a doo-wop band trying out for a place in Swan's new concept: an old fashioned theater / nightclub where the latest acts will be born before both a live audience as well as television audiences throughout the world.
Swan (Paul Williams, Actor: BATTLE FOR THE PLANET OF THE APES, SOLAR CRISIS, THE GHASTLY LOVE OF JOHNNY X) and his majordomo, Philbin (George Memmoli), are only half-interested in their own band, the Juicy Fruits, performing the last act. They are discussing the impact various lawsuits from former acts may do to them and what to do about it. Philbin is taking one of them personally.
After the show, a final act gets on stage to perform anyway. His name is Winslow Leach (William Finley: SISTERS, EATEN ALIVE, THE FURY, THE FUNHOUSE, SILENT RAGE, NIGHT TERRORS) and while his music is interesting his performance, voice, and appearance are all awkward. He doesn't know how to be a showman, and if you don't have that, you don't have a show.
Swan is intrigued by the music. If only someone else was performing it.
In short order, Philbin tricks Winslow into giving him his entire cantata, his life's work, on the hope that Swan will like it so much he'll make a deal with Leach and turn him into a star.
Time passes, Swan isn't returning Winslow's calls and letters, so Leach appears at Swan's Death Records corporation.
Thrown out time and again, yet never actually seeing Swan, Winslow Leach remains convinced that it's all a huge misunderstanding. With more ambition than brains and a naive innocence that could get him killed, Winslow sneaks into Swan's mansion where he finds a long line of young women, all singing one of his songs.
He's arrived for an audition and as he moves past the line he hears one woman's voice that enthralls him. Her name is Phoenix (Jessica Harper: SUSPIRIA, THE EVICTORS, SHOCK TREATMENT, MINORITY REPORT) and she's singing his music nearly perfect, as if she understands it.
The two strike sparks but before they can do anything about it, the audition turns sour and Winslow is thrown out.
Still not getting what has happened to him, Winslow returns in drag and is hustled into one of Swan's private audition rooms.
When Swan enters, the knucklehead Winslow introduces himself and Swan personally orders him thrown out of the mansion, but that's not all. Swan has Winslow framed on a drug charge and Winslow goes to Sing Sing prison.
Only now fully realizing what has been done to him, Winslow still dutifully waits for the slow gears of justice to right this wrong.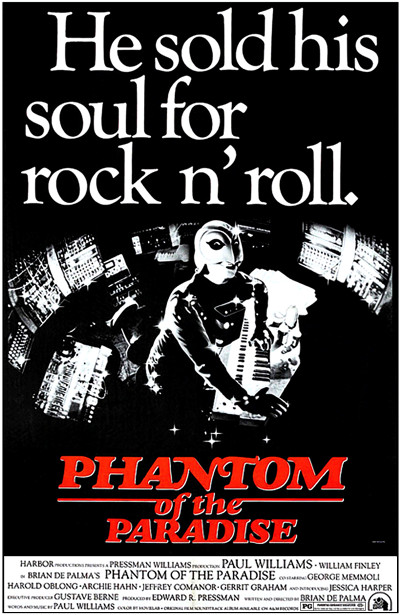 Then, while working in the prison, the radio plays and Winslow hears a pop-tortured perversion of one of his songs, sung by the Juicy Fruits and introduced as Swan's own music.
Well that's the last straw! Winslow goes insane.
No, you may think WInslow was crazy before. Uh uh. He was merely naive.
Winslow goes stark staring nuts. Fortunately, he's in the right movie for it.
Winslow's rampage begins.
He escapes prison, breaks into Death Records, starts smashing things up, and ... well, this is Winslow's first ever rampage and he's no damn good at it.
One thing leads to the other and Winslow is believed dead. With rampage the damage to his company minimal, Swan gives the late, "drug abusing" "convicted felon" Winslow album credit and uses his death to market another album of the cantata.
So now it's Phantom time for the not dead Winslow: still madcats and still naive.
Gleefully madcap yet mapped out, zany and disciplined, as written and directed by Brian De Palma (CARRIE, THE FURY, DRESSED TO KILL, BLOW OUT, BODY DOUBLE, RAISING CAIN, SNAKE EYES, MISSION TO MARS) PHANTOM OF THE PARADISE is an all out fun film. By fun film I mean that it's more fun than comedy, though it clearly has those moments too, especially with a jewel like De Palma semi-regular, Gerrit Graham (BEWARE! THE BLOB, STRANGE NEW WORLD, DEMON SEED, CLASS REUNION, THE CREATURE WASN'T NICE, TERRORVISION, CHOPPING MALL, IT'S ALIVE III, C.H.U.D. II, CHILD'S PLAY II, COVE ROAD) and his turn as Beef, the glam Heavy Metal rocker.
De Palma tells a stripped down, fast-paced, right to the point story, yet it never feels rushed. Moreover, borrowing heavily from literature and cinema, Brian famously threw in a Monster mash of everything from Gaston Leroux's Phantom of the Opera to the various legends of Faust, to Frankenstein, to Alfred Hitchcock's PSYCHO and more.
You would think the whole thing would become a confused, jumbled mess but no. All of these movies and literature live and thrive in a single universe in Brian's head and with seeming effortlessness, he put coherently them all together on screen.
Unfortunately for Brian, 20th Century Fox was going through a weird corporate culture where they wanted movies as original as possible, yet had no idea how to market them.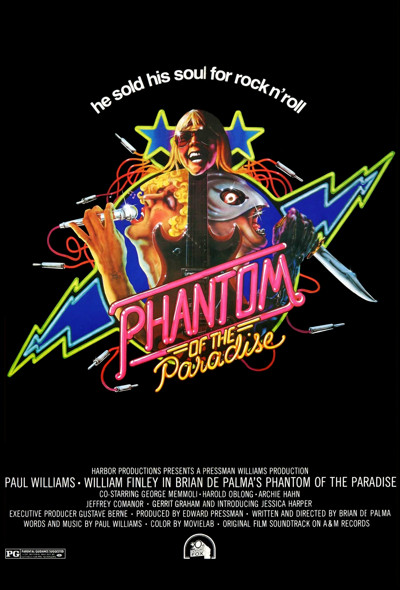 PHANTOM OF THE PARADISE bombed in the U.S. and in every other country where it was released. When you see the ad and marketing campaign, it readily becomes apparent why: They're insipid.
In fact, only a single small city in the world embraced PHANTOM OF THE PARADISE and saved it from obscurity: Winnipeg, Canada.
In a place of around 300,000 it became a cult hit playing non-stop for over 4 months.
Why there of all places? Hard to say, but the devotion continues to this day.
What's more, since 1974, the fan base of THE PHANTOM OF THE PARADISE continues to spread world wide.
There's a great reason for that. The movie is awesome, the story is awe inspiring, the visuals of Larry Pizer's (ALICE COOPER: WELCOME TO MY NIGHTMARE, THE CLAIRVOYANT, THE PHANTOM OF THE OPERA [1983]) cinematography and Jack Fisk's (MESSIAH OF EVIL, CARRIE, DEATH GAME, MULHOLLAND DRIVE, THE INVASION) Production Design are nutso perfection, and Paul Williams' sound track is great.
The late 1960s and the 1970s was the last decade when 20th Century Fox was so daring and stupendously original, but it was this period when they spawned PLANET OF THE APES, YOUNG FRANKENSTEIN, THE ROCKY HORROR PICTURE SHOW, THE OMEN, THE BOYS FROM BRAZIL, STAR WARS, and ALIEN, to name a very few.
All five Shriek Girls.






This review copyright 2018 E.C.McMullen Jr.