Review by
E.C.McMullen Jr.

THE ROCKY HORROR PICTURE SHOW

- 1975
USA Release: Sept. 26, 1975
20th Century Fox
Rated: USA: R
For about a 12 year period from 1968 to 1980, 20th Century Fox went through a phenomenal moment in the history of the company. It was a breathtaking period of originality that, even after 40+ years, remains at the forefront of Fox's hottest properties not only then, but those that remain a hot property today.
Such experimentation was across the board in all genres and remain the most valuable properties supporting 20th Century Fox to this day.
Now that the company is sold off to Disney, it's important to remember that the value of that deal began in the 1970s as well. Never had they been so experimental before. Never would they be that way again. Yet at the same time, the suits had no idea how to sell their original children.
Hot off of a series of religious stage plays set to Rock music (co-created with Andrew Lloyd Weber: Joseph and the Amazing Technicolour Dreamcoat, Jesus Christ Superstar), lyricist Tim Rice got wind of an Aussie named Jim Sharman directing his plays. Tim brought the Oz trio of Sharman, Art Director Brian Thomson, and writer and lyricist, Richard O'Brien to England where, in June 1973, they had The Rocky Horror Show debut.
It did well, wasn't a big hit, yet somehow this barely known stage play out of England got the 20th Century Fox greenlight.
The movie begins with a bright red lipsticked mouth singing the opening song, Science Fiction Double Feature, to the opening credits. The song tells you everything you need to know about the kind of movie this will be.
"Michael Rennie was ill, The Day The Earth Stood Still,
but he told us where we stand.
And Flash Gordon was there in silver underwear,
Claude Rains was The Invisible Man"
After the giant mouth ends the tune we come upon a church where a wedding has finished. The new bride, Betty Hapschatt (Hilary Farr: LEGEND OF THE WEREWOLF, THE RETURN), throws her bouquet and her best friend, Janet Weiss (Susan Sarandon: THE HUNGER, THE WITCHES OF EASTWICK, THE LOVELY BONES) catches it.
This causes new husband, Ralph Hapschatt (Jeremy Newson: SHOCK TREATMENT) to congratulate his friend Brad Majors (Barry Bostwick: PRAYING MANTIS, PROJECT: METALBEAST, HELEN KELLER VS. NIGHTWOLVES, ALLELUIA! THE DEVIL'S CARNIVAL), as Brad and Janet are dating.
Once they are alone, Brad breaks into song as he proposes to Janet and they both decide to visit their Professor, Dr. Scott (Jonathan Adams: STAR COPS [TV], TWO EVIL EYES). The man who brought the two together.
Cut to a private library at night and a Criminologist (Charles Gray: YOU ONLY LIVE TWICE, THE DEVIL RIDES OUT, DIAMONDS ARE FOREVER, THEATER OF BLOOD, THE BEAST MUST DIE!, THE LEGACY, THE MIRROR CRACK'D, SHOCK TREATMENT, THE JIGSAW MAN, FIRESTAR: FIRST CONTACT). He brings us up to speed. What we are witnessing is a past event.
"I would like, if I may, to take you on a strange journey."
- The Criminologist
Going by a police report and the testimony of Brad Majors and Janet Weiss, we are about to see and hear what happened to these two on a Night!
"It was a Night they would remember for... A Very Long Time!"
Driving through a dark and stormy night, Brad's car suffers a tire blowout and before the age of cell phones, they need to find a mechanic to fix the car. Fortunately there is a castle in the distance and the lights are on.
Brad and Janet feel immediate trepidation when the male servant answers the door. His name is Riff Raff (Richard O'Brien: SHOCK TREATMENT, FLASH GORDON, ELVIRA'S HAUNTED HILLS, NIGHT TRAIN, DARK CITY) and he gazes at them balefully and without welcome, but when the lightning strikes, he bids them both to come in out of the rain.
Soon Brad and Janet meet another domestic, Magenta (Patricia Quinn: BEAUTY AND THE BEAST [1976], SHOCK TREATMENT, MARY HORROR, THE LORDS OF SALEM), a Groupie named Columbia (Nell Campbell: SUMMER OF SECRETS, LISZTOMANIA, SHOCK TREATMENT, PINK FLOYD: THE WALL), and a gathering of Transylvanian partiers.
Yet as weird as everything appears to the straight and staid Brad and Janet, nothing prepares them for meeting Dr. Frank N. Furter (Tim Curry: THE SHOUT, LEGEND, CLUE, IT [TV], THE SHADOW, WOLF GIRL, ADDAMS FAMILY REUNION, DOOM RUNNERS, SCARY MOVIE 2, RITUAL, GINGERCLOWN), the head of the castle who is, at capricious turns, solicitous and dismissive.
In no time Brad and Janet are witness to Dr. Furter's creating life from a dead body when he creates Rocky (Peter Hinwood: THE DEVIL'S WIDOW). Right after creating life, Dr. Furter takes one with an axe as he murders a rebellious Eddie (Meatloaf: THE SALTON SEA, WISHCRAFT, BLOODRAYNE, URBAN DECAY, STAGE FRIGHT, GHOST WARS [TV]). Eddie, apparently, was an unwilling donor of a few of the body parts it took to make Rocky.
Even more bizarre is how Brad and Janet can be both horrified at all of this then quickly take it in stride. But the increasing strangeness in this madhouse castle never ends.
THE ROCKY HORROR PICTURE SHOW was a flop upon initial release, only to become a mega-profitable cult hit that played the midnight matinees at art house theaters, to a party atmosphere among the audience, for decades.
Decades!
Director Jim Sharman attempted to follow his success with the sequel, SHOCK TREATMENT, but in that one the unique fun was forced and gone. Traveling, THE ROCKY HORROR SHOW stage shows have met with reasonable success, yet sequels and remakes have been nothing but embarrassing disasters.
This was lightning in a bottle.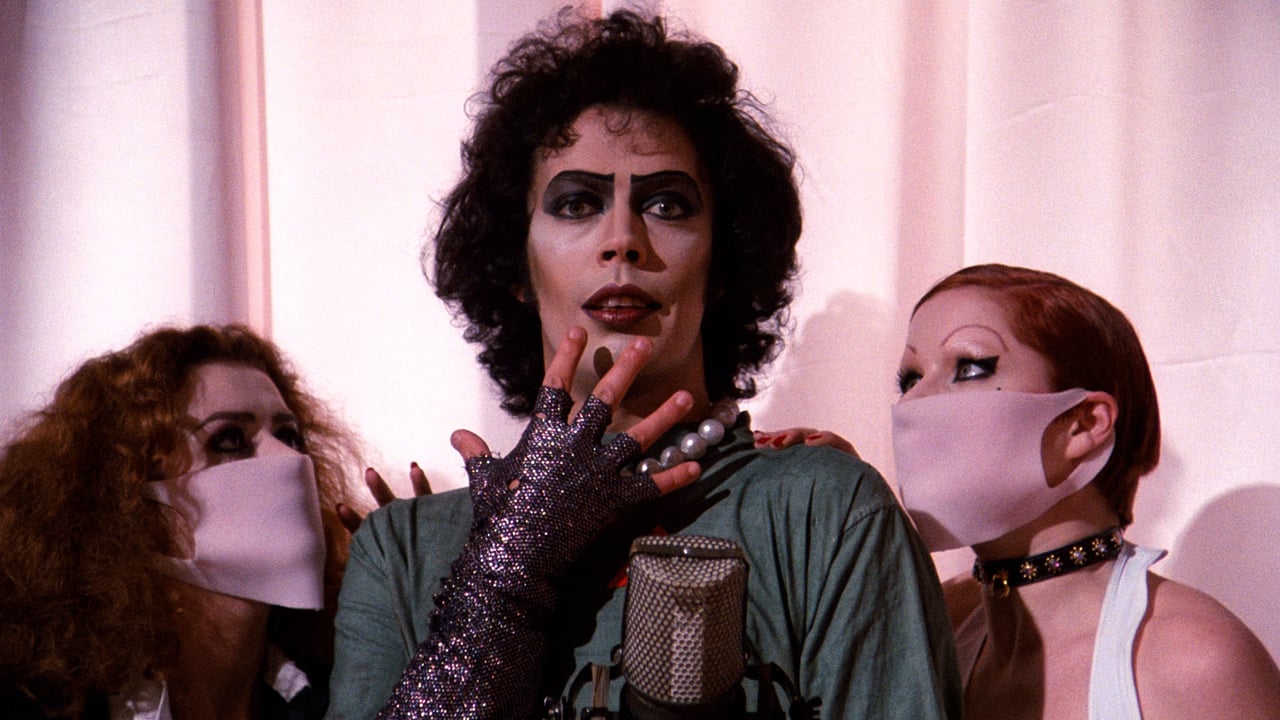 "That elusive... SPARK!"
The original THE ROCKY HORROR PICTURE SHOW is a joy both as a comedy and musical. The songs are dance-able, memorable, and the lyrics are bawdy delight. It defined a moment in time as the ultimate midnight movie, playing midnight showings at theaters world-wide and always attracting a cos-playing crowd. I'd never witnessed cos-play until I first saw it at THE ROCKY HORROR PICTURE SHOW.
I've also never known any other movie that was such a dividing force between parents and their newly minted adult children. Not that the movie caused grief, though watching your children go out late at night, half-naked in black panties, garters, high heels, and fishnet stockings may have caused some friction. THE ROCKY HORROR PICTURE SHOW was simply a boa feathered border between what young folks loved and parents couldn't understand.
Yet conversely, perversely, grandparents seemed to understand even while actor Tim Curry's Frank N. Furter was committing every taboo, including repeated and gleeful smashing of the fourth wall.
To this day THE ROCKY HORROR PICTURE SHOW remains unique and unparalleled. It changed my young life for the better. You've never seen a midnight show like it. You've never seen a movie like it.
All five Shriek Girls.






This review copyright 2018 E.C.McMullen Jr.